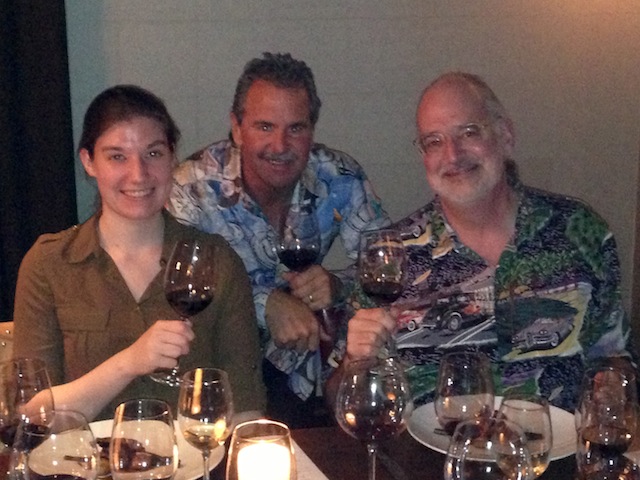 Dani and I went to an Adobe Road Wine Dinner here, rather than experience the normal dining room offerings. We were going to meet in the bar, but on a Wednesday night after work it was a madhouse, so we hung out in Starbucks until it was time for the dinner.
Boy did the chef knock it out of the park. I've been to hundreds of wine dinners and this had to be near the top.
We started on the mezzanine of the Intercontinental Hotel with a superb 2009 Chardonnay. Great wine, possibly the best of the night, but unfortunately the winery is out of it. This was accompanied by a passed appetizer of bruschetta, which was a twist on the usual, with buratta cheese, proscuitto and a thin slice of pickled peach. Delicious.
Dinner was in a room off the mezzanine perfectly sized for twenty people. I got the sense it was far from the kitchen, because it took several servers quite a while to deliver each course.
The first course was Duck with cherries and dijon mustard, a perfect accompaniment to the 2009 Pinot Noir. The wine is good, but may have a trace of sorbate, and after a slightly earthy nose it quickly fades into a just okay California pinot noir.
The second course of hickory smoked lamb chops with mint, watermelon and tomatoes might have been my favorite. It was served with a 2009 Syrah that offered a smoky, meaty nose, but seemed a bit shut down. Apparently the night before it had been even more so; I think it just needs a rest after shipping.
Third course was Wagyu Ribeye with roasted baby potatoes and a black carrot. It was perfect with a chewy 2010 Knight's Valley Cabernet.
Dessert wasn't my favorite, although Dani liked the brown butter cardamom cake with roasted plums and whipped cream and black pepper. The plums seemed a bit tart to accompany the 2008 Zinfandel which was jammy but nothing remarkable.
Then Kevin pulled out the Beckstoffer Georges III Cabernet Sauvignon. Wow! I could sip this all night. After an hour it was just starting to open up and do some amazing things. Brandy soaked cherries coated in dark chocolate, with a bit of pound cake at the end. It was dessert in a glass, yet not a drop of residual sugar! The wine must be close to 15% alcohol. Worth every cent of $95 retail. Give me this and the Chardonnay, and lock me in a room.
Kevin Buckler and Bob Dickinson were welcoming as always, and promised to come do a private event next time they are in Orlando (January?) We also met some other interesting people including Thaddeus Buggs, author of TheMinorityWineReport.com
I was very impressed with the "banquet" food at Michael Jordan's. I'm not sure which course was the best, but I would happily return here for any of these entrees. Service was prompt and friendly, and the private room was perfect for a group of twenty. Most seemed to be racing enthusiasts at this gathering, as opposed to the Orlando events where it seems the guests are mainly wine enthusiasts.
I will definitely go back to check out the regular menu, because there is some serious talent in the kitchen.