Keith Edwards organized this great vertical tasting at K on Edgewater in College Park.
Attending were Keith and Parlo; Ron and Bev; Steve and Linda; Niccolo' Maltinti, the Antinori US Brand Manager; Tobias Fiebrandt of Leitz Wine; and Marc and Kai Frontario.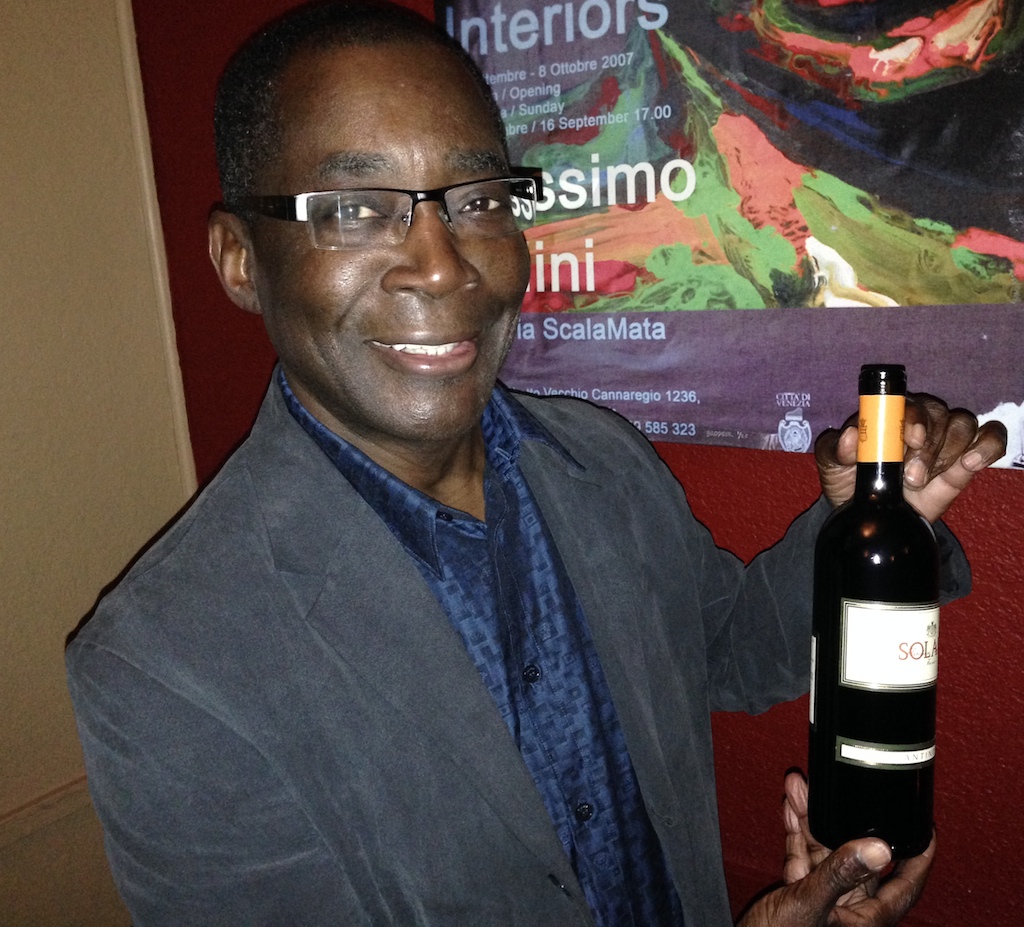 We began with a 1966 Moet & Chandon I've had in my cellar for twenty years. As with most really old Champagnes, the effervescence was gone, but great acidity made the wine quite an interesting old chardonnay, with a caramel and fig finish. An amazing accompaniment to the deviled eggs. 90 points.
Keith's Jacques Selosse Initiale proved a great palate awakener after that, with a toasty nose, crisp fruit flavors and a lichee finish. Served with raw oysters I didn't try. 92 points.
We then took our seats for the vertical tasting. As always, Keith was super organized, with beautiful tasting booklets for everyone. The tasting began with some introductory comments by Niccolo'.
Solaia is:
75% Cabernet Sauvignon
20% Sangiovese
5% Cabernet Franc
We tasted the wines from youngest to oldest, in four flights. My notes:
Flight 4
1982        349.00  (Keith)
Easily the Soliaia of the night, by a wide margin. A dead ringer for Georges de la Tour. Mint, coffee, vanilla, wax, with a long, sweet coffee finish. 97
1985                     (Keith)
Slightly corked, thin. 87
1987        169.00  (Keith)
Intense peppers, tight, 88
1989        226.66  (Ron)
Dust, thin, short. 87
Flight 3
1990        226.66  (Ron)
Ripe unusual fruits, short. 88
1991        159.00  (Keith)
Mint, herbal, the favorite of this lackluster flight. 90
1993        189.00  (Keith)
Very ripe, with a short finish. 88
Flight 2
1994        189.00  (Keith)
Roasted nose, vanilla, mint, short. 87
1997        226.66  (Ron)
Tannic, thin, Wine Spectator Wine of the Year. 87
1998                     (Keith)
Tobacco, pleasant but somewhat dull. 89
1999        189.00  (Keith)
Ready to drink, sawdust, very smooth, opulent. The favorite of the flight. 93
Flight 1
2001        189.39  (Keith)
Still needs time. Dust, good tannic structure, tight. The favorite of the flight. 92
2002        159.00  (Keith)
Smoked peat nose, no structure, short. 88
2008                     (Niccolo')
Chocolate mint, a hot weather wine, green pepper, cab franc, silky, sweet finish. 90
2009        214.39  (Keith)
Dust, charred meat, a bit gangly, acidic. 91
Overall thoughts: I was struck by the fact that the youngest wines were quite drinkable, which I wasn't expecting, and that the oldest wines, even those completely ready for drinking, showed no signs of age. There were several stylistic shifts across the years, with the wines from the 2000s clearly better drinking, and the 1982 (one of the very first vintages) a completely different animal. Unfortunately that animal is what I'm looking for (as, apparently, was the rest of the group, since 9 out of 10 selected it as their favorite).
The value of the vertical was to show the consistency of the winemaking, which was high, and the product, which was moderate. Certainly as a group these wines could not be compared with French first or second growths, or the best cabernets from California. For Linda and I it reinforced why we don't have Italian wines in our cellar, but of course for others the impression was different.
Dinner included a perhaps too subtle ceviche, a nice corn chowder, a lovely fish on a spectacularly flavorful bed of savory corn, an excellent duck dish on a risotto that even I (a risotto avoider) loved, and a superb wagu beef with truffle oil and mashed potatoes. This was far and away the best meal I've had at K. It ended with many passed desserts. Linda and I left after dessert, although more great wines came out, but she was tired, and the sugar had made it impossible to return to dry red wines.
Here are my notes on the wines that accompanied dinner:
1986 Gruaud Larose (Ron)
Restrained fruit, simple 88
1986 Lynch Bages (Steve)
Very similar to Gruaud, slightly less fruit, coffee 87
1969 Clos Vougeot Domaine Gros Freres (Steve)
Fruity, good acid, tobacco, bacon, mint, vanilla 94
1961 Chambolle Musigny Les Beaux Bruns Greveley (Ron)
Dried flowers, fat, Carmel, burnt log, forest floor 95
2005 Corton Clos du Roi Prince Florent de Merrode (Mark)
Now owned by DRC. Pleasant fruit, simple 90
1990 Gevrey Chambertin Nadeef (Keith)
Candy, mint, dried fruits 90
1993 Mersault-Perrieres Les Champeaux Ampeau (Ron)
Floral, good acid, fresh, drinking 20 years younger 94
1999 Rinaldo Barolo (Keith)
High acid, red berries 89
1991 Dominus (Keith)
This wine was presented blind as a first growth, but there was little doubt in my mind what it was. Green pepper, great tannin structure, coffee, graphite, spice, jalapeño, very young, talcum powder. Easily Wine of the Night! 99
Thanks to Keith for putting together a great event. These vertical tasting can be hard work, because they require lots of attention and careful discussion, but I find them the most educational of all wine events.