Ron Siegel celebrated his (ahem) 60th birthday at Scratch. It's the new restaurant on Fairbanks in Winter Park, next to All Fired Up. The place is owned by three young restaurateurs who have done an amazing job of designing the space and creating an exciting environment for superb food.

This panorama captures almost the entire space, which is less than 20 feet wide.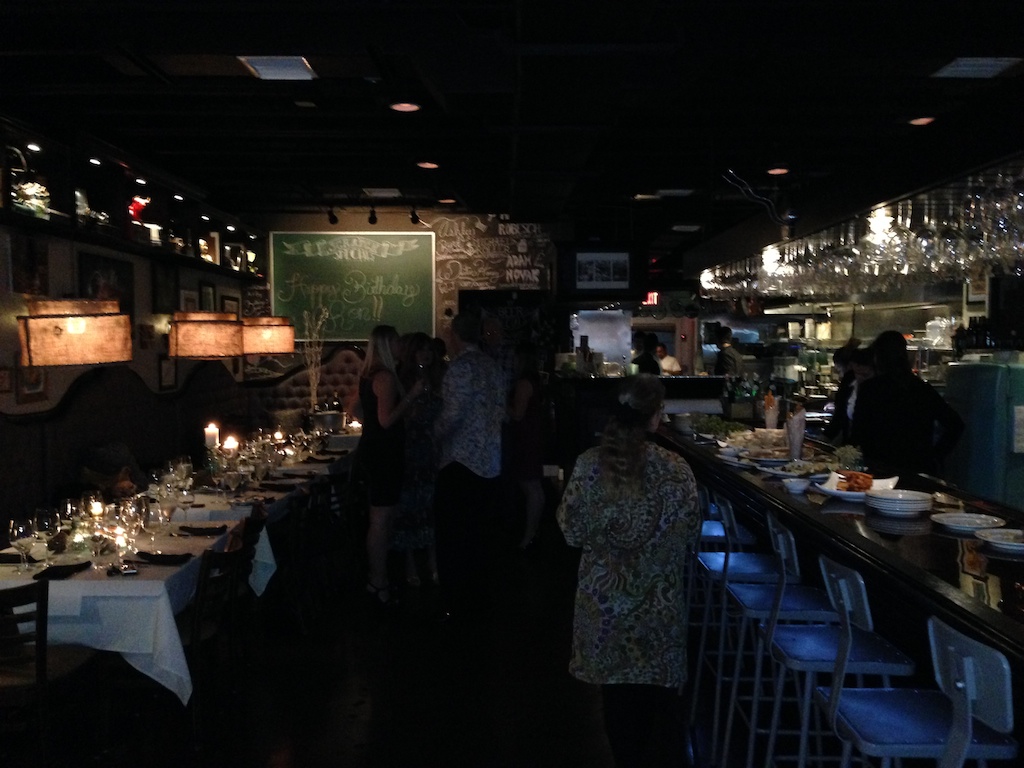 They actually closed the restaurant for our party of 14. Our timing was great, because we arrived at 5pm, just before the thunderstorms, and left at 10pm, just after them. Some of the others were still there partying until well past midnight. Scratch is open until 2am.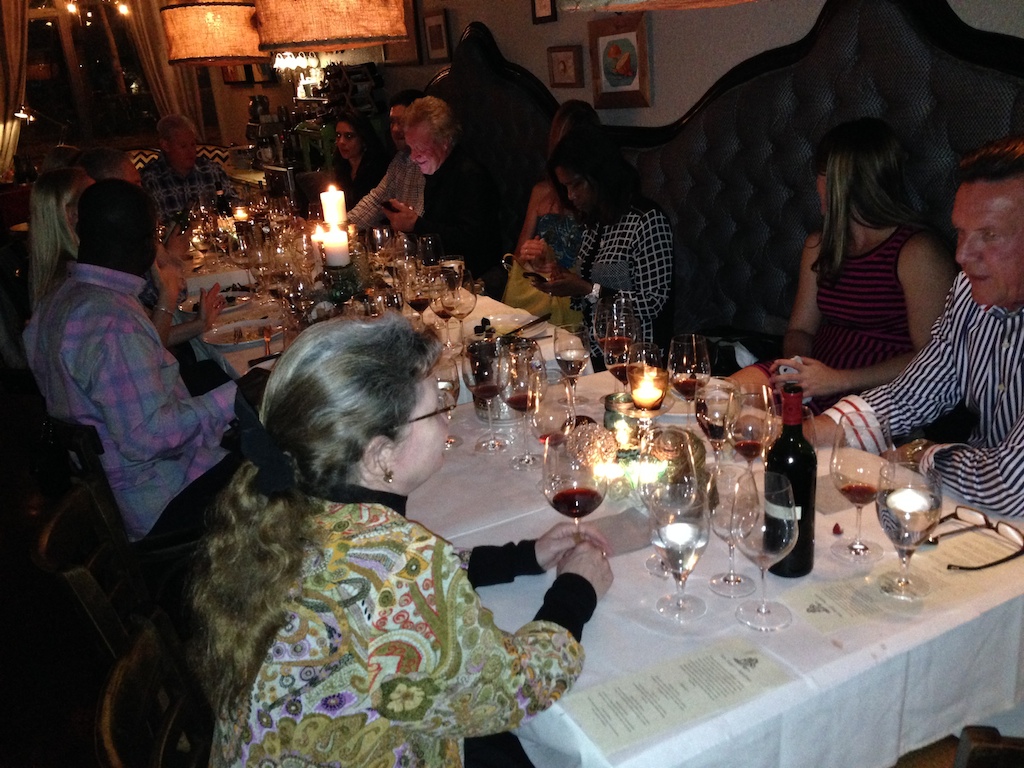 Ron, Keith and I provided most of the wines. We didn't try to match the food, we were just looking for great wines.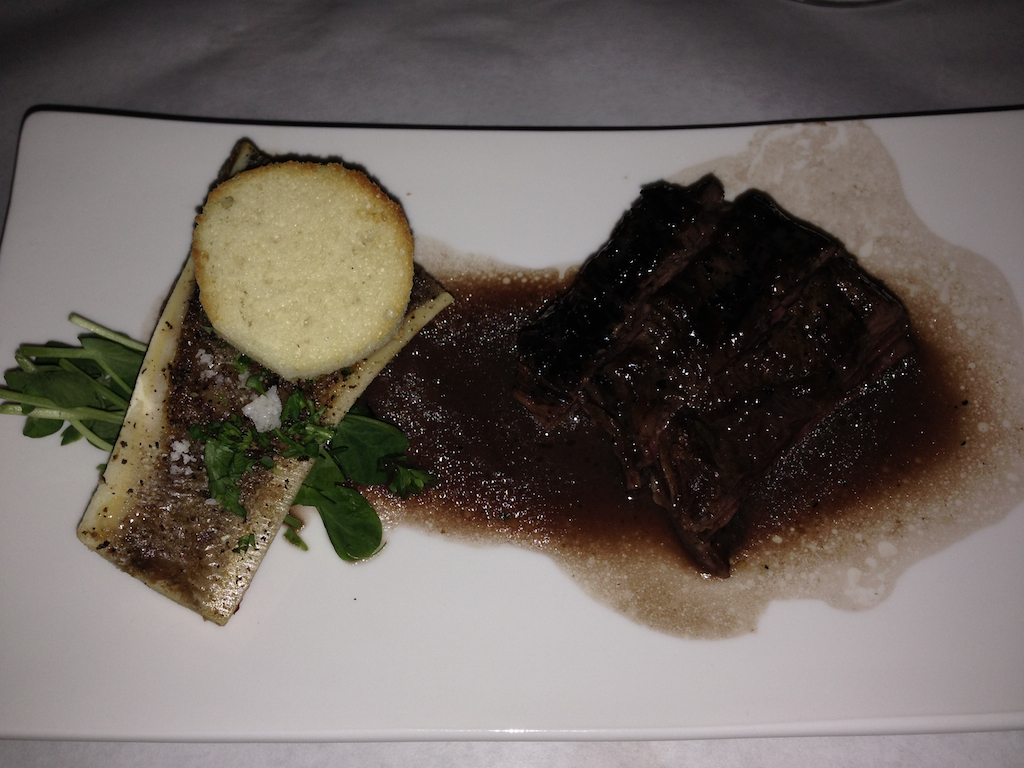 Every course was great, but my favorite was the rib eye, which was unlike any I'd had. It was served with bone marrow, which I'd never had like this. A bit of the bone marrow on each bite of rib eye was amazing. Easily the best beef I've ever tasted.
Also great was the coq au vin, which had an incredibly flavorful bone marrow reduction and amazing shallot puree.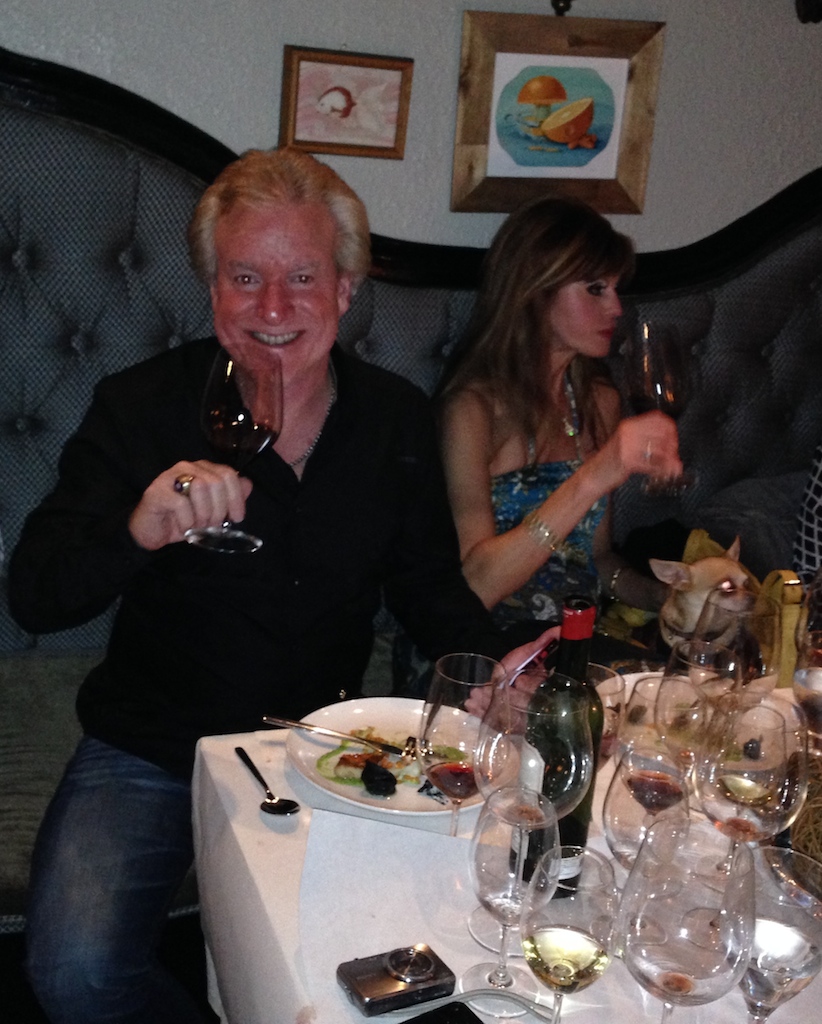 Thanks to Ron for hosting this wonderful celebration, and for all the great wines. I've listed them below, although there were many more after we left, I'm sure.
1990 Pol Roget (for the millennium) (Ron)
Caramel, toast, lovely. 93 pts
1989 Jose Michelle (Ron)
Very crisp and dry, too dry for me. 90 pts
1992 Haut Brion Blanc (Ron)
Honey color, caramel, burnt orange, cinnamon, wax, sweet burnt marshmallow, lemon peel, I love this, and hadn't had this vintage before. Keith felt it was oxidative, which is probably true, but one of the things I love about old HBB. Certainly unidentifiable as sauvignon blanc. 92 pts
2008 Corton Charlemagne Louis Latour (Keith)
Extremely floral, acacia, soft buttery finish, fairly simple, would hav egone well with the scallop, but didn't match the ceviche. 90 pts
1961 Clos Vougeot Grivelet (Steve)
Tamarind, earthy, rich, medium garnet, orange peel, still good tannins, very appealing considering this was only a so-so year in Burgundy. 93 pts
1949 Clos Vougeot (Ron)
Mineral, sawdust, iron, blood, sweet finish, oranges, charred wood, this took a while to come around, but turned out to be great. 94 pts
1995 Corton Renauds (Keith)
Seashore, cherry, short, 88 pts
1970 DRC La Tache (Ron)
Good color, surprisingly tannic, vanilla, citrus, fairly simple, a good wine, but not a great quality to price ratio. 91 pts
1961 Ch Lynch Bages (Steve)
Very, very young, bright red cherries, vanilla, blockbuster, glad I have several more. 98 pts
1978 Ch Haut Brion (Ron)
Chalk, peppers, gravel, dust, slightly musty, I think this bottle was slightly off. 92 pts
1989 Ch Cheval Blanc (Keith)
Really balanced, vanilla, cherry, tannic, mint, black pepper, great aging potential, tobacco, I love Cheval, and this is the best (and youngest) one I've had in a while. 96 pts +
1966 Ch La Mission Haut Brion (Ron)
Perfect bottle, gravel, sweet cherry, long mint, cinnamon, smoky wood, This wine, poorly rated by Parker, is almost always my wine of the night. 99 pts
1983 Ch Margaux (Ron)
Seashells, briny, tannic, talcum powder, chocolate coated cherries, wood, this is why I don't collect Margaux any more. 92 pts
1994 Ch Pavie Macquin (Gary)
Nicely balanced, dust, chocolate, tannin, youthful, good food wine, good with beef. 90 pts
1982 Ch L'Evangile (Keith)
Tar, extremely chewy, long tannic cherry finish, mint, herbs, pine forest floor, mushrooms, this is one of Keith's favorite wines, and I can see why. This is the best 1982 I've had. 99 pts
1968 Grange (Ron)
Burnt mesquite, wormwood, young, probably still not ready, tannic, long, did I mention tannic, powerhouse that make be at its peak in another 50 years. 95 pts
1970 Lynch Bages (magnum) (Ron)
Bright red fruits, succulent, tart finish, pleasant, but a shadow of the 1961, 92 pts
1993 Ch Pajzos Esszencia (Steve)
I opened this because we needed to leave and I wanted to taste it, so I left the bottle for everyone else. I hope they enjoyed it. A Robert Parker 100 pointer with a reason. Phenolic, citrus, syrupy consistency but amazing acidity to offset it, dried fruits, pear, apricot, smoke, apple, caramel, kumquat, greatest dessert wine I've ever had, including Yquem. 100  pts