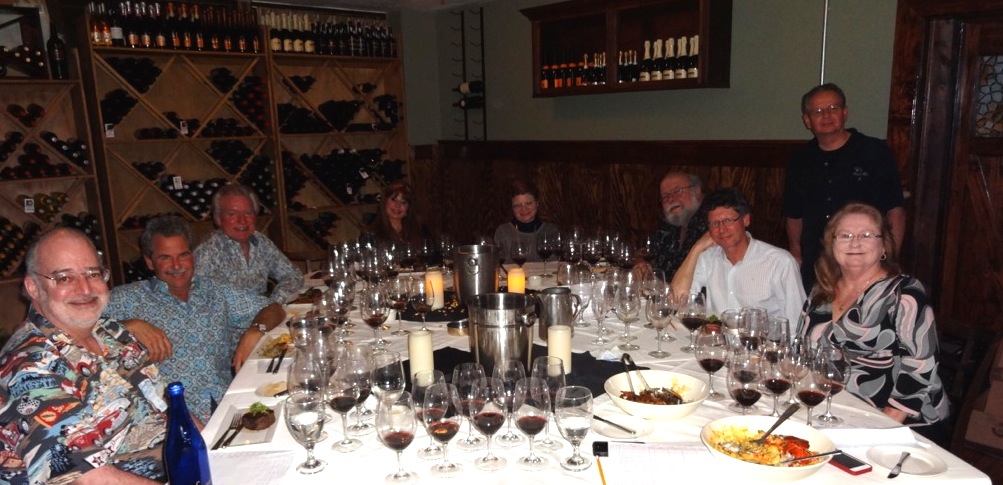 We convened in the private room at The Chef's Table at the Edgewater for a tasting. I have been trying for a couple of years to get Kevin Buckler of Adobe Road to schedule an extra day when he is in town so that I could introduce him to the magic of old wines. Kevin has an extensive cellar focusing on modern California wines, while Ron and I have cellars full of old French wines. So this was the day.
In attendance were Ron and Bev Siegel, Kevin and his friend Henry Wolfond, John and Debbie Henline, Martin Chaney, Linda and I.
We'd never done an event like this at The Chef's Table, because they lacked the glasses. I solved that problem by giving them 62 Riedel Ouverture series, which worked well for both Burgundy and Bordeaux. Now we'll have glasses there for future events.
The Chef's Table staff, and especially our server Teran did a fabulous job. She is quite interested in wine and had researched the background on the wines, which was really neat.
Rather than our normal tasting followed by dinner, I had pre-matched the wines to food. Every course was great, and perfectly paced for our almost 5-hour dinner.
It was fun to introduce a couple of virgins to the complexity of old wines, and I think it's safe to say they were stunned by the freshness and appeal, especially of the old Burgundies. As usual, serving the Burgundies first took the bloom off the Bordeauxs, but overall every bottle was in great shape and had something to offer.
The menu, followed by my wine notes:
Salmon Tartar
House Made Smoked Fish Dip
Pan Seared Scallops
Combination Cheese and Butcher Plate
Mushroom Torte
Eggroll / Crawfish Fritter
Heirloom Tomato Salad
Boudain Ball / Chicken Liver
 Beef Filet with passed sides: Chef's Mac & Cheese, Duck Fat Fries
 Combination Dessert Plate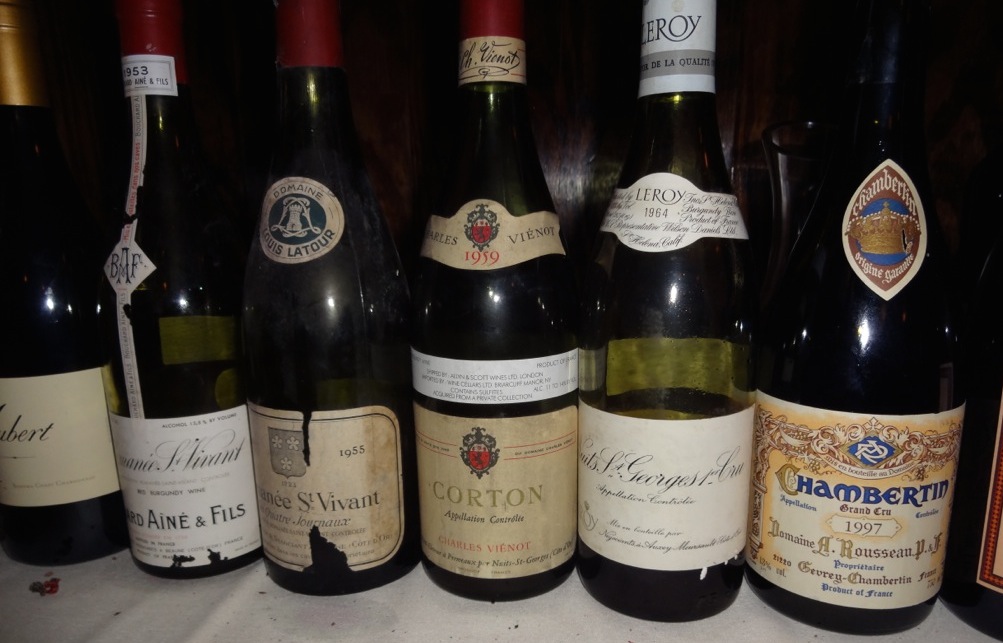 Jacques Selosse Substance (Steve)
Complex oxidative nose with secondary fruit flavors that develop after several minutes. This wine evolved for two hours in the glass. This Champagne is made with a Solera process, where older years are added in to new vintages. 95 pts
2008 Chateau "Y"(Steve)
Candle wax, lime, cotton candy, anise, butter. This was a bit of a disappointment as it never opened up as much as usual. 92 pts
2010 Aubert Chardonnay Reuling Vineyard (Steve)
No contest, this wine blew away the "Y". Wood, spice, caramel, butter, good acid. A great match to the salmon. 94 pts
1953 Romanee Saint Vivant, Bouchard Aine & Fils (Ron)
Smoke, bacon fat, charred log, fresh cherries, fabulous. My (and most people's, I think) Wine of the Night. 96 pts
1955 Louis Latour Romanée St. Vivant Les Quatre Journaux (Steve)
Iron, good fruit on the palate, earthy finish. 95 pts
1959 Corton, Charles Vienot (Ron)
extremely youthful, pine, dust, wood. 96 pts
1964 Maison Leroy Nuits St. Georges 1er Cru (Steve)
Refined, youthful, mint, dried roses. 94 pts
1997 Chambertin Domaine Armand Rousseau (Henry)
Delicate, refined, great potential, it was easy to see how this could turn into one of those great old Burgundies some day. 92+ pts
2001 Adobe Road Pinot Noir (Kevin)
A great Burgundian wine, the first released vintage from Adobe Road. Wow, I wish they still made their pinot in this style! The wine fit right into the Burgundy flight. 92 pts
1961 Château Montrose (Ron)
Great color, latex, smoke. 92 pts
1961 Château Lynch-Bages (Steve)
Great color, briny, spice box, red fruit, extraordinary balance. 92 pts
1966 Château La Mission Haut-Brion (Ron)
Youthful, minerals, forest fire, sea brine, good acid, gravel. Not showing as well as several recent bottles of the same wine. 93 pts
1970 Château La Mission Haut-Brion (Steve)
Much headier than the '66, young, red fruit, balanced. I hadn't had this vintage of this wine before, nice one. 92 pts
1990 Ch. Cos d'Estournel (Henry)
Huge, structured, balanced, round, charred meat. This wine didn't fit in this flight, but it will be great some day. 94 pts
1969 Beaulieu Vineyard Cabernet Sauvignon Georges de Latour Private Reserve (Steve)
This was supposed to be a 1968, but turned out to be a 1969. Fortunately the vintages are extremely similar, although this was not an exciting bottle. Waxy, youthful but with a slightly bitter finish. 89 pts
1971 Beaulieu Vineyard Cabernet Sauvignon Georges de Latour Private Reserve (John)
I think I've only had this vintage once before. Waxy, young, tight, green. This just wasn't a Georges de la Tour night! 88 pts
1974 Simi Alexander Valley Reserve Cabernet Sauvignon (Ron)
A very serviceable old California Cab with good fruit and balance, nothing remarkable. 91 pts
1975 Angelo Papagni Alicante Bouschet (Martin)
I think there was a lot of disagreement about this wine, but it has always blown me away, and continues to do so. Dark, unctuous, very fresh and young. Linda called it cough syrup, I thought melted chocolate. I wish I still had some of this! 95 pts
1985 Silverado Estate Bottled Cabernet Sauvignon (John)
Wood, smooth, youthful, balanced. Holding up much better than other old Silverado I've had. Of course, this was a great year. 93 pts
1988 Stags Leap Napa Valley Petite Syrah (Martin)
Smoke, almost no petite syrah character. This is the wine we'd slip into a cab tasting to fool everyone, and it would win. I wish they still made it in this almost Bordeaux-like style. 93 pts
2004 Penfolds Grange (Steve)
Smoke, huge. I decanted this 3 hours before we poured, and it was almost ready to drink. This vintage is much more accessible than most Grange. 96 pts.
2008 B20 Sine Qua Non Syrah (Ron)
Blueberries, dense, still needs years. Like the Grange, this has 3 hours in a decanter, but still wasn't ready. 97+ pts
1998 Adobe Road Cabernet Sauvignon (Unreleased) (Kevin)
What a treat to try this unreleased wine made from Silver Oak fruit and done in half French half American oak! dusty, balanced, smooth. 93 pts
Adobe Road Mystery Bottle (Kevin)
This unlabelled bottle was probably 2002 Cabernet Sauvignon. Another stellar effort. surprising sense of residual sugar, perhaps just a sign of how much fruit is still in it. 93 pts
2002 Adobe Road Zinfandel (Kevin)
Pasalaqua vineyard. Smoked meat, holding its fruit really well for an old Zin. 92 pts
2005 Adobe Road Zinfandel (Kevin)
Winner of the Sonoma Harvest Fair. This is a terrific wine. 94 pts
1968 D'Oliveiras Madeira Boal Reserva (Steve)
Too bad this came at the end of a long evening; it's spectacular, and would have matched every dish we had. Sometime I'm going to take this to the Chef's Table and nurse it all night. Burnt sugar, caramel, citrus on the palate, great acidity. 98 pts