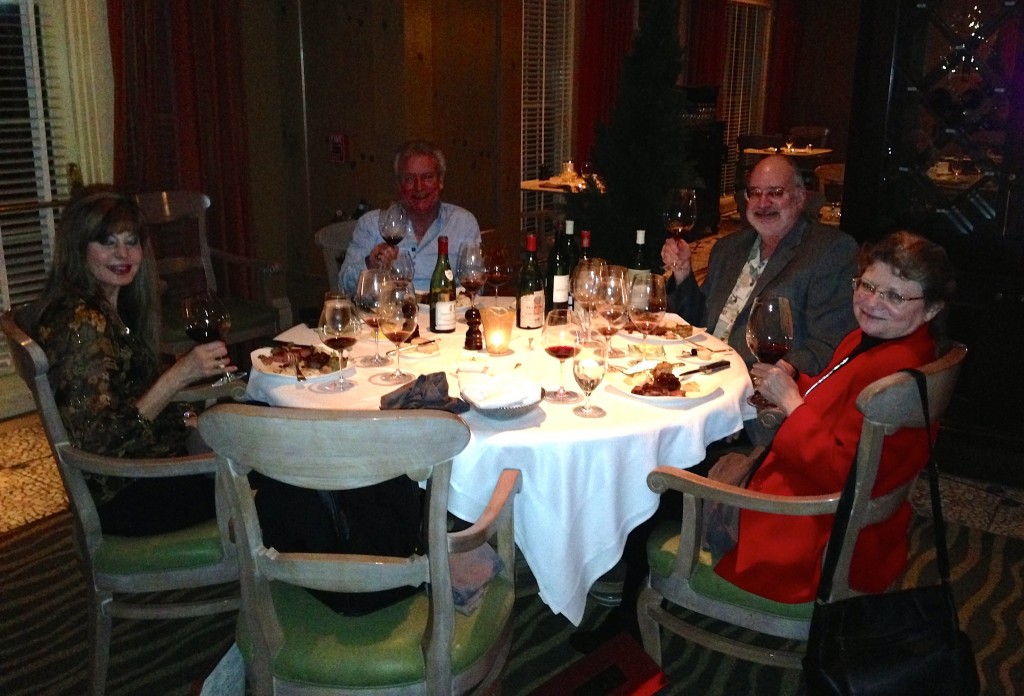 Long, long ago, when I first became interested in wine, there was a general perception that Bordeaux wines were better than Burgundy, particularly when they were aged. Over the decades that I've been tasting wines, I've come to the conclusion that's almost always not the case. It's true that some Burgundies lose their fruit over time, but 1 in 100 bottles of Burgundy that is aged for several decades turns into something magical that I've never encountered in a Bordeaux.
But last night things were different. For the first time in so long none of us could remember it last occurring, the Bordeauxs were clearly better than the Burgundies. We had selected terrific vintages for both categories. Our Bordeauxs were from the famous 1945 vintage, regarded as the best in the century. And our Burgundies were from 1949, an almost equally prestigious year. But the Bordeauxs clearly were hitting on all cylinders last night.
Because we knew it would be a late evening, Linda and I checked into the Ritz-Carlton. They unexpectedly upgraded us to a suite. I wish we had known in advance, as we could've checked in earlier and taken advantage of the gorgeous room and view. But Linda had a cold anyway, so we took it easy and joined our friends Ron and Bev at the Vineyard at 7pm.



The Vineyard does an interesting balancing act, not really a fancy restaurant, but not casual dining, either. We love the fact that the chef enjoys going off-menu to create whatever comes to mind, and that our server, James, really enjoys coming up with interesting food and wine pairings.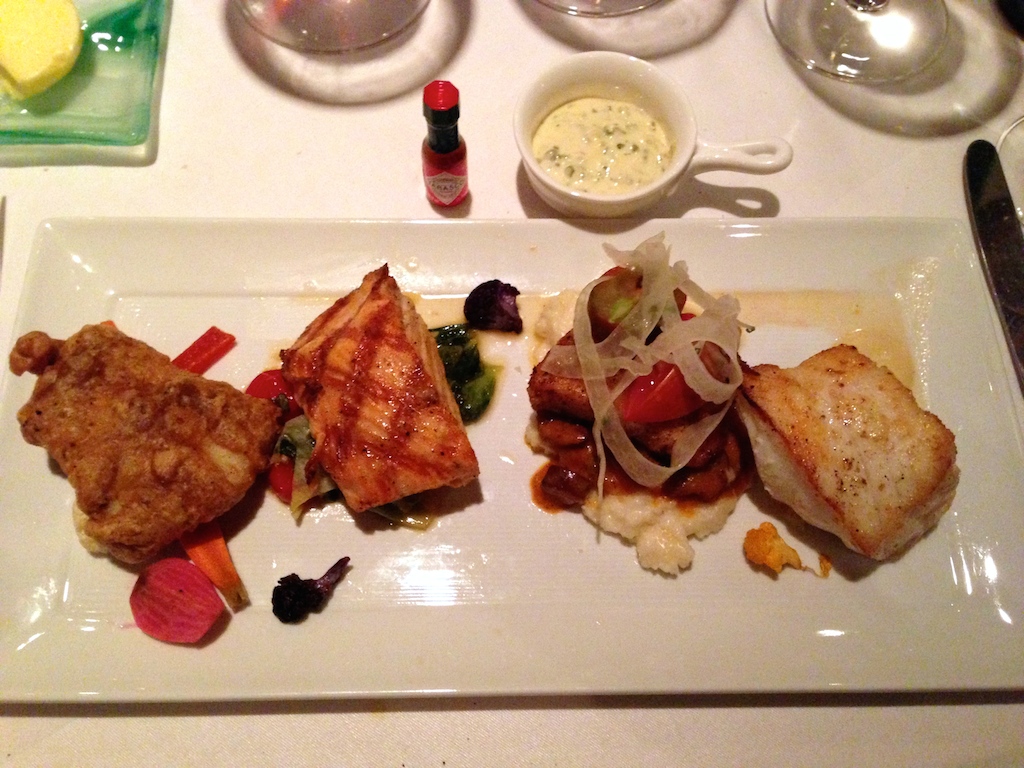 Dinner was the usual five hour plus extravaganza. Outstanding courses included the best ceviche I've ever had, accompanied by a brilliant fennel and mango salad, excellent fried green tomatoes (high praise from me, indeed), smoked salmon, parsnip ravioli, Caesar salad, all four fish from the menu, and a duo of filet mignon and rib eye. The chef basically knocked it out of the park. And then at the end of the meal we were presented with an embarrassingly low bill.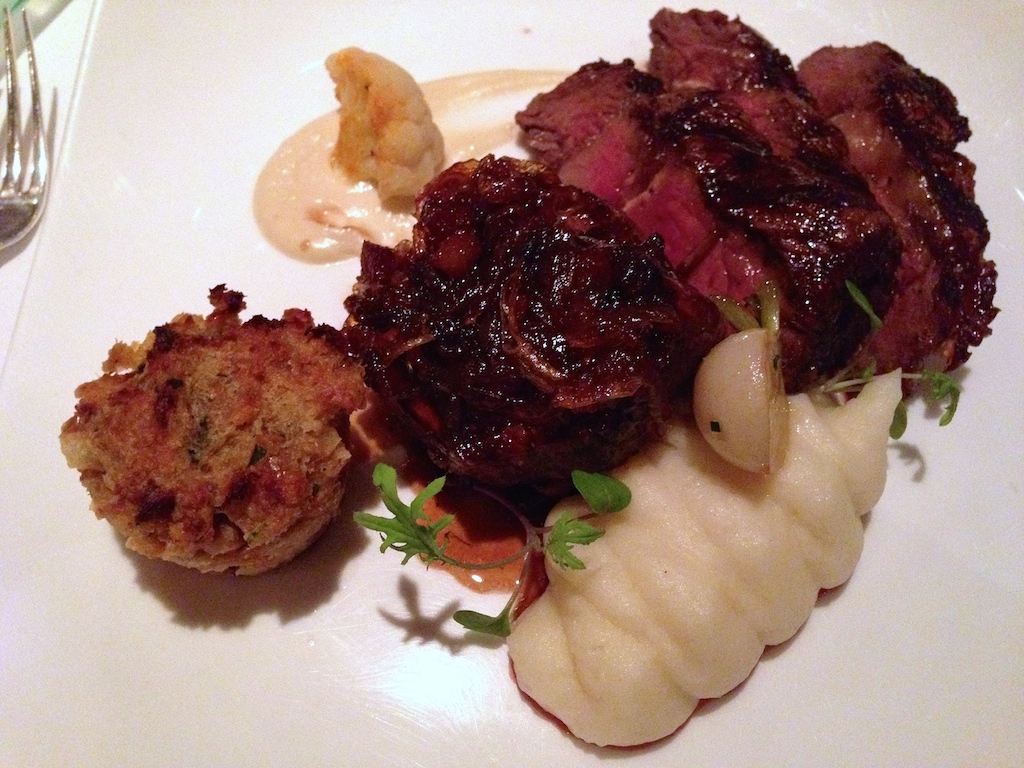 The sad thing is that this restaurant is closing next month, which was one of the reasons for our visit. It's a shame, because they're replacing it with something low brow, and it's hardly necessary–the room was nearly full most of the night.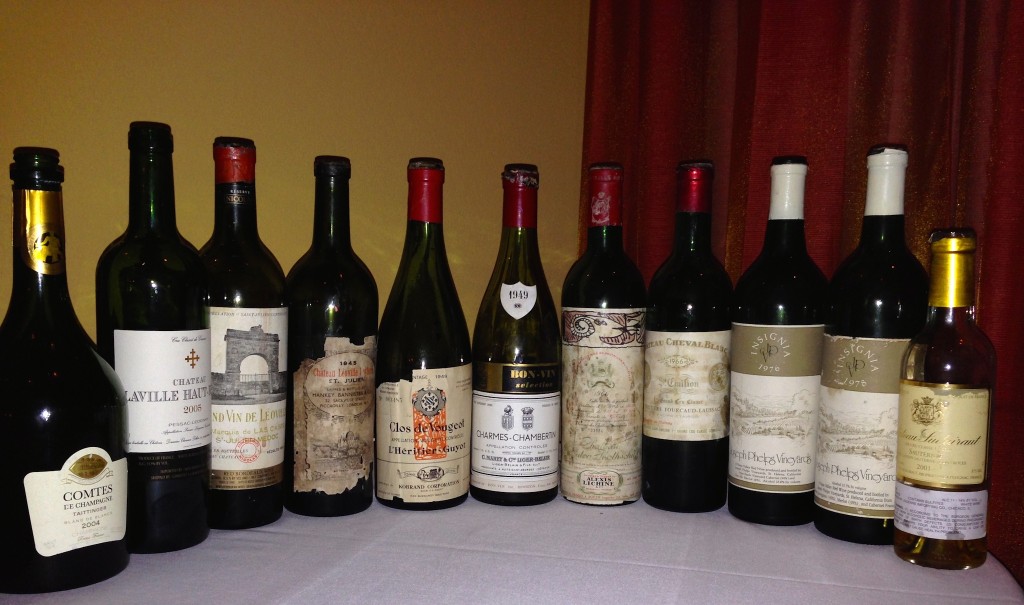 As for the wines, my favorites were very surprising. My top rated wine of the night was actually the Comtes Champagne we bought from the restaurant's list. It was fabulously creamy, and priced barely above retail. I also liked Ron's Laville Haut Brion Blanc.
Turning to the reds, the Burgundies just didn't show up for work. They weren't flawed, just not exciting. I'd even had Ron's wine before and left a stellar note on Cellar Tracker, but this bottle was not a kindred spirit.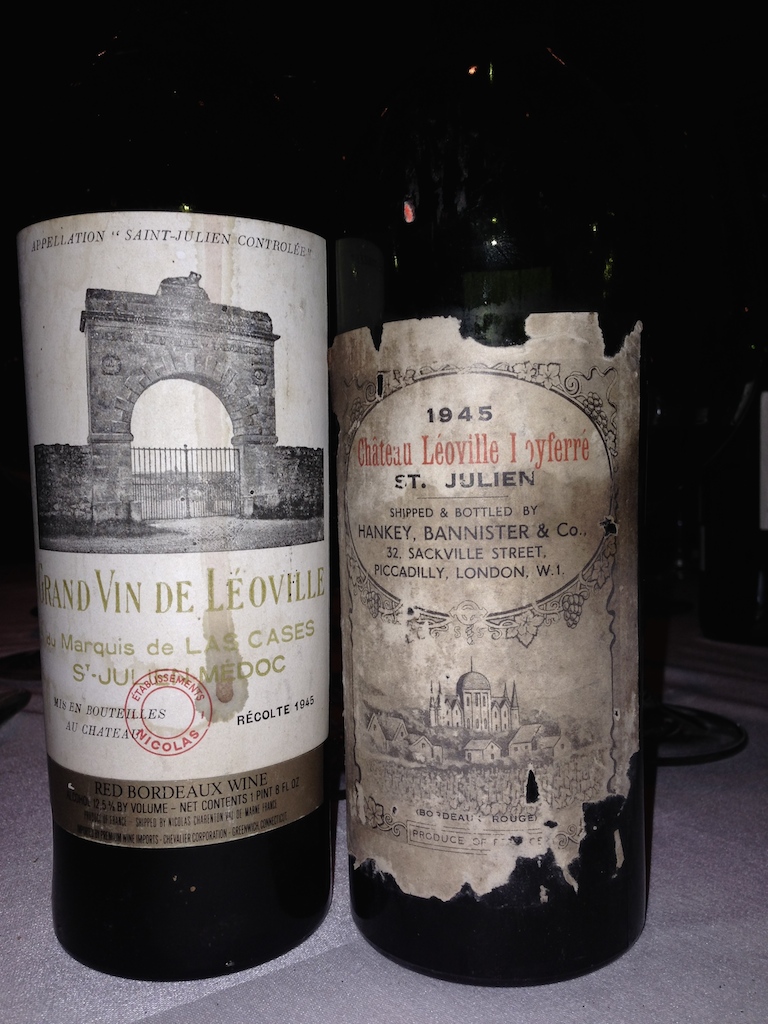 Of the Bordeauxs, everything was pretty close and all the wines were true to their heritage. My notes follow.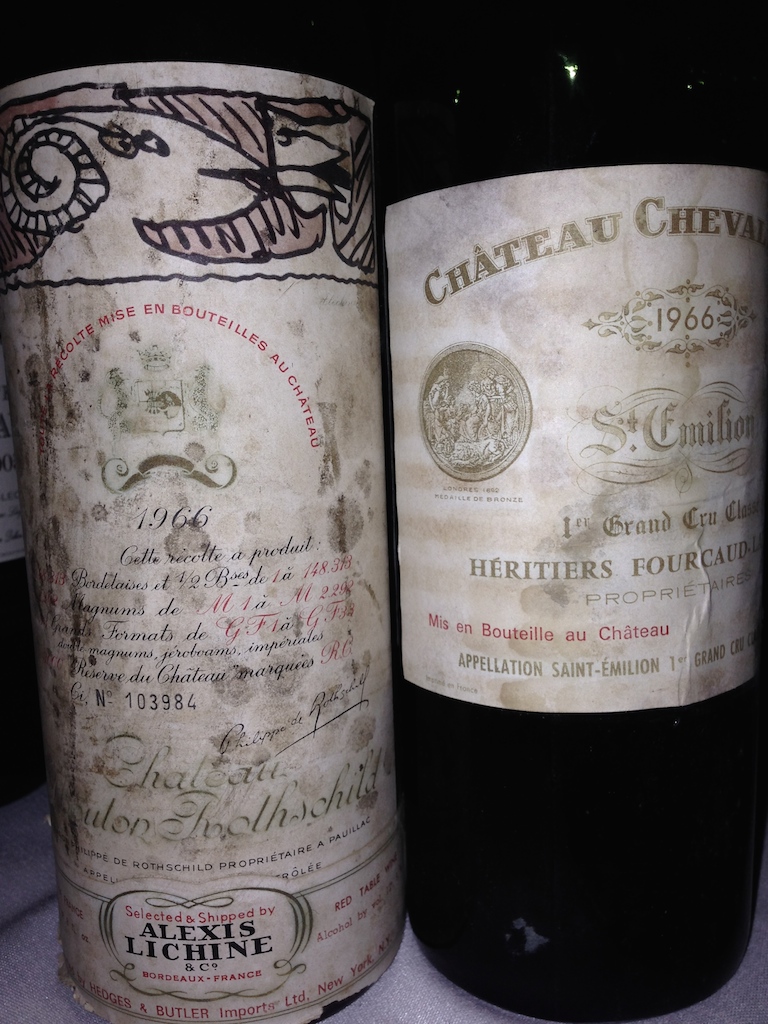 2004 Comtes Champagne (from the list) $175
Cream, yeast, great balance, long toasty finish, 96 pts
2005 Laville Haut Brion
Caramel candy, wax, lanolin, butter, ash, floral, super balanced, long, 97 pts
1945 Château Léoville Las Cases St. Julien (Steve)
Low fill, Wax, sweet raspberry fruit, chewy, fresh, 96 pts
1945 Leoville Poyferre St. Julien (Ron)
Very dark, tart blackberry, wood, coffee, young, 93 pts
1949 L'Heritier-Guyot Clos Vougeot (Steve)
Ruby, really fresh, fennel, 91 pts
1949 Liger Belair Charmes Chambertin (Ron)
Slightly musty, citrus, 86 pts
1966 Château Mouton Rothschild Pauillac (Steve)
Young, bright, coffee, green peppers, lead pencil, classic Bordeaux, 92 pts
1966 Cheval Blanc (Ron)
Herbaceous, tight, anise, mint, chocolate, black cherry, 93 pts
1976 Joseph Phelps Insignia (Steve)
Red fruits, 91 pts
1978 Joseph Phelps Insignia (Ron)
Coffee, coffee, coffee, big fruit, vanilla, long, 95 pts
2001 Ch Suiduraut (Steve)
Great acidity and balance, great botrytis nose, raisins, long vanilla finish, figs, cream 94 pts