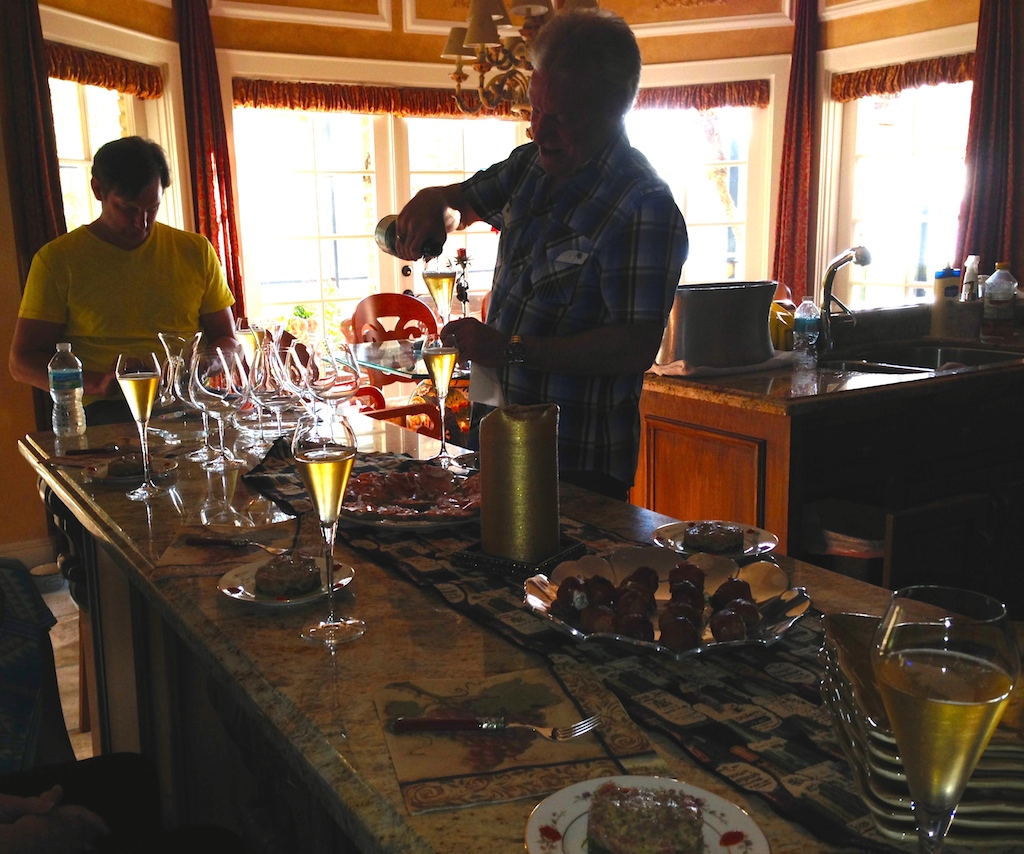 A few weeks ago we got together with Ron and Bev for dinner at The Vineyard, with the shocking result that the Bordeaux outshone the Burgundy. This almost never happens. So when Ron invited us to join Rhett from B-21 at their home for dinner, I was ready for a rematch.
Dinner, which Ron and Bev threw together on the spur of the moment, was amazing. We started with tuna tartare, smoked salmon, and Ron's famous balls (sweet red peppers stuffed with mozzarella and wrapped in bacon). These all went really well with the Jacques Selosse.
We segued to the patio for Stone Crabs with mustard sauce. What a great match to the Aubert and what a perfect evening for stone crabs on the patio!
This is where the Burgundy kicked in, and the first two were the wines to be all night… until the end, when Ron did beat them, with another Burgundy, as you'll see.
In the dining room we had a phenomenal baked sea bass, radicchio salad with a delicious Chardonnay vinegar, and then prime steaks from the Meat House. We finished off with Bev's famous tira misu. (I don't think I've had tira misu since the last time I had Bev's because it's never as good anywhere else!) The idea was to mimic a dinner at Eddie V's, but every course surpassed it.
As for the wines… order was restored to the universe. The old Burgundies were absolutely superb, and eclipsed all of the other wines. The Bordeaux paled in comparison, although the Unico certainly was a great wine.
As dinner wound down, I didn't think anything would top the two 1964 Leroy wines, but then Ron dared me to name something and he'd see if he had it in his cellar.
For years my go to wines at Bern's were the now-depleted Pierre Ponnell Burgundies 50s and 60s, in particular the 1957 Morey Saint Denis Clos de la Roche. 1957 was a pretty good year in Burgundy, but I always wanted to try the 1953. Sure enough, Ron had it! Well, not only was it stellar, it was the Wine of the Night, beating the Leroys. I scored it 100 points.
And now Ron has even more bragging rights about his cellar, because where else in the state (country, world?) could someone just pull that wine from their cellar?!
We finished out by the fire pit with some Armagnac. Everything had been so wonderful even Linda was amazed to discover it was 2am!

Jacques Selosse Lieux Dite La Cote Faron  (Ron)
Creamy, Toast, great balance, green apple, kiwi fruit. Smooth, 94 pts
1990 Bollinger, disgorged 2001  (Ron)
Crisp, green, austere, acidic, bitter walnut, 90 pts
2008 Aubert Loren (Ron)
Butterscotch, cinnamon, toast, butter, very balanced and elegant, 95 pts
1964 Leroy Pommard Les Grande Epinots (Steve)
Earth, soy, forest floor, Asian spices, super balanced, crushed pine needles, 97 pts
1964 Leroy Grand Echezeaux (Ron)
Intense chocolate coated cherries with kirsch liqueur, really long, 99 pts
1966 Ch Mouton Rothschild (Steve)
Black cherries, bell peppers, pine, really awkward at first, then opened up, gardenias, vanilla, Creme brûlée, dust, then quickly faded, 88 pts
1995 Rayas (Ron)
Cherry pie with caramelized cinnamon crust, fig newton cookie dough, 94 pts
1982 Diamond Creek Volcanic Hill Cabernet Sauvignon (Steve)
Fading fruit, still goof tannic structure, dust, cocoa, cherry, 84 pts
1983 Ch Cheval Blanc (Ron)
Bordeaux gravelly nose, black pepper, 90 pts
1970 Unico
Very, very young, mint, vanilla, not at all Spanish tasting, 100% Tempranillo, American oak, dill, cinnamon, caramelized sugar, buttered icing, 96 pts.
1947 Aloxe-Corton Bouchard (Ron)
Cherry, tobacco, bright, fresh, balanced, vanilla, elegant, woody, sweet, earthy, cotton candy, charred wood, 99 pts
1953 Pierre Ponnelle Morey Saint Denis Clos de la Roche  (Ron)
Young, perfectly integrated, cherries, earth, balance, vanilla, wood, mint, vanilla, cocoa, spice, butterscotch, charred wood, amazing sweet fruit. I named a producer, vineyard and vintage that I wanted to taste and Ron produced exactly that wine, and it was the Wine of the Night. 100 pts
50 Year Armagnac
Pleasant, but lacking the depth, balance and complexity of Laberdolive Bas Armagnac. 90 pts