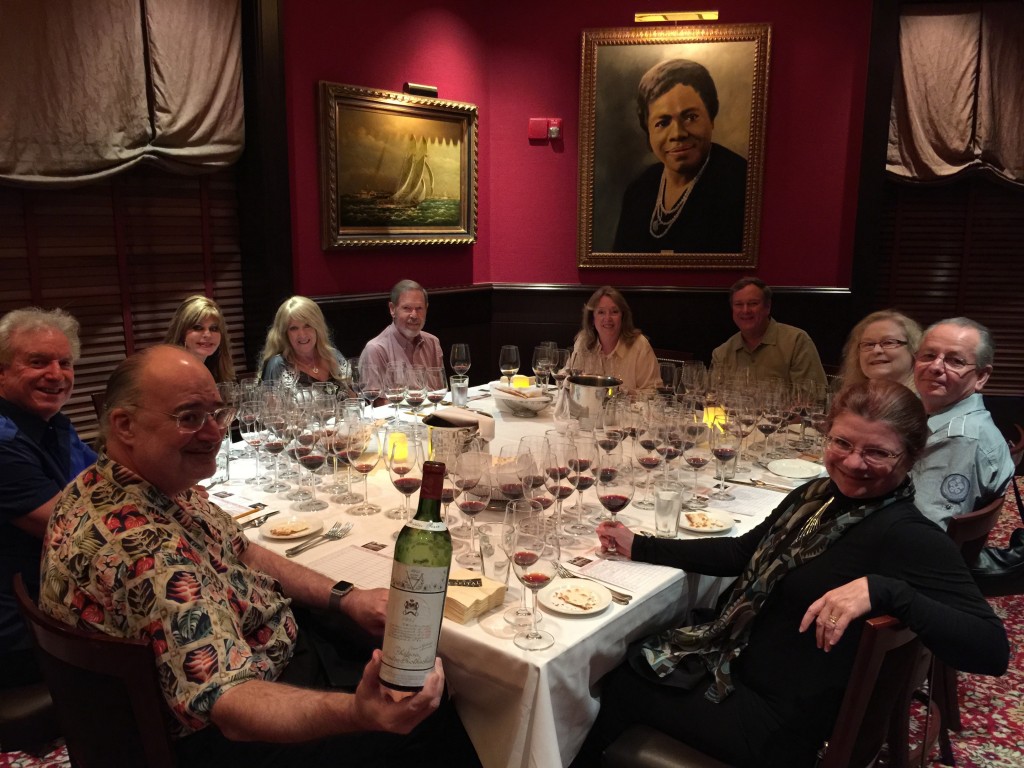 There are not very many wines on my wine bucket list. In fact, there has really only ever been one. It was the 1945 Chateau Mouton Rothschild "Victory Bottle."
The victory bottle is famous for a couple of reasons.
First is that 1945 was a miracle vintage. After a string of awful vintages throughout World War II, 1945 produced the greatest wines of the century, and perhaps ever.
Second, Baron Rothschild commemorated the recovery of his winery with a unique label featuring a "V" for victory. This was the start of Chateau Mouton's tradition of making each year's label unique, and led to the long string of famous artist's paintings that have graced the label since then.
Because of its fame, the Victory Bottle is perhaps the most faked bottle in all of the wine world, so it must be pursued with great caution. After many years, I was able to locate a bottle through a Hart Davis auction that carried an indisputable provenance, and I purchased it last fall. Since then I have been working to assemble a tasting of Mouton's other greatest vintages to accompany it. Our group, The Wine Syndicate, met to sample them last night.

Often when experiencing anything that has been subject to so much hype and anticipation, the results are disappointing. I am happy to report this was not the case here. Not only did the great bottles exceed their reputations, the Victory Bottle was, indeed, the greatest of them all.
There was strong consensus among the group that the two top wines were the 1945 and 1959, and that the final five wines ( 1959, 1961, 1982, 1986 and 1945) were stellar masterpieces. The first two wines (1890 and 1937) were also astonishingly fresh for their age, and remained appealing for four hours in the glass.
It was a remarkable tasting, and one for which I will cherish the memory, now that my wine bucket list is empty!
My notes on the individual wines, and information about the provenance and history of the Victory Bottle follow:
1890 & 1937
With very old wines you never know what to expect. These were both magical. The cork for the 1890, a shipper's wine, was extremely short, but did its job. The '37 was true to other '37 first growths I've had, an unheralded year.
1890 still lively, candle wax, iron, rose petals, 92 pts
1937 youthful, aromatic, bandaid, cinnamon, mint, candle wax, soy, spices, great acid, five spice, curry, 94 pts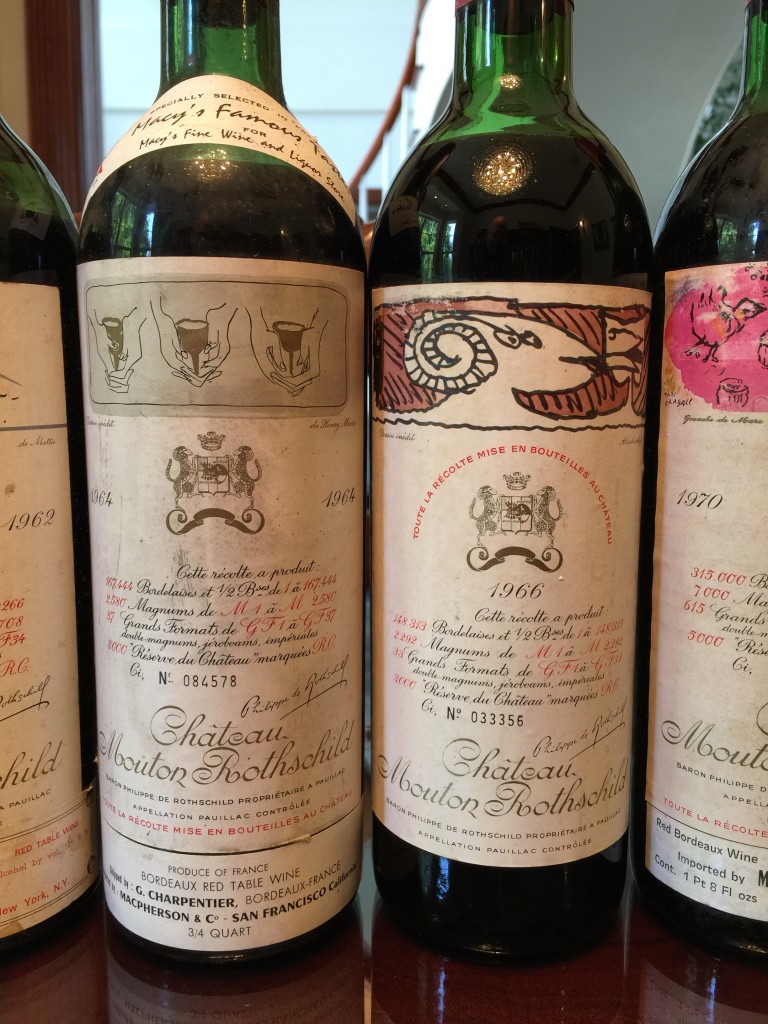 1962, 1964 & 1966
Except for 1961, the 60's and 70's were a difficult time for Bordeaux
1962 candle wax, soap, lanolin to the max, off balance, injection molded plastic, flawed bottle
1964 simple, classic mouton, good fruit, little structure, 88 pts
1966 coffee, smoke, simple, 90 pts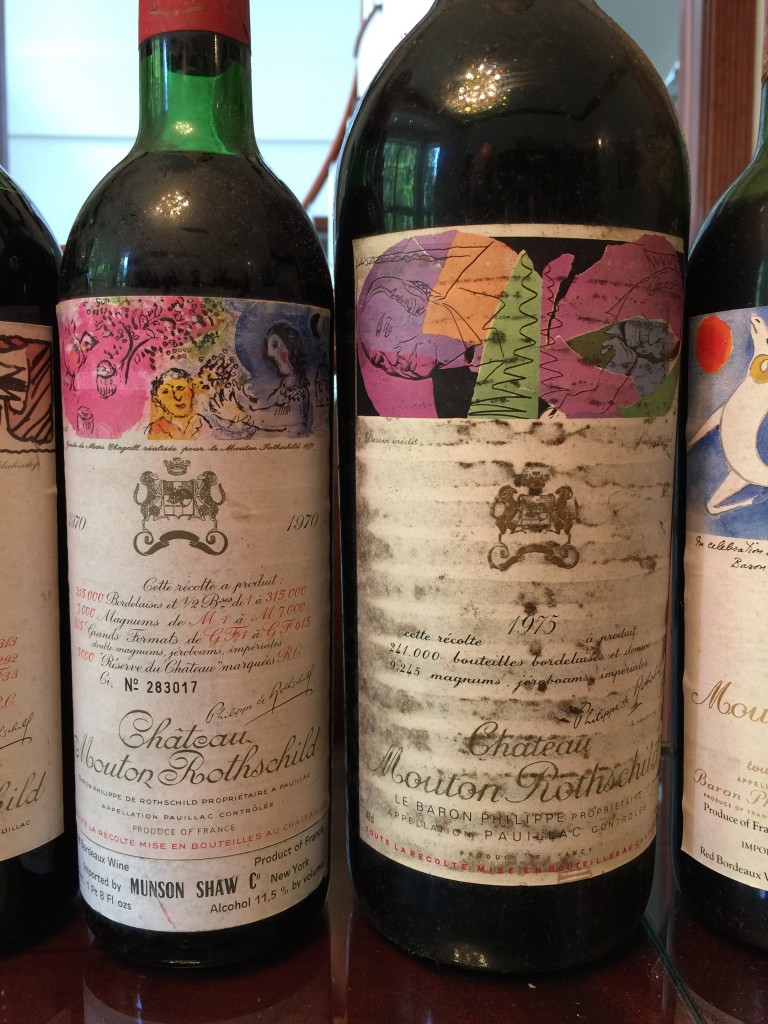 1970 & 1975
These are the only very good vintages of the 70's
1970 coffee, black fruits, 90 pts
1975 soft, red fruits, 89 pts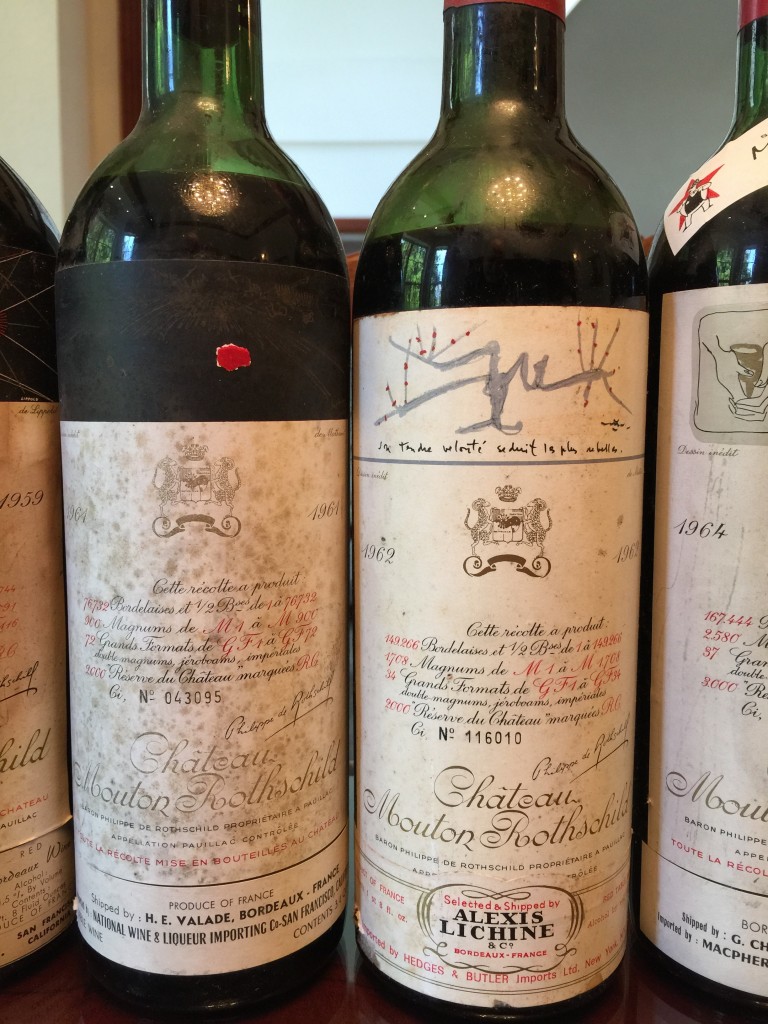 1959 & 1961
These are considered the greatest vintages of Mouton, after the '45
1959 huge ripe fruit, young, dark, perfect tannin balance, mint, vanilla, Girl Scout cookies, mint chocolate chip ice cream, 99 pts
1961 barbecue, soy, fully resolved tannins, iron, 96 pts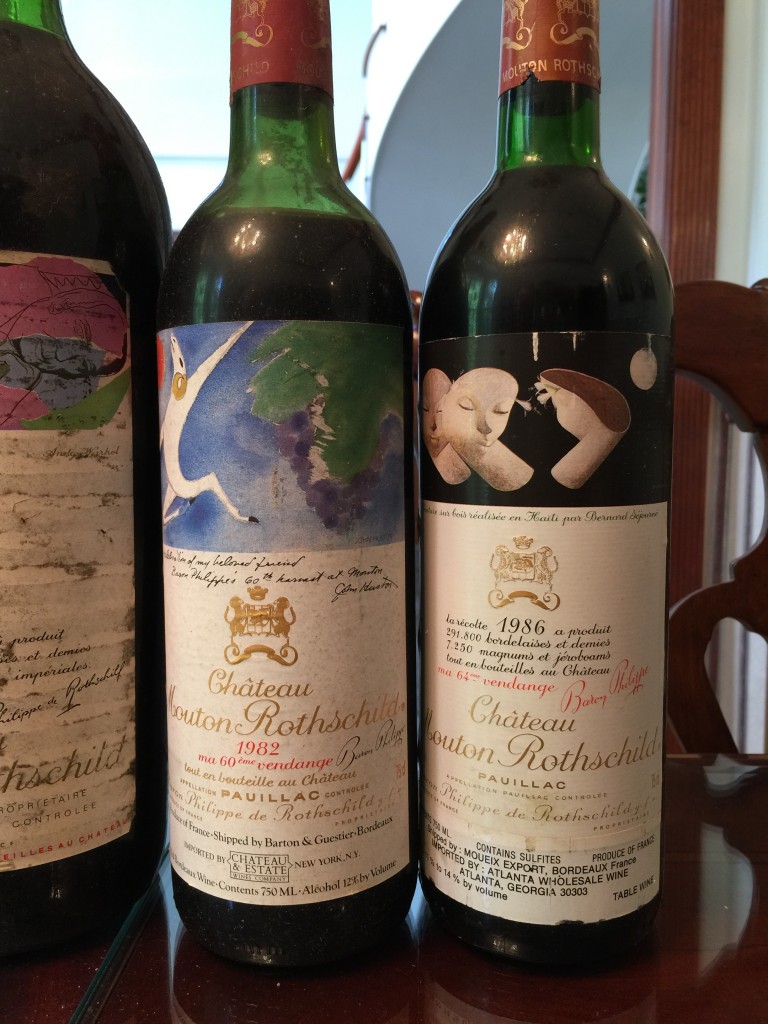 1982 & 1986
Both are Robert Parker 100 point wines.
1982 poor cork, slight wet cardboard, mint, soft fruit, 93 pts
1986 tannic, road tar, great legs, very young, black cherry, stunningly better than the 1982, mint, wood, 98 pts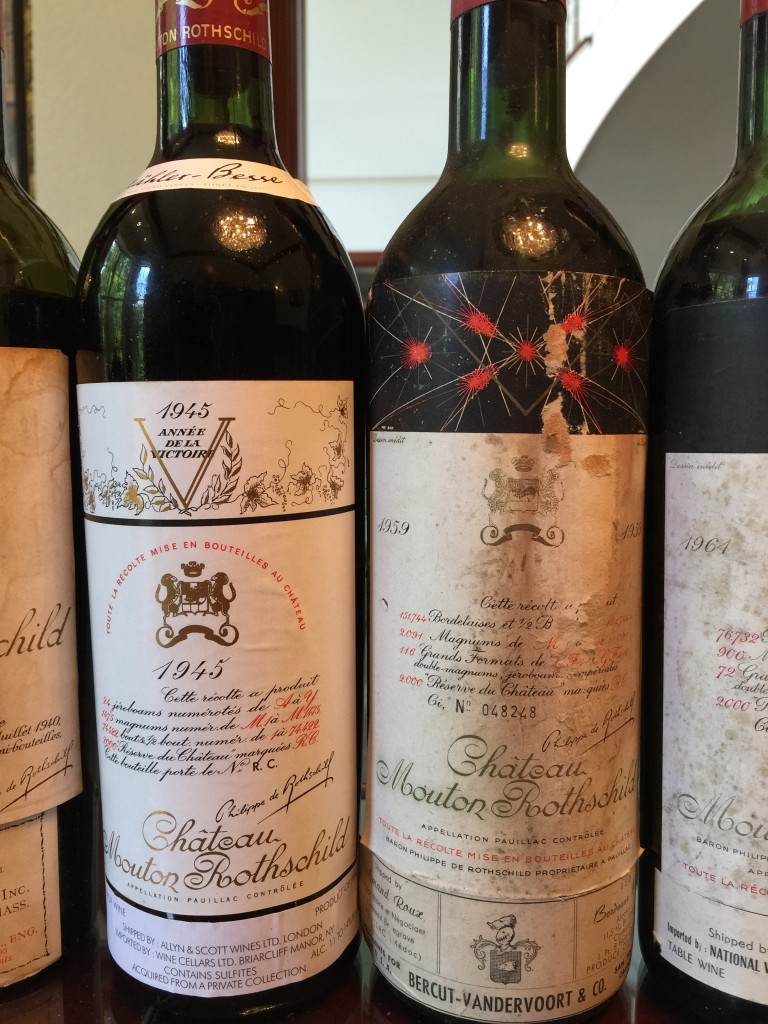 The Victory Bottle
1945 wow! almost overwhelming chocolate mint, dust, great tannic structure, cherry cola, eucalyptus bark, vanilla, unchanged in the glass for two hours, this wine will likely live another hundred years. 100 pts
Historic Information about Chateau Mouton-Rothschild 1945
(Réserve du Château. Provenance: Purchased from Hart Davis 11/2014, Ex-Zachys 10/30/2004 lot 1205 from the cellar of Armin Diel, recently released from Mähler-Besse)
"Mouton 45" is a legend in the wine world  – there is nothing quite like it. Its renown is likely due to both its extraordinary nose  – famously redolent of eucalyptus –  and the symbolism of its date and label, the 'V' representing the hard-won triumph of good over the forces of darkness. To commemorate the Allied victory, Baron Philippe had the idea of embellishing the Mouton-Rothschild 1945 label with an artwork, on this occasion, a symbolic design intended to celebrate the return of peace. He commissioned this work from a  young unknown artist, Philippe Julian. M. Julian submitted several drafts for the label, and the final one is based on the 'V for Victory' made famous by Winston Churchill throughout the war. This marked the beginning of a series of specially designed labels for each vintage. For each year a different artist was commissioned, and the payment was always in wine.
Michael Broadbent, the renowned British expert, writes in his book "Vintage Wine":
The first thing to notice is its extraordinary colour. I have on more than one occasion recognized the wine by this alone. And its bouquet is equally distinctive, in fact one of the most astonishing smells ever to emerge from grapes grown out of doors. The power and spiciness surges out of the glass like a sudden eruption of Mount Etna: cinnamon, eucalyptus, ginger. Impossible to describe but inimitable, incomparable, and, because of this and its appearance, several times 'guessed' blind. There is simply no other wine like it. Its taste is a component of smell, its fragrance is reflected on the palate. Still lovely, still vivacious. Seemingly tireless – indeed another half-century anticipated.
The doyenne of British wine journalists, Jancis Robinson, describes it as follows:
Very, very dark in colour. Extraordinary concentration in this famous wine. The aromas are just slightly porty in their ripeness and concentration but then the wine (still) has so much vitality that it rises above it all to be wonderfully vital. Truly a miraculous wine that I had the pleasure of encountering at the great celebration of the 50th anniversary of the end of the second world war at the British embassy in Paris. So rich and wonderfully persistent. What a treat!
And Robert Parker says:
A consistent 100-point wine (only because my point scale stops at that number), the 1945 Mouton-Rothschild is truly one of the immortal wines of the century. This wine is easily identifiable because of its remarkably exotic, over-ripe, sweet nose of black fruits, coffee, tobacco, mocha, and Asian spices. It is an extraordinarily dense, opulent, and rich wine, with layers of creamy fruit, behaving more like a 1947 Pomerol than a structured, powerful, and tannic 1945. The wine finishes with a 60+ second display of ripe fruit, extract, and sweet tannin. This remarkably youthful wine (only light amber at the edge) is mind boggling! Will it last another 50 years?
The fact that this was the first post-war harvest ought to have been enough to immortalize the vintage, but the freak weather conditions made it even more memorable. In the first few days of May, there was a sudden, heavy, and very late frost, which blackened four-fifths of the vineyard. The Merlot vines, which flowered earlier than the Cabernets, were the worst affected. Subsequent hot, dry weather soon restored the situation, but the eventual harvest was extremely small. The yield per hectare was the lowest it had been in 60 years (around 10h per ha). Not only were there few grapes to a bunch, but the berries were extremely small. The juice was greatly concentrated and the ratio between skin area and volume was extremely favorable for maximum extraction. So ripe were the grapes, that the musts sometimes attained 15% alcohol.
In 2006, K&L Wines sold a case of 1945 Mouton, including a trip to the Mähler-Besse cellar to pick out the bottles, for $150,000.