Ron organized this four decade tasting of one of California's first great flagship wines. We met at Eddie V's and began with three flights representing the 70s, 80s and the 90s/2000s.
I was struck by the distinct stylistic difference between the flights. The 70s represented old school California winemaking, while the 80s showed a distinct Bordeaux influence, and the wines from the 90s/2000s reflected a significant leap in overall winemaking technique.
Although I scored the wines throughout the evening, all of the wines were of such consistent quality that the scores aren't really meaningful. The Ridge wines improved through the three flights. The group's favorites were the 72, 74, 81, 91 and 96, while the 2007 was felt to have long term potential.
Following the formal tasting the attendees poured an additional dozen wines. These wines, all French, were consistantly of stunning quality, all rating well into the 90s. Many of these wines were poured blind.
The most impressive moment of the night was when Ron identified the appellation, year, and producer of the 1999 Cote Rotie. That definitely earned a round of applause!
My notes:

Ridge Monte Bello Cabernet Sauvignon
Flight 1
1972 – wood, some, good fruit, wax
1973 – a bit maderized, caramel
1974 – tight, acidic, wax, wood, dill, slightly short, still has some years
1975 – corked
1977 – good fruit, simple, balanced
(Raymond 1974 CS added for contrast – fruit, vanilla, probably what happens to a fruit bomb after 40 years)
Flight 2
1981 – big fruit, blackberry, smoke, tobacco
1984 – coffee, dill
1985 – acidic, good fruit, slightly off balance, dill
1987 – vegetal, dill, slightly off balance
Flight 3
1991 – big fruit, vanilla, dill, some, coffee, the most complex of all
1992 – good fruit, a bit vegetal
1996 – game, tobacco, gun oil, Bordeaux like
1997 – big sweet nose, tannic, very ripe
2007 – big fruit, vanilla, seems balanced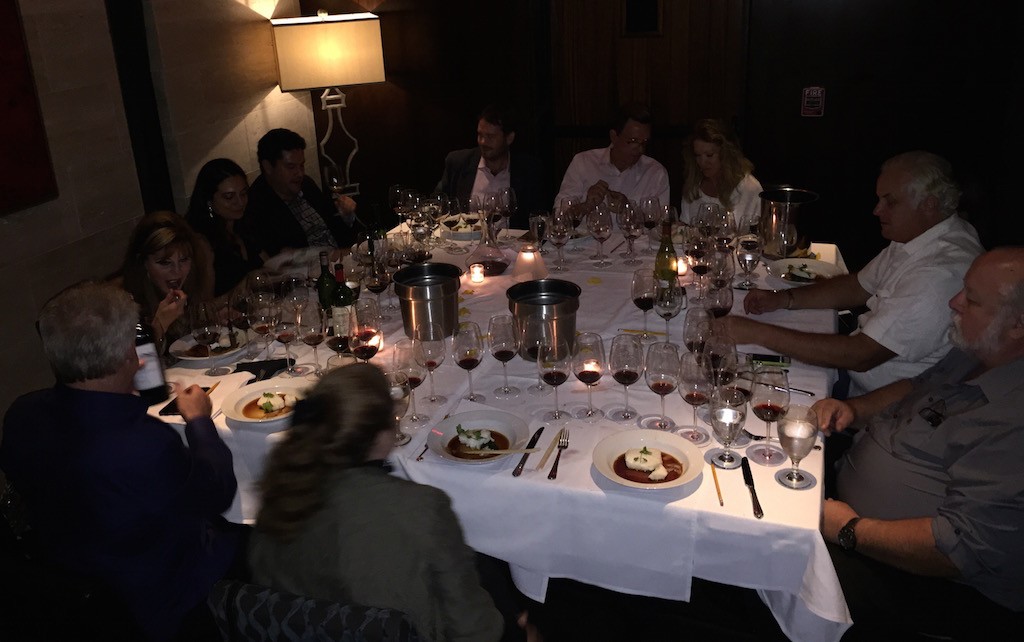 Dinner Wines
1971 Corton alexis Lichine (Steve) – light color, lilacs, strawberry, cedar, delicate, balanced, nice fruit finish
2006 Dominus (Andres) – black cherry nose, very tannic, ripe prunes, vegetal, much too young
1978 Antonin Rodet Richebourg (Ron) – burn wood, vanilla, fresh fruit, herbs, Fig Newton
1999 Cote Rotie Le Grandes Places Jean-Michel Gerin (Steve) – Bacon fat, olives, superb. Blind identified exactly by Ron!
1966 Ch. La Mission Haut Brion (Ron) – fully mature Bordeaux, very balanced, tobacco
2003 Ch.Cos d'Estournel (Gary) Dense, coffee, chocolate, very tannic, gravel
2005 Ch. Las Combes (Martin) – Great fruite, balanced, vanilla, tannic
2010 Ch. Pontet Canet (Steve) – Surprisingly accessible for its age, huge fruite, vanilla, slate, stones
2009 Ch. Gazin (Andres) – Big, silky, fruitier than the 2010. Blind identified as a 2009 Pomerol by Steve
2010 Cardinale (Brian) – Superb steak wine, black cherry, baking spice really smooth and balanced. My favorite
2001 Ch. Rayas (Ron) – Light, elegant, fully mature. Misidentified as Burgundy (again!)