At the start of the Labor Day weekend Dani and I made a quick overnight road trip to Hannibal Missouri to see Mark Twain's birthplace. Along the way we stopped in Springfield, Illinois to checkout The Abraham Lincoln Presidential Library and Museum, where some of Alcorn McBride's gear is used. After a nice lunch at Incredibly Delicious we headed for the museum, parking in the underground garage to escape the 95 degree heat.
The Abraham Lincoln Presidential Library & Museum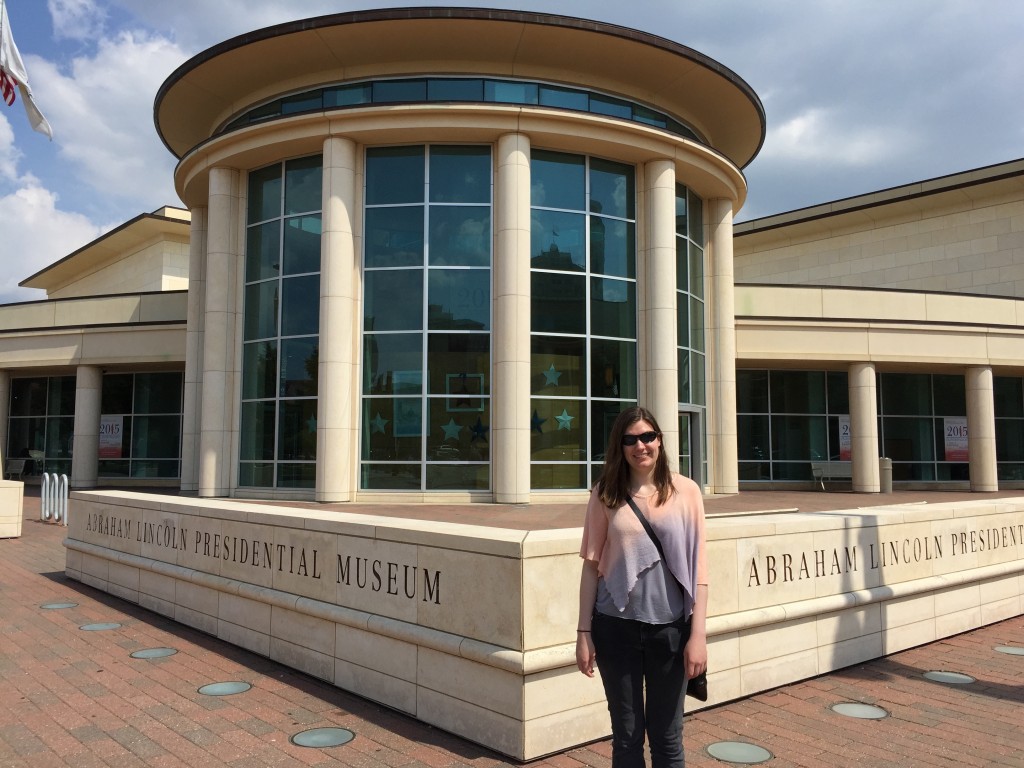 I'm a huge fan of BRC Imagination Arts, the designers of this experience. Bob Rogers is a master storyteller, and this facility demonstrates the power of storytelling like few others I've encountered.
It's amazing how much information you can retain when it is presented in a meaningful and moving context, and that's what the Abraham Lincoln Presidential Museum is all about.

Both of the automated shows are real blockbusters, with amazing effects and immersive narration that really draws you in.
The "Holovision" show Ghosts of the Library uses a live performer and many of the effects developed for BRC's famous Expo '86 Spirit Lodge Show (and Knott's Berry Farm's Mystery Lodge), plus some new effects that will delight even jaded theme park goers like me.
The Lincoln's Eyes show uses multiple screens and a lot of moving scrims and impressive theatrical sound to very effectively tell Lincoln's story in an unconventional way.
Don't let these elaborate shows fool you into thinking this is shallow theme park-like entertainment. You'll leave them with a truly deep knowledge of history, having learned many things you never knew you didn't know about a seemingly familiar story.
Equally impressive to me was the way that Lincoln's childhood and presidency were presented in two separate walkthrough exhibits. Signage didn't overwhelm, but was just enough to invite reading and interpreting each stop. I wish all museum curators would learn how to do this.
Similarly, the displays of artifacts were perfectly interpreted, with just enough information to draw us in without overwhelming us with verbiage, yet with plenty of hard information that was easy to absorb. I certainly learned ten times as much as I expected to.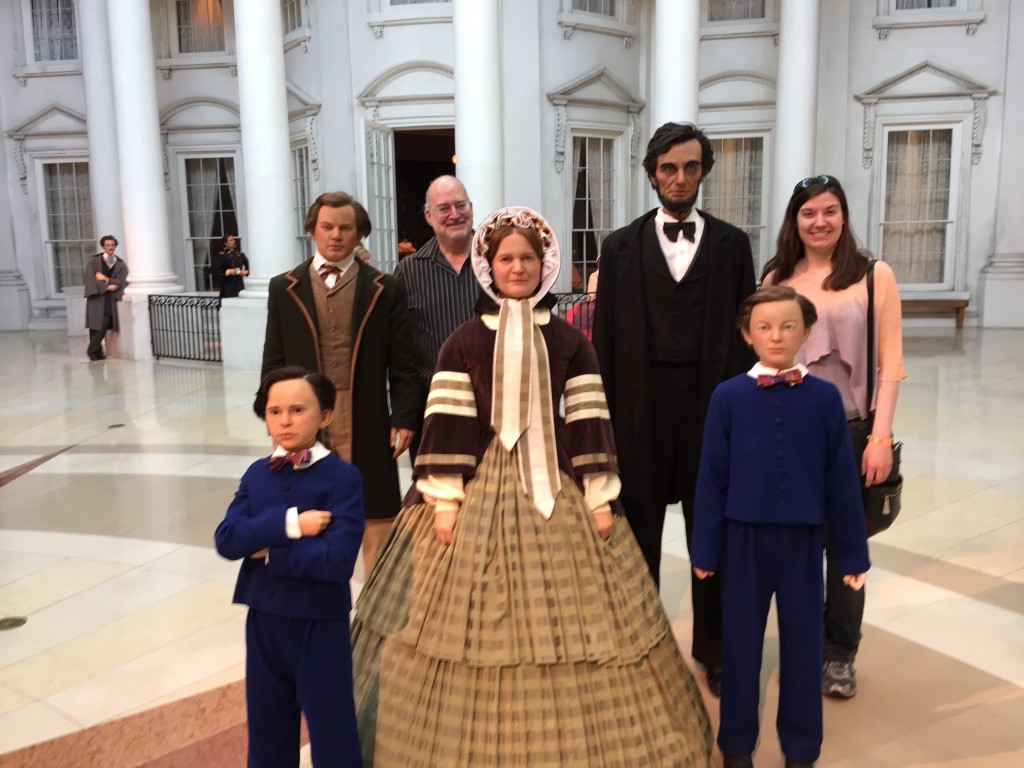 This museum is a delightful place to spend as little as a couple of hours, or as much as a full day. Highly recommended.
The Abraham Lincoln Presidential Library & Museum is at 212 N 6th Street, in Springfield, Illinois.
Hannibal, Missouri
In the afternoon we headed west, across featureless cornfields, for Hannibal, Missouri, Mark Twain's boyhood home, and the setting for Tom Sawyer and Huckleberry Finn. Hannibal sits just across the Mississippi River from Illinois, and it's a bit of a one horse town.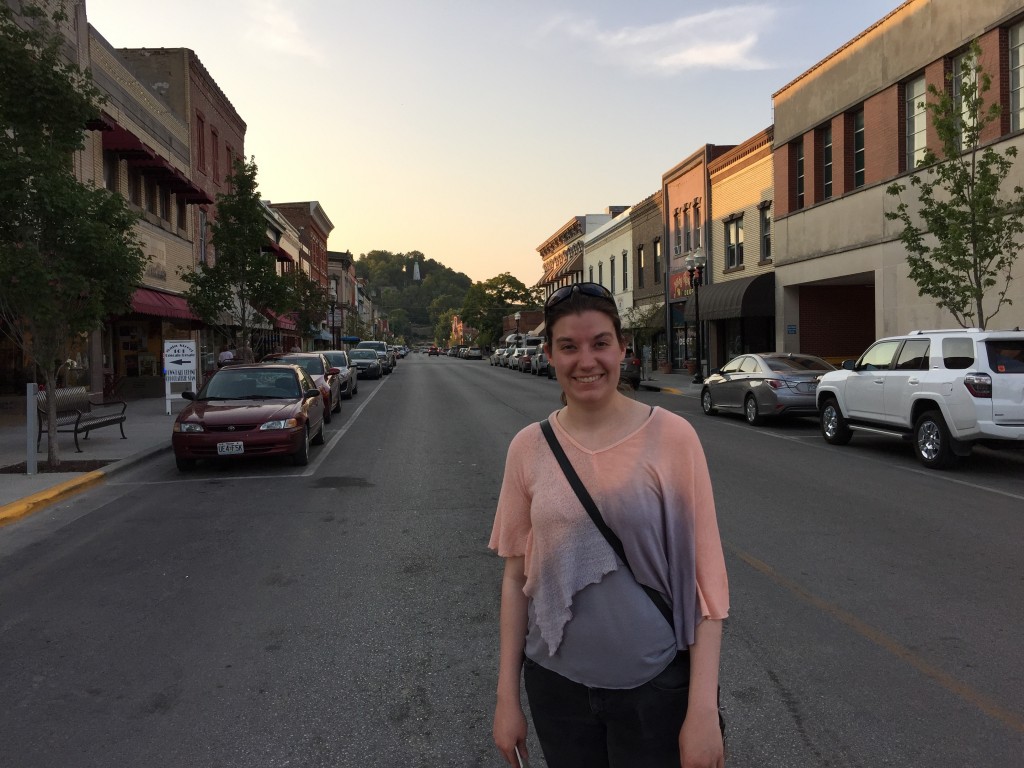 The major industry seems to be tourism along the four blocks of historic shopping that run from the Mark Twain Museum up to the statue of Tom and Huck.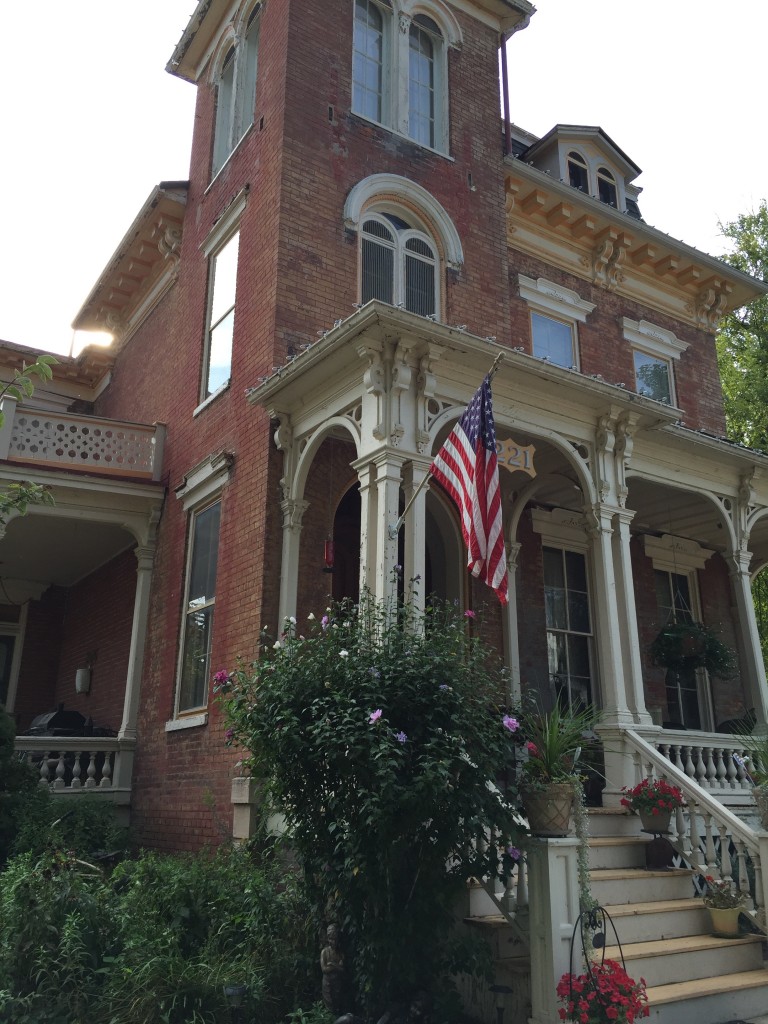 We stayed at a charming bed and breakfast called the Dubach Inn, and had dinner three doors away at LaBinnah Bistro. After dinner we walked down to the steamboat landing on the Mississippi River.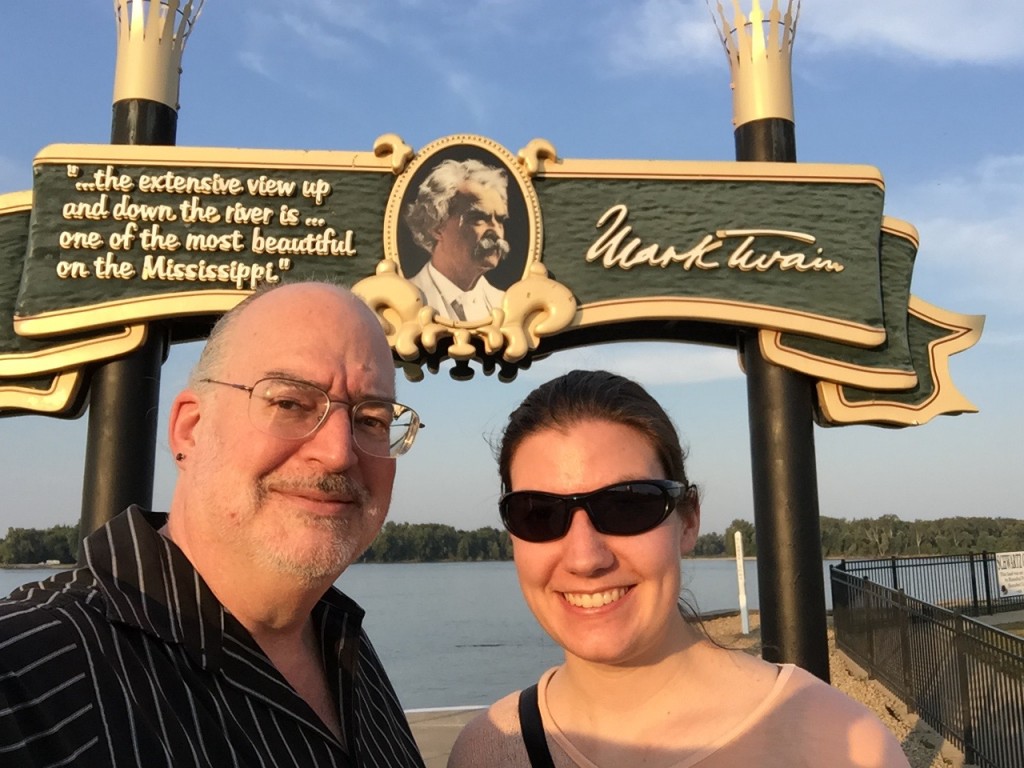 In the morning we had a delightful breakfast with other guests of the hotel, who were emcees for a steampunk convention that happened to be in town for the weekend, and would provide some interesting color along the main street during our stay.
Mark Twain Boyhood Home and Museum
Our first stop was the Mark Twain Museum. The ground floor provides a fairly elaborate interpretation of some of Twain's books, including Tom Sawyer, The Innocents Abroad, and his time in the gold rush territory of California. While these displays looked nice, they didn't do a great job of conveying their message, especially to their intended audience, which seemed to be children.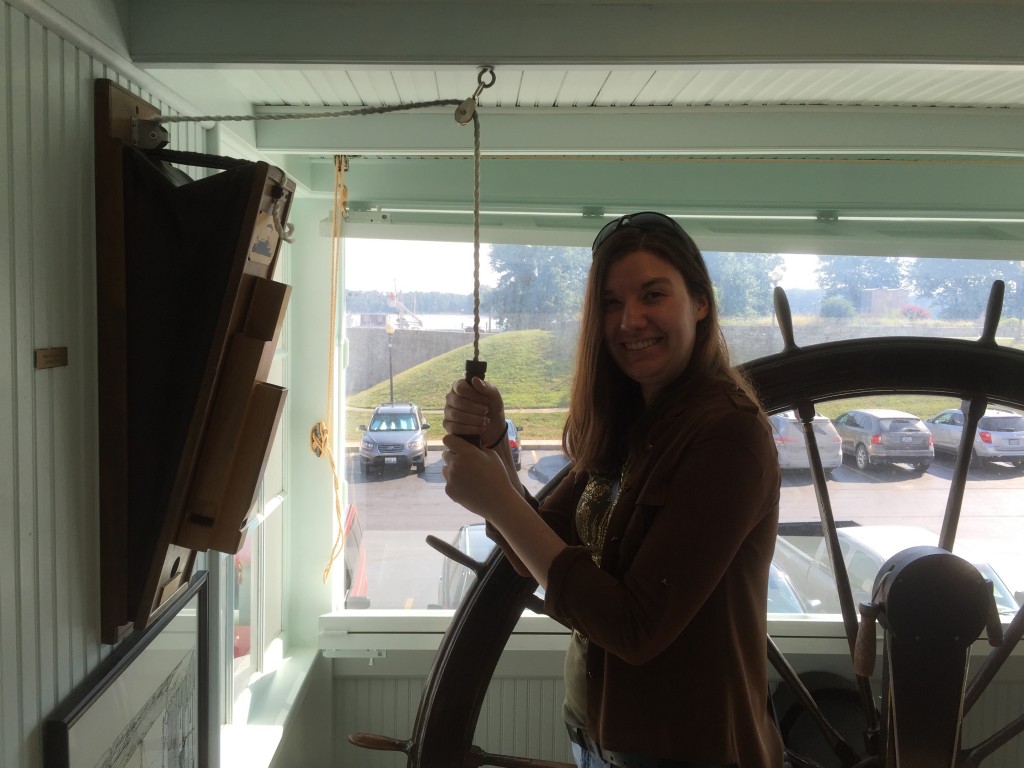 The upper two floors of the museum did a much better job, displaying artifacts and artwork from Twain's life and books. For those with the patience to read the detailed signage, there was a lot of interesting information here.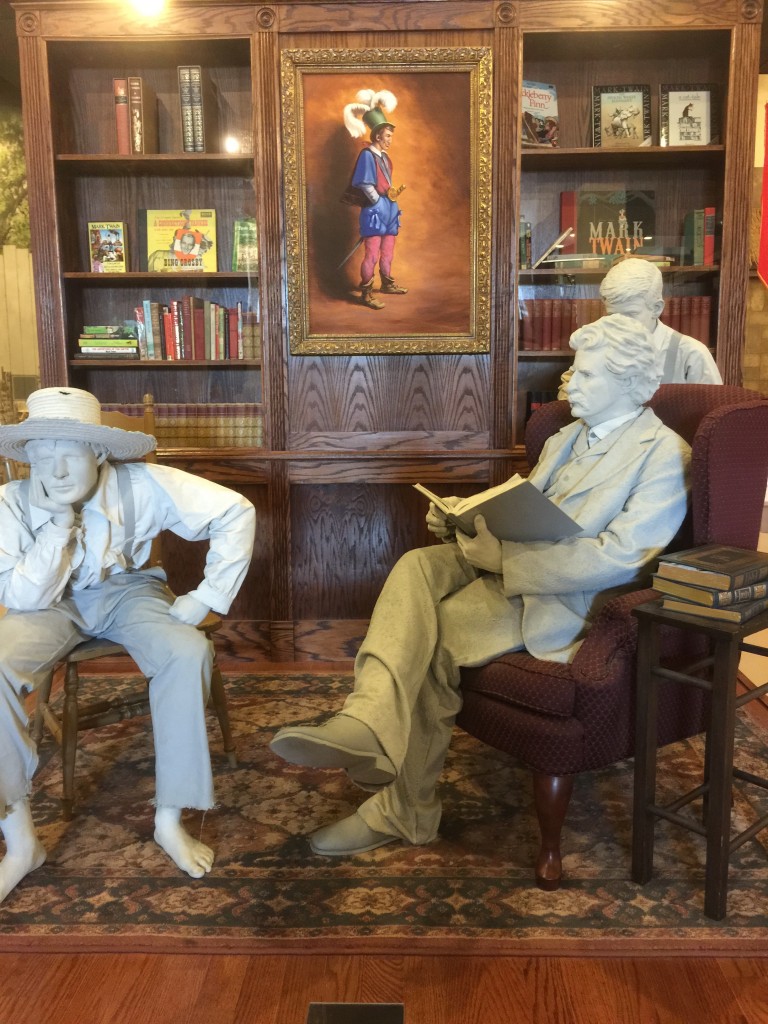 The museum ticket is available as a package that also grants access to other buildings down the street, and that's definitely worthwhile. You can tour the homes that provided the inspiration for Tom, Huck and Becky, and all were interesting.
At the end of the street is a statue of Tom and Huck at the foot of the path that leads up to the lighthouse.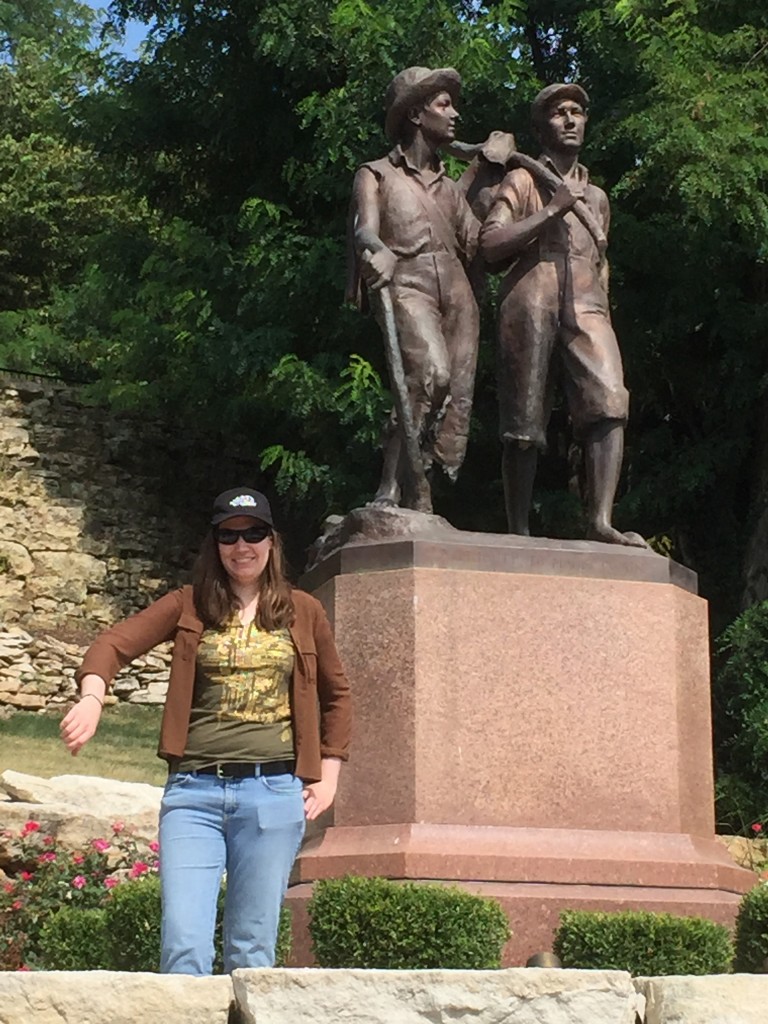 Mark Twain Cave
After browsing through the steam punk festival's booths, we headed three miles down river to Mark Twain's Cave.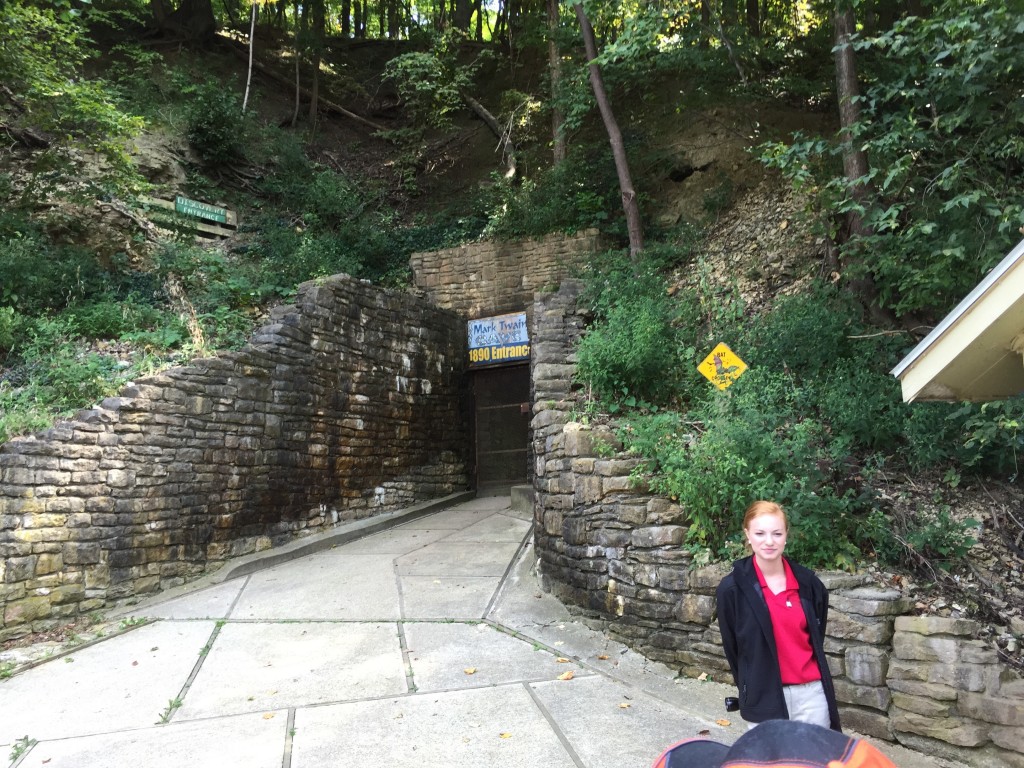 This cave may not be filled with spectacular stalactites and other formations, but it is rich in history, since it is the cave from the Tom Sawyer novel (and four other Mark Twain books). Walking through its labyrinthian passageways really brings the book into focus, and the guides do a great job of identify various locations mentioned in the book.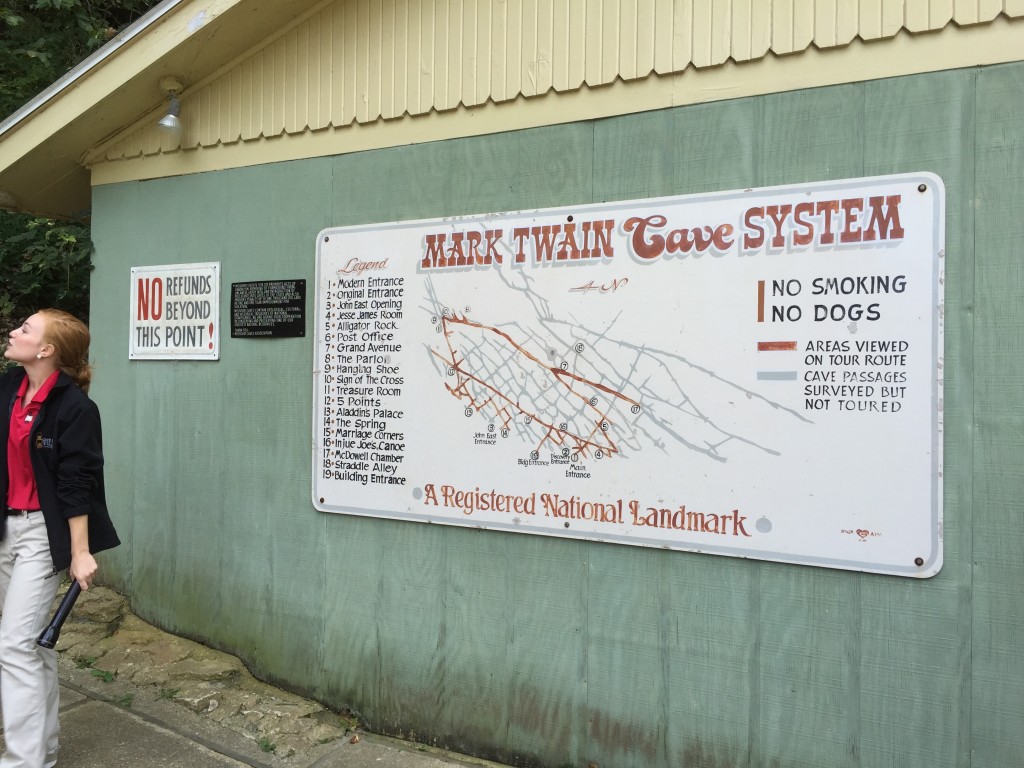 It's a very easy cave to traverse, with flat floors, no steps, and no climbing. It's also a cool 52 degree respite on a hot summer day, so bring a jacket!
After our tour of the cave, we headed back, stopping at Lover's Leap for a last look at what is still very much Mark Twain's Hannibal before heading home.