Since tomorrow is the chemistry final, Dani had Lee come over for three hours today to review for the test, so I had plenty of time for a long walk. I went to Ace Hardware, which it turns out can cut the roll-up blinds to order. Unfortunately I already ordered one on Amazon, but haven't heard a shipping date.
I stopped at Amaranth Books, a "Used and Rare" bookstore on Davis. The owner seems like a bit of a jerk. They don't really carry much in the way of fiction, but what they do they consider used, not rare, so I bought two $1 books for Dani that I enjoyed a while back as audiobooks.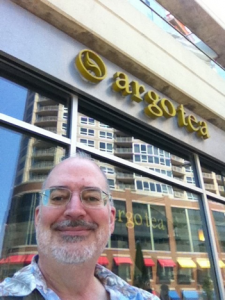 Since I'm running out of coffee places (and haven't yet stooped to going to Starbucks) I tried Argo Tea, where I had an espresso that was good but very bitter. Like Starbucks, they're mostly interested in selling high calorie sweetened beverages, so I guess it doesn't matter if the ingredients are bitter.
On the way home I stocked up on the last few Vidalia onions of the season at Whole Foods. Tonight we'll try chicken with the Tiger Tiger butter sauce from World Market.