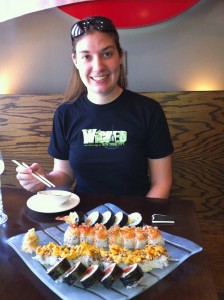 After a quiet morning reading, we went to Kansaku for lunch.
I recently read Shadow of the Wind by Carlos Ruiz Zafón, and Getting the Girl by Markus Zusak, and I'm now reading his I Am The Messenger on Kindle for iPad. It's good, but nowhere near as good as The Book Thief.
For dinner we went to Bistro Bordeaux, which is actually the closest restaurant to the condo, a couple hundred yards down the alley, by Whole Foods. We had contemplated going there at lunch time on two different Sundays, but after standing by the podium for several minutes one day there was no sign of employees, and everyone seated in the fairly busy place seemed to be waiting for something. Still, it won Chicago Magazine's Best New Restaurant award for 2010, and the menu is incredibly authentic, so we thought we'd try it at an odd hour (5:45pm).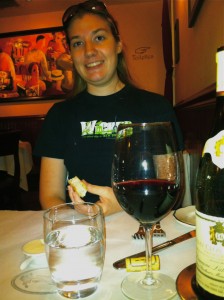 We should have tried this place sooner. It was easily the best meal of the weekend. Just like being in France, right down to the Badoit water. By 7pm the place was full, and the service was good.
Dani started with Rillettes de Saumon, and I started with Terrine de Foie Gras de Canard, both pates served with croustinis. Both were excellent, but the pate would have been better for sharing, given the generous portion size. The salmon was extremely flavorful.
For entrees Dani had a Croques Madame with pommes frites and I had herb roasted New Zealand lamb leg with braised flageolets and pearl onions. The pommes frites (french fries) are as good as any I've had, even in France, not greasy, crisp, thin and full of flavor. The croques madame was delicious and a bargain. The lamb was my least favorite, a bit gamey, but the flageolets were succulent.
For dessert we shared a creme brulee, which was delightful in its straightforward simplicity. We had a 2005 Volnay, full bodied and a reasonable price, although the most expensive wine on the list, much better than last night's 2005 Morey Saint Denis, and only two thirds the price.
The food was better than Graham Elliot, and as good as Sepia (though quite different) at half the price, and a block away. We will definitely return, as this is about as authentic a French bistro experience one can have, in the US or anywhere.