I was awakened by Linda informing me it was 11:30AM and we were about to miss our lunch reservation! A quick shower and short cab ride took us to Petrus, one of Gordon Ramsay's restaurants, where we had a leisurely, expensive, pleasant but not remarkable lunch. The room and service were great, and I'm glad we had a chance to check it out at one fourth of the insane dinner prices.

Afterward, I was proud of myself for successfully navigating the surrounding residential area to take us straight to Harrods, where we laughed at the prices and bought some cheese, ham and bread for a picnic.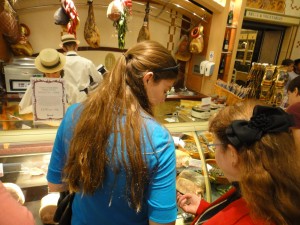 In the evening we went to our favorite London venue, the enchanting Open Air Theatre in Regent's Park. There's something magical about theatre in the woods, all the more so since the show was Into the Woods! We enjoyed a bottle of wine, some stinky cheese and French bread at a picnic table and then went in to the show, where we had front row seats due to our extreme advance planning. This is the fourth show we've seen here, and while all were good, this was superb. As always, Sondheim's material is challenging to both performers and audience, and the second half of this show is somewhat expendable, but the cast was fantastic, and the direction was genius. In fact, the director discovered a whole second show in the role of the narrator, who he cast as a young boy lost in the woods, telling the story using his toys. Wow!