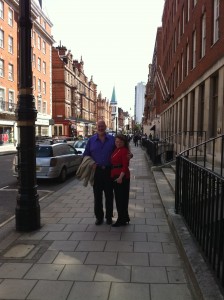 We tried another Gordon Ramsay restaurant for lunch, Maze. It was a short walk through Mayfair, a really charming part of the city.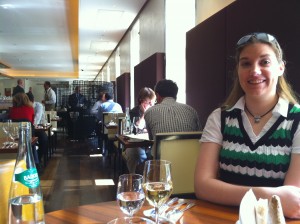 Maze is near all the embassies that cluster around Grosvenor Square. It's fairly different from Petrus, more casual, with lots of small plates to graze upon. Same pricing: reasonable at lunch, crazy at dinner.
For dinner Dani wanted something simple, so we walked a few blocks to Delfino Pizzeria and had a very pleasant (outdoor!) dinner with a nice bottle of Amarone. Who would have imagined we'd be dining Al Fresco in London?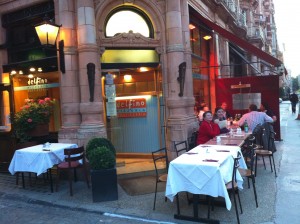 I loved the note at the bottom of the restaurant's menu:
"Health and Safety Compliance Notice: Some dishes may contain nuts, olives may contain stones, wine contains alcohol, knives can be sharp, coffee can be hot…ENJOY YOUR MEAL!!"