The day began with a thunderstorm, but by 10am the rain had moved through leaving things hot and steamy, with intermittent sunshine.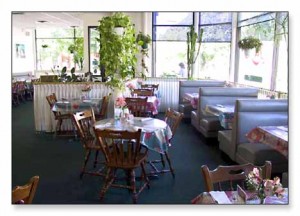 I walked down to Main Street, towing the shopping basket behind me, and killed time at the newsstand until Lupita's was open. It's the third Mexican restaurant I've tried in Evanston, and saying it's the best isn't saying much. It certainly wasn't worth the long, hot walk. It's weird that just a couple of miles farther south there are all kinds of neat little hole in the wall Mexican cafes, but none up near the university.
On the way back I stopped at Jewel and stocked up on Diet Coke for Dani, then bought salmon for dinner at Whole Foods.
By mid-afternoon the rain had settled back in, and it was hard to believe I was getting sunburned on my morning walk.
I had a variety of different plans for the salmon, but in the end decided to keep it simple, sauteing it with seafood rub, and accompanying it with basmati rice. It turns out Jewel carries bread from LaBrea Bakery in Los Angeles. It's better than any of the bread from Whole Foods. Who would have thought?