I've been converting Bill Bryson's new book, At Home, from CD to m4b so I can listen to it as an audiobook on our trip to England next month. I use a program called audiobookbuilder which works quite nicely. I could have purchased it as an audiobook, I suppose, but I wanted the original BBC version, which was only available as a 14 CD set.
Bryson is an interesting guy. He grew up in Iowa, lived in England for twenty years, and then returned to the US and lived in New Hampshire for almost a decade.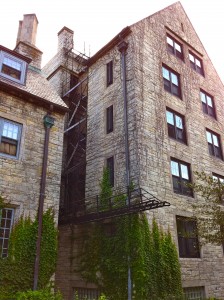 He became famous writing about his travels, and I think he's actually bigger in England than here. Since 2003 he's been back in England, and is now the Chancellor of Durham University.
Bryson always reads his own audiobooks. He's actually not a great reader, but because they're his, there's something endearing about his delivery; you can pretty much hear the twinkle in his eye. For anyone visiting Australia, his In a Sunburned Country is essential reading.
I spent the afternoon walking around Evanston, visiting the US Bank up on the Northwestern campus, and then continuing my survey of coffee (and tea shops).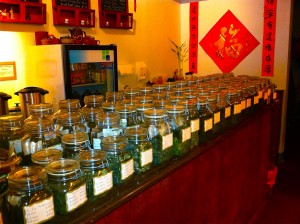 Dream About Tea is a strange cross between a cafe and a shop. The Chinese owner sells a hundred or so herbal teas, brewed or dry,  plus accessories. The Morrocan mint I had was pleasant and inexpensive, but unremarkable.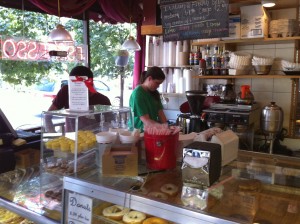 Across the street at Bennison's Bakery I had a pretty good large espresso and a pain au chocolat. The espresso was one of the better ones I've had in town, but La Duree in Paris needn't worry about the pastry competition.
For dinner I tried a recipe from Simply Recipes. It was definitely a hit. Very lemony. I found the pine nuts at Whole Foods ($30 a pound! Fortunately they're very light.) In retrospect I don't think they're very important, but using the juice and zest of a whole fresh lemon is. I think it should be called Lemony Smoked Salmon Pasta.
Ingredients
8 ounces pasta
Salt
1/4 cup pine nuts
2 Tbsp olive oil
1/3 cup chopped onions
2 cloves garlic, minced
1/3 cup dry white wine
1/4 cup cream
1/2 cup diced frozen carrots and peas
1 Tbsp lemon juice
2 Tbsp lemon zest (divided into 1 Tbsp and 1 Tbsp)
2 Tbsp chopped fresh dill
4 ounces smoked salmon, cut into bite sized pieces
Fresh ground black pepper
Method
Brown the pine nuts.
Saute onion and garlic.
Cook pasta.
Add white wine, lemon juice, and 1 Tbsp of lemon zest. Increase the heat and let boil down by half.
If you want a slightly creamy sauce, add the cream and let boil a minute more.
The sauce should be done about the same time the pasta is done. If you get done earlier with it than the pasta, take it off the heat.
Combine pasta and sauce. Add the smoked salmon, toasted pine nuts, dill, and the remaining lemon zest. Season with freshly ground black pepper.
Serves 2 to 3.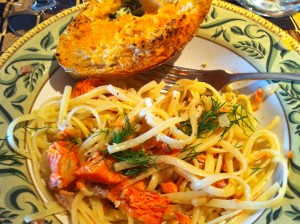 Most importantly, I FIGURED OUT HOW TO MAKE SMOKE HOUSE GARLIC BREAD!
It's:
Sour Dough Bread
Butter
Minced Garlic
Grated Parmesan Cheese
and the secret ingredient:
The cheddar cheese powder is definitely what they use. In the past I've tried it with Kraft Macaroni and Cheese mix, but that has other stuff in it, too. It's just straight, sharp cheddar cheese powder that duplicates not only the flavor, but also the crumbly texture. Win!