Dani had her chemistry midterm this morning. It sounds like it wasn't as hard as it could have been, but in any event she's glad it's over and she can enjoy the weekend. She's looking forward to being done in two weeks, while I have mixed feelings, because I'll miss Evanston.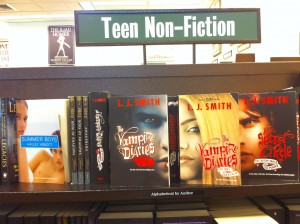 For lunch we went to Kansaku and had some excellent sushi rolls, especially the salmon ceviche, which is like Aji's heaven roll, and the spicy tun, which is fat and cheap, and has a touch of mayo.
On the way back from lunch we stopped at Barnes Noble, where we learned something about Teen Non-Fiction.
Tonight's program at the Northwestern Theatre and Interpretation Center was Songwriter's Showcase, an annual event where fifteen young musicians from all over the country come together for a one-week workshop directed by three Broadway composers (including Andrew Lippa, who wrote The Addams Family musical). At the end of the week, they perform a song that each of them wrote during the week. The styles range from musicals to pop. Some of them were still working on their songs this afternoon, yet they came out fully arranged, often backing each other with several instruments and harmonies.
Wow! What a delightful surprise it was. This was a free event included in the season tickets, and it was far and away the best. I would buy every one of those songs.