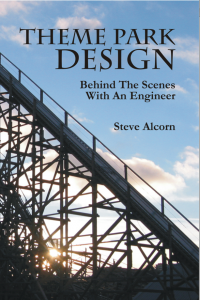 Theme Park Design is my latest book. It's based upon the text of my Imagineering class. I published it through createspace.com, which is a division of amazon.com. I decided to publish it because David Green's and my previous book, Building a Better Mouse, continues to sell well, even after three years.
The margins are excellent on books published through createspace, and it's great that amazon owns them because they do the fulfillment, and copies are even available through Ingram for distribution to conventional bookstores.
It's been interesting to do a real book launch; I've never tried it before. I began by contacting the various industry blogs and trade magazines, asking if they wanted a copy, and having them drop shipped from createspace. Meanwhile, Loren is doing a press release through PR Newswire on Tuesday, and is contacting newspapers.
I also tried some advertising on google and facebook. Originally the ads linked to the createspace page (because my margin is a bit better), but after a day of poor results I changed it to the amazon page. So far, with only one more day of data, it looks like people are much more willing to buy from amazon. Building a Better Mouse is usually about number 39,000 (out of 6 million) on their site, and yesterday Theme Park Design was number 29,000. Because the ads cost between fifty cents and a dollar per click, I suspect they won't be cost effective, but I'll try it for a week and see. The margin on createspace is at least ten times that of conventional publishing, or it would make no sense. Still, it's amazing how few click there are for hundreds of thousands of impressions. However, I'm limiting my budget to $20 a day, just in case.
I also set up a Theme Perks Press blog through blogspot, because the RSS feed can be connected to my amazon author's page.
My plan is to time this book release both for IAAPA (where we plan to do a book signing) and also for the holiday shopping season. If some of the blogs release reviews before Thanksgiving that could work out well. I have a suspicion that amazon sales behave as a positive feedback loop, and that if the book could be propelled into the top 1000 it might be self-sustaining for a while.
Anyway, it will be an interesting experiment.