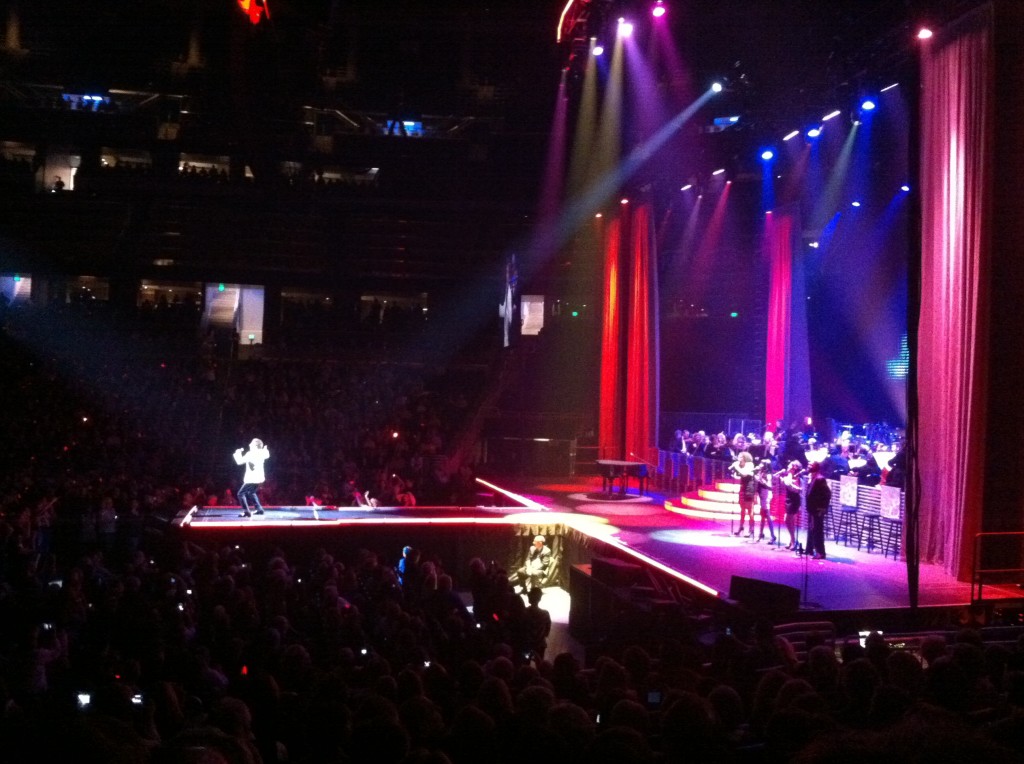 Barry Manilow rarely leaves Vegas these days, but last night he kicked off a new tour at the Amway Center in Orlando. This is the second concert I've seen there, and the jury is still out on the acoustics, but Barry's sound man definitely didn't have a handle on it. I've never heard so much feedback in a major concert production. Since this was the first stop on the tour, hopefully they'll get it straightened out by the next show.
But Barry did a great job. We saw him thirty years ago at the Greek Theatre in LA, and he still has the voice and puts on a great show, even in the face of adversity, which the sound mix certainly created.
My favorite moments were the ballads, but I also really enjoyed seeing four guys play one piano at the same time!
Some excerpts from the Sentinel's unusually on-target review:
Although Manilow will tell you that the road show doesn't aim to copy the glitzy production of his Vegas act, there was a decent amount of that showroom pop Thursday at Amway Center, especially in the oversized opening moments and the thunderous, confetti-adorned finale.
The orchestra, about 70 members strong, looked to be having a blast, waving instruments in the air in the opening moments to a pounding drumbeat…
The sound mix was a blaring, muddled mess, especially in the monster crescendos … in the early going. Equally frustrating, Manilow's voice almost disappeared when he dipped into the lower register in the understated moments…
And the man was working the room. He prowled the stage energetically, if awkwardly, belting out songs to the back row with crazy arm gestures that might have been showbiz semaphore decipherable only to veteran casino patrons…
If Manilow likes things big, it's not because he can't do a ballad. One of the night's most captivating moments also was among the most delicate. Seated on a stool, the singer tenderly offered "When October Goes," a song that he adapted from unfinished lyrics by the iconic Johnny Mercer.
Of course, Manilow himself has no shortage of songs…
"You didn't think we'd let you go home without doing this one," he said, launching into the obligatory "Copacabana." Like most everything he does, it was over the top.