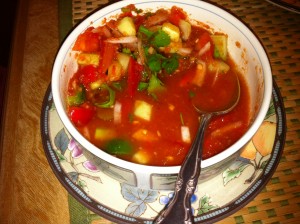 Linda made some delicious gazpacho last night. She started with a recipe from Food Network and modified it.
Ingredients
2 cucumbers, diced
3 large tomatoes, diced
1 red pepper, chopped
1 green pepper, chopped
1 red onion, chopped
3 garlic cloves, minced
2 stalks celery, chopped
1/4 cup rice wine vinegar
2 1/2 cups V8 juice
Salt
Lemon Pepper
1/4 cup fresh cilantro, chopped
Juice of 1 lime
Tabasco and Tapatio hot sauces
Directions
In large glass bowl combine vegetables. Add remaining ingredients and mix well. Add half the mixture to a food processor and blend until smooth. Combine puree with original mixture. Chill for 4 hours and serve.