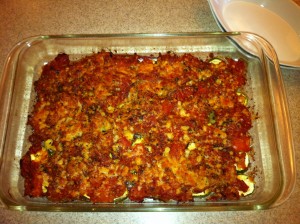 A Somewhat different version than the one I usually make, this one has no marinara, just fresh tomatoes.
Ingredients:
1 lb. zucchini
1 Tbsp olive oil
1 chopped onion
3 cloves garlic
1 lb. tomatoes, chopped
seasoning
1 cup Italian cheese
Preparation:
Heat oven to 400° F.
1) Heat the oil in a medium saucepan. Sauté the onion in the oil for 2 to 3 minutes, then add the garlic and cook for another 30 to 60 seconds, until the garlic is fragrant. Cut tomatoes in 3 to 5 pieces, and add, along with the herbs and spices.
2) Cook over medium heat until the liquid is mostly gone (but not dry), stirring occasionally — it should end up being about a cup. This should take about 5 to 10 minutes.
3) Meanwhile, cut the zucchini into slices approximately ¼ inch thick. Take the largest slices and line the bottom of a 9 X 9″ or 8 X 8″ pan.
4) Spread about ¼ of the tomato mixture on the zucchini (don't even try to spread evenly; it won't work), followed by ¼ cup of the cheese.
5) Continue layering. It should come out to four layers, but if it only makes three, just try to divide things relatively evenly. Don't put the final layer of cheese on yet.
6) Bake for 20 minutes. Top with the rest of the cheese, and lower the temperature to 375 F. Bake for about 20 more minutes, or until cheese is golden brown.
Makes 6 servings.
Dijon Salad Dressing with Roquette
Two handfuls roquette (arugula)
3 tablespoons Dijon mustard
4 fl oz olive oil
4 fl oz vinegar
croutons
seasoning
lemon juice
pinch sugar