Last night an impressive storm blew through Evanston, knocking out our power five times. This morning 48 buildings on the Northwestern campus were still without power, according to an email sent to Dani. Fortunately, Dani's German class was unaffected.
The storm left a gorgeous morning in its wake, and I took advantage of it to walk up to Expo Paint on Green Bay near Central Avenue, a mile or so to the north.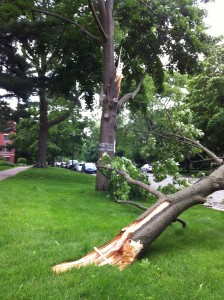 Along the way I was surprised to see how many large tree limbs were down, on lawns, the sidewalk, and in the roads. The storm must have been a lot stronger to the north. City crews were already clearing away the bits and pieces, and the park was full of day camp kids enjoying a truly beautiful day.
My mission at Expo Paint was to buy some paint to match the ugly green color that's coating the walls of the condo bedroom. This is necessary because one of Dani's roommates used double stick tape on the walls, and it's removed large chunks of the textured surface. I dropped off a chunk at Expo and went over to the market to get some fresh baked bread while I waited. In a few minutes they called me and said my paint was ready.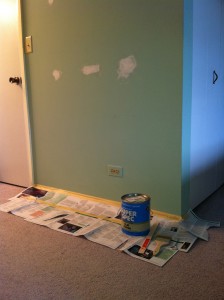 I guess they scanned the paint chip I took them, because the match is almost exact. Let me tell you that lugging a gallon of paint for a mile is not fun! Now the trick is to get the paint on so that it matches the original texture. My first attempt with a brush failed, so I went back to Ace Hardware for a roller.
For lunch Dani and I went to Cafe 527. It's a new Asian place that had the nerve to open next door to the popular Joy Yee's Noodle Shop. The plan seems to be working, as 527 was packed. The Korean BBQ taco I had was delicious, filled with bulgogi beef, kimchee, rice and cilantro, and served on seaweed rather than a tortilla. The miso shrimp salad was also tasty, although the shrimp was the least interesting part. The crunchy lettuce and cabbage mixture was enhanced by green peppers, scallions, and edamame. It went well with a miso based honey mustard dressing.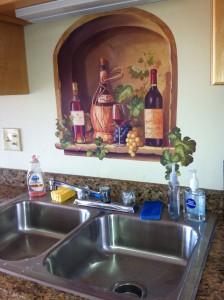 My other home improvement project was accomplished a lot quicker than the paint touchups. I ordered a wallpaper mural for the bare spot over the sink. It took about a minute to install, and really makes the kitchen look nice.
The rain is teasing us this afternoon, looking threatening, but then barely sprinkling. For dinner I'm fixing hamburgers unless it's pouring, in which case they will turn into meatloaf.