Basil Chicken
I thought I had memorialized Linda's Basil Chicken recipe on this blog, but apparently not, so here's my version:
Ingredients
Boneless chicken breasts
Onion
Lemon
Basil leaves
White Wine
Milk
Olive Oil
Salt and Pepper or Poultry Seasoning
Directions
Pound the chicken breasts. Sauté the onions in oil, add chicken breasts and sauté until brown. Remove breasts, place basil leaves on them. Deglaze the pan, add white wine, lemon juice and a dash of milk, and reduce. Pour over breasts and basil.
To accompany it, I made a…
Sweet Potato Casserole
This turns out fluffy enough that it's almost a souffle with a topping:
Ingredients
4 cups sweet potato
1/2 cup brown sugar
2 eggs, beaten
Five spice
1/2 teaspoon vanilla extract
Topping:
1/2 cup brown sugar
1/3 cup all-purpose flour
3 tablespoons butter
1/2 cup chopped pecans
Five spice
Directions
Boil chunked potatoes and mash. Add sugar, beaten eggs, vanilla extract and five spice. Some recipes add milk or butter but I didn't. Mix and place in baking dish.
For topping, mix brown sugar, flour, butter and pecans. Layer on top of sweet potatoes.
May be refrigerated until time for dinner.
Bake at 325 degrees for 30 minutes, or until brown.
Roasted Brussels Sprouts with Balsamic Vinegar
Ingredients
Brussels Sprouts
Olive Oil
Balsamic Vinegar
Salt and Pepper
Cut brussels sprouts in half, toss ingredients together.
Roast at 375°F, cut side down, 15 minutes, flip, roast ten minutes more.
Cleaning House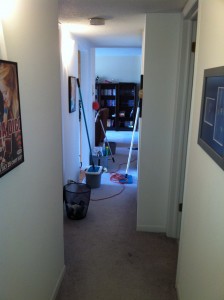 In other news, today I had Dial-a-Maid come for four hours and unearth the condo. The sink is now white again.