Although it was an early morning, our plane flight from Aukland to Sydney was otherwise painless, and, taking advantage of the two hour time shift, we were in Coogee by 11am. this is the town where Pamela grew up, so I had a strong impression of it from reading her book, but of course it has changed a bit since then,, and we are staying at a beach front resort, the Crowne Plaza. We walked down along the beach enjoying the dramatic waves breaking on the rocks and also the topless bathers, out for one of the first really sunny beach days of the year. At the end of the beach we climbed the rocks and looked down on the next cove, but decided against making the long trek father north to famous Bondi Beach.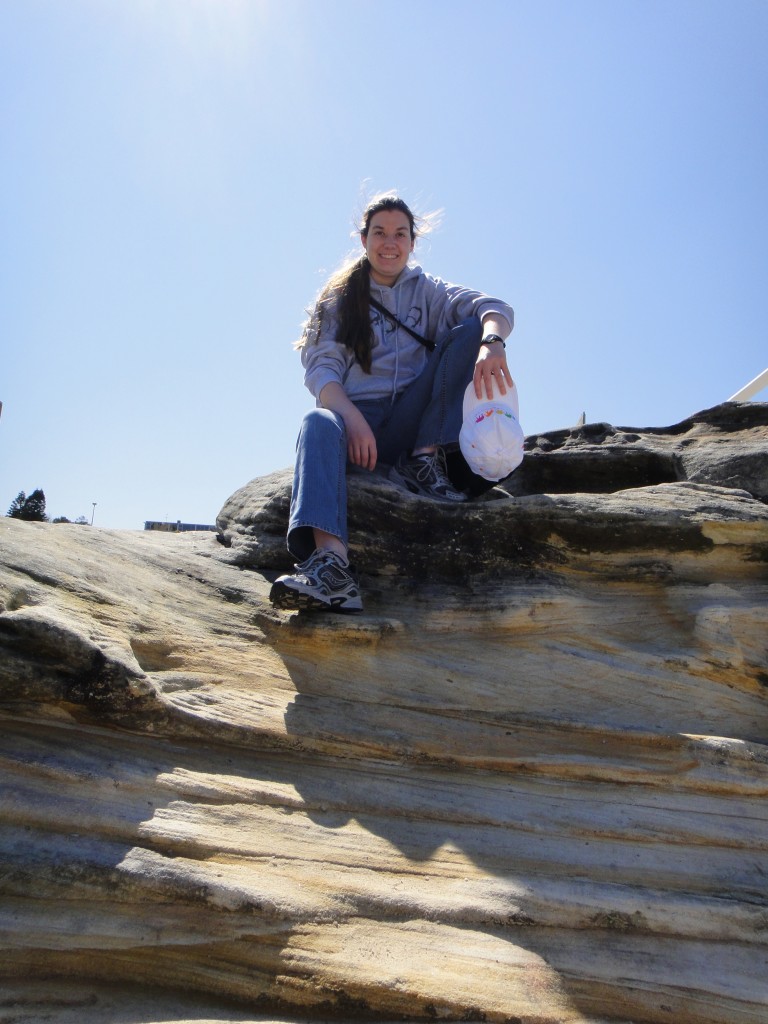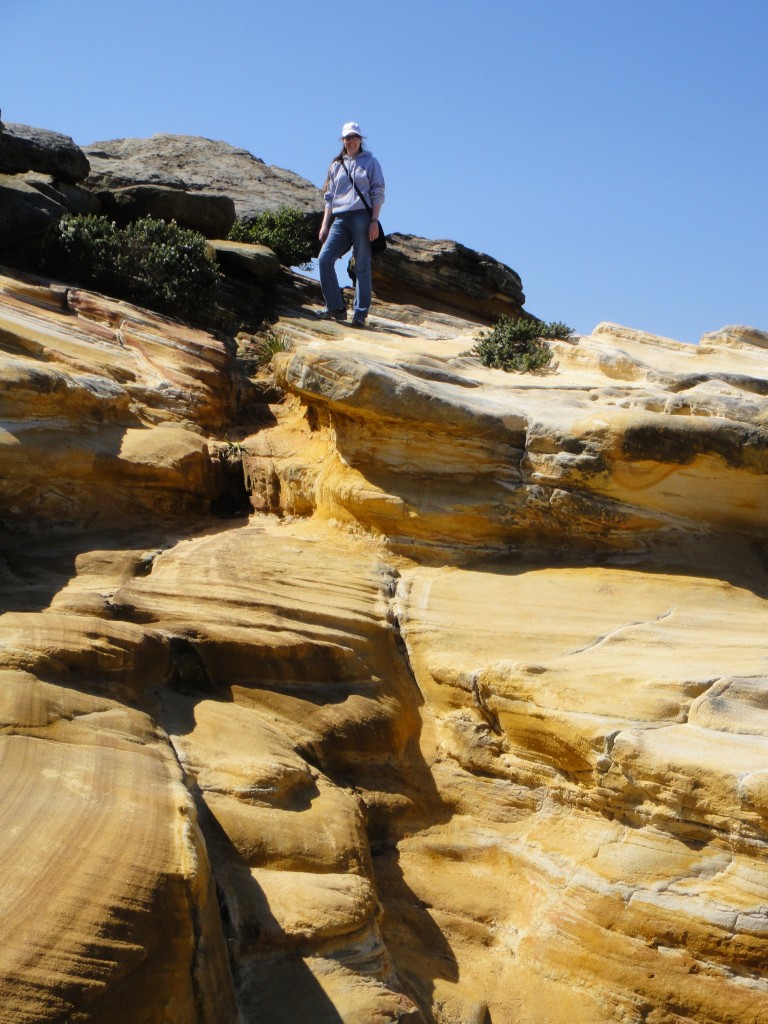 Back at the beach we walked up Coogee Bay Road looking for lunch. There were many cafes, but all seemed to fall into two camps: crammed or empty. Figuring there was a reason for both, but not wanting to squeeze into one of the popular ones, we instead ate in the outdoor patio of the Coogee Bay Hotel, where we shared a good Caesar Salad and a fairly awful Cheeseburger.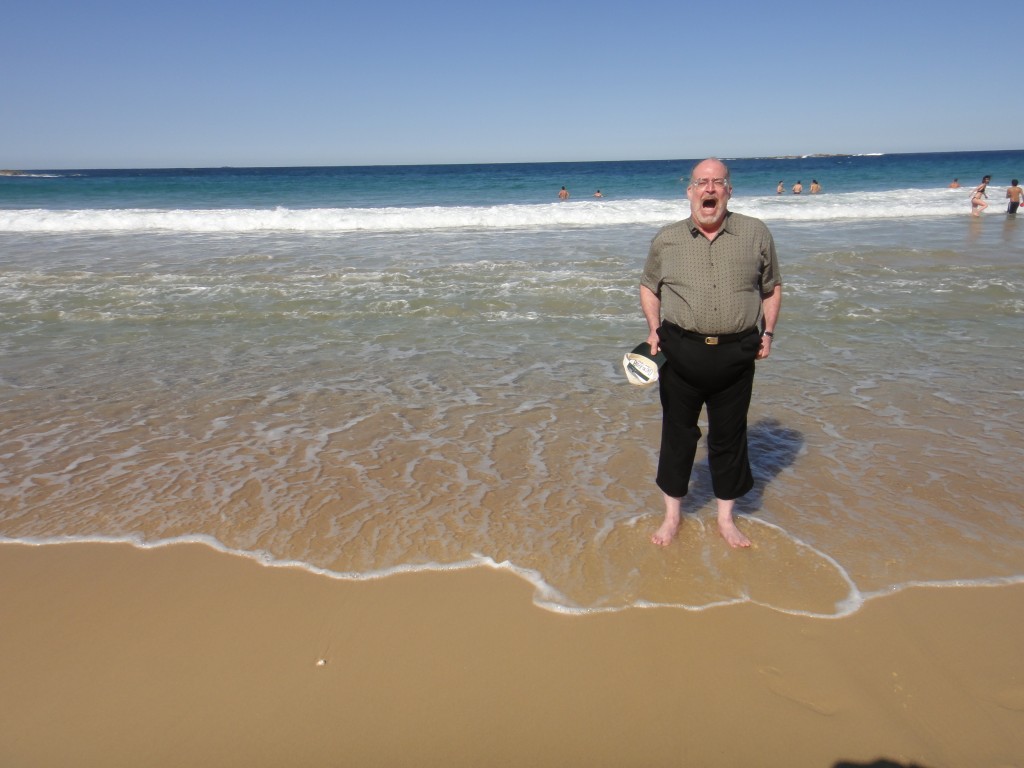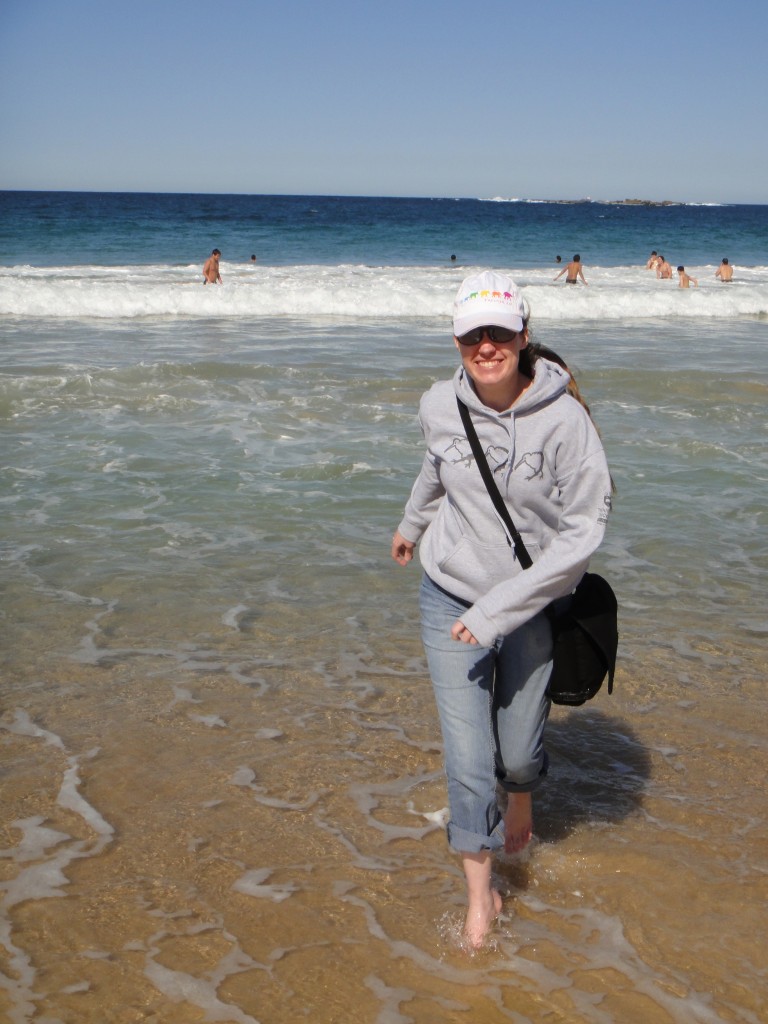 Then we walked down to the beach, took off our shoes and socks and (having been warned by Bill Bryson's book, watching carefully for box jelly fish, great white sharks and poisonous cone shells) stepped into the water so that we could say we'd been in the Tasman Sea (or whatever it is here).
That was enough outdoor adventure for one day, and we retreated to our room for a quiet afternoon fiddling with photos and blogs.
For dinner we walked across the street and had Trout and Barramundi on the balcony at Ceviche, overlooking Coogee Beach.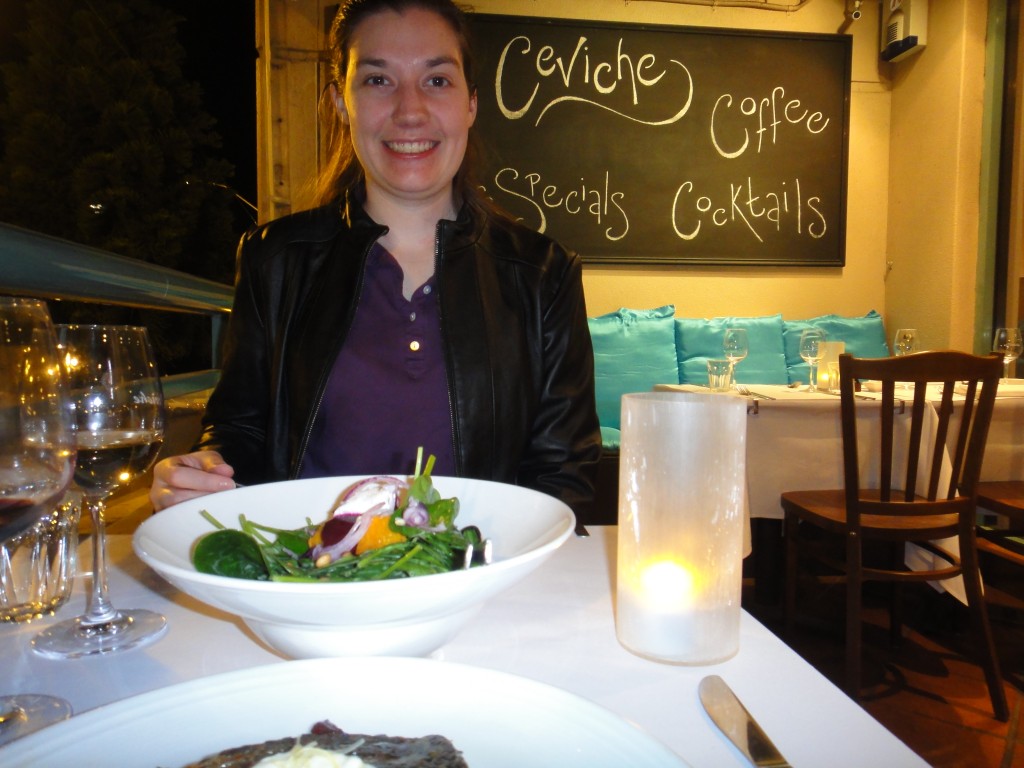 We ended our trip watching the moon rise over the bay.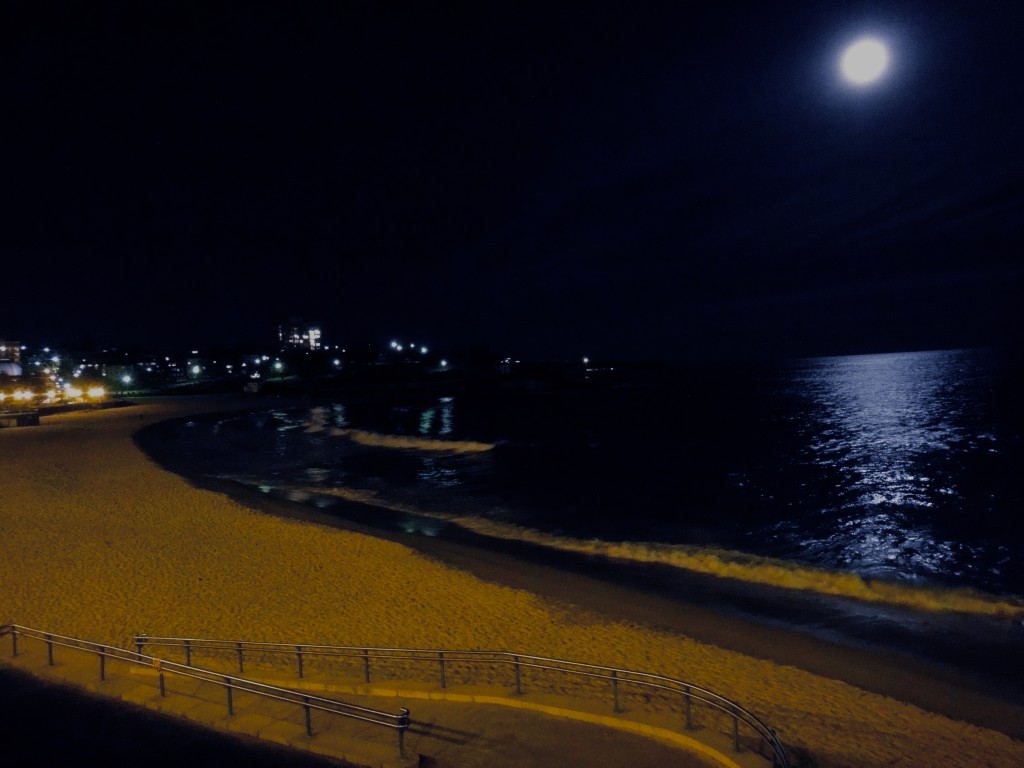 The next morning we had quite a view from the plane window as we began the 24-hour trek back home.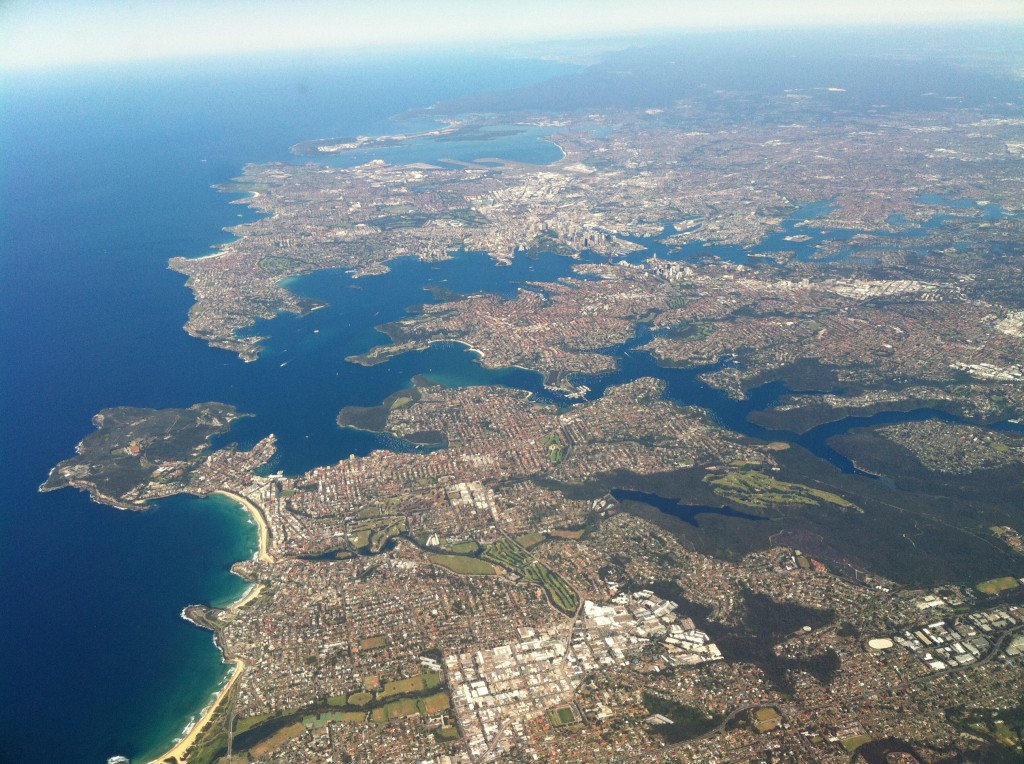 My final Australia album ended up with 160 favorite photos out of 1400 that we took.
A couple of other trip-related notes:
I signed up for data plans on the iPad and iPhones, The iPhone plan gave us 275MB per month, so we had about 200 for the trip. Neither of us used close to this, but that was because we were really careful. It would have been easy to go over if we'd made more use of maps or the web. I also signed up for 800MB on the iPad. That trend out to be way too much, because I didn't end up using it for maps, web or blogging. It wouldn't had been enough for blogging my photos, and its WordPress App is cumbersome, so I ended up buying Internet at most hotels. Hotel internet is expensive, slow, and often data limited, but there's not much you can do, as free wifi is very rare here.
Dani made a list of "best of" on her blog, and I completely agree, so I'm stealing it to post here, too:
Highlights
Lunch with Janis and Adriaan on their veranda
Lunch with Pamela's family
Jenolan Caves
Feeding Kangaroos
Lunch at Kerry's dairy farm
Ozzy's mussel boat in Marlborough Sound
The drive into Milford Sound
The Kiwi Bird Park
T.S.S. Earnslaw's engine room
Food
Best Breakfast: The Langham
Best Included Meal: toss up between the dairy farm and Kiwi Bird Park
Best Hotel Dinner: The Langham's 8 buffet stations
Best Asian: Chat Thai
Best High-Brow Dinner: Tetsuya's
Best Low-Brow Dinner: Fergburger
Best Chai-Tea Latte: Relax Cafe!!!!!!!!!
Accommodations
Best Hotel: The Four Seasons in Sydney
Best Hotel Room: The Copthorn in Wellington
Best View: Queenstown