With a lull in Linda's projects for Disney, she was able to get away, so for her birthday we booked a cruise in the Mediterranean. When Delta changed their flight schedule, our connection through JFK became dangerously short, so we decided to fly into New York a day a day before our international flight and celebrate her birthday a couple of days early, with dinner at Daniel and a night at the Hotel Athenee. Booking through Amex got us some nice benefits, including an upgrade to one of only two balcony rooms. Although it was rainy (with an impressive thunderstorm in the middle of the night) we were lucky during our walks around the city, and never needed an umbrella.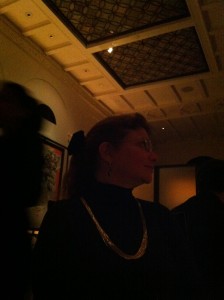 Dinner was nice, if not quite at the level of Eleven Madison Park or Jean Georges. The dining room is beautiful, and there were an astonishing number of wait staff. The service was extremely professional, but neither stiff nor friendly, just sort of a frenetic attempt to make everything perfect. It was, at times, a bit exhausting to watch. That's very different from Eleven Madison Park, where the perfection feels effortless.
We had the six course tasting menu with matching wine pairing. There were two choices for each course, and I let Linda pick first, then took all the alternatives. As it turned out, I think I got the better choices. Of the wines, a 2009 Copain Pinot Noir from Alexander Valley really impressed us with its earthy/fruity complexity.

The next day we ate at Linda's favorite lunch restaurant, Alain Ducasse's Benoit, where we had her two favorite courses, the Charcuterie and the Roasted Chicken. Both are really, really French, and the pommes frites that accompany the chicken are the best anywhere.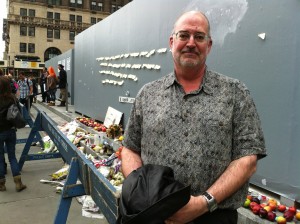 On our walk back to the hotel we passed the Apple Store, where a tribute to Steve Jobs had been set up by fans. It happened to be iPhone 4s launch day, and there were hundreds of people in line outside.
Our 5:15pm flight to Istanbul was delayed when a bird was sucked into one of the engines on arrival at JFK, and eventually Delta ended up replacing the plane, recatering it, and we finally took off close to three hours late. Fortunately we had nothing to do on arrival. We were both able to get four or five hours of sleep on the way, and felt fairly refreshed as we watched the comedy team of baggage handlers try to round up 69 passengers and their bags at the Istanbul airport. Then it was off to meet our ship.