This is our first time on Oceania, although they are owned by Regent, a high end line Dani and I once took for an enjoyable Mediterranean cruise. The Insignia is a beautiful ship, with by far the nicest finish work of any I've sailed on. Unlike the Princess, Royal Caribbean and NCL ships, there is no tacky chrome and glass, or garish colors. It's all detailed woodwork, leather, and brass. Every public space, even just little out of the way corners, is furnished with ritzy, comfortable living room furniture like you'd find in someone's home. Oddly, they are retiring this ship; it's not in next year's catalog, as the plan to lease it to a German company. That's surprising, considering it seems in perfect repair, but I guess they need larger ships. This one is small compared to almost all that I've been on, accommodating only 684 passengers, rather than the thousands we're used to. Still, it has several lounges, and four different dining experiences.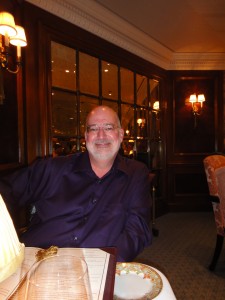 For our first night aboard we ate in the main dining room, and certainly enjoyed the best meal I've had on a cruise ship. This is not Royal Caribbean food, where a cheese plate comes with saltines and Kraft slices!
The wine list isn't high-end, and the prices might be low for a fine restaurant, but they're a bit high for a cruise ship. However they offer a package that provides a 30% discount if you preorder bottles, so that's quite a good deal.
Water, coffee (even cappuccino and so on) and soft drinks are free on this ship, a benefit worth many hundreds of dollars over two weeks. Liquor is also a pretty good deal.
Sunday we were up early (very early, given the 7-hour time change) but we had a good night's sleep, and were ready for our 7:45am departure for The Best of Istanbul tour. We opted for a small tour group, with only eight people, which made it very easy to stay with the group and to hear our guide.
Unfortunately, it was rainy, although that didn't affect our plans. What did affect our plans was that today was the annual Euro-Asia marathon, with 250,000 entrants, so the streets were closed and the city was impassible for most of the day. It's the only marathon that covers two continents, and–not coincidentally–Istanbul is the only city that spans two continents.
Our van dropped us off in the old city, not far from the ship, and our day was spent on foot.
Our first brief stop was at the first needle stolen from Egypt by the Romans. They could only manage to move the top two thirds of it, and once they got it to Byzantium (aka Constantinople, aka Istanbul) it took more than half a century for them to figure out how to stand it back up.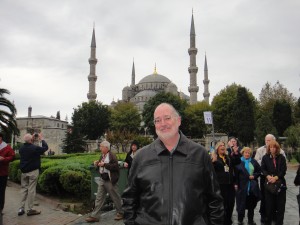 Nearby we visited the Blue Mosque, the largest mosque in a city filled with them. It is unusual in that non-muslims are allowed to visit in between the five daily prayer sessions. We learned that Turkey is a unique muslim country, because even though it is 99.9% muslim, it is secular. In fact, the government dictates what is allowed in the sermons, to prevent religious uprisings such as those that have toppled other governments. It is also technically illegal to cover your face, although we saw one Iraqi woman at the airport wearing a burka.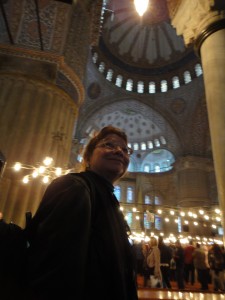 A short distance from the Blue Mosque is the Topkapi Palace, where the Sultans ruled for 700 years. The palace is actually a sprawling complex of courtyards and single story buildings that have been converted to museums. There was a textile museum that displayed various sultans' garments of considerable age, and a holy artifact museum that displayed possessions and bits and pieces claimed to come from various prophets. Most impressive was the treasury, which displayed jewelry, swords and boxes studded or filled with many, many enormous diamonds, emeralds and other precious gems.

Outside Linda posed in the rain for a picture on the balcony overlooking the strait. Behind her, on the left, is Europe, and on the right is Asia. Only 3% of Turkey is in Europe, though, making it a long shot for membership in the EU.


Another short walk brought us to Saint Sophia, the most impressive stop of the day. Built in the early 6th century as the first domed basilica, it remained the largest building on Earth for over 1000 years! It is still the fourth largest basilica in the world. The size of the unsupported dome is rather amazing, especially for its age, and particularly because it was constructed in five years. (There's a cathedral in Koln that took the better part of a millennium to build!)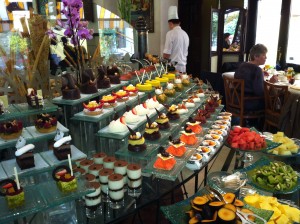 Another short stroll brought us to the lovely Four Seasons Hotel Istanbul, where we had a marvelous buffet brunch of sushi, sashimi, salads, and omelets, all included in our tour. Best tour lunch ever.
Unfortunately, the marathon road closures made it impossible to get to our final destination, the spice market, so we spent a couple hours relaxing in the hotel, and then headed back to the ship for the ever-popular lifeboat drill.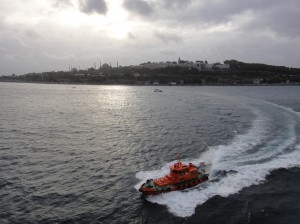 Then we bid rainy Istanbul goodbye, and headed out into rough seas for Greece.