Luma and Adobe Road put on what was perhaps the best food and wine pairing dinner I've ever attended. It was held in the private room in the basement, which had been cleared out to accommodate more than 30 guests at a single, large table (a collection of smaller tables "Tetrissed" together, according to our waiter).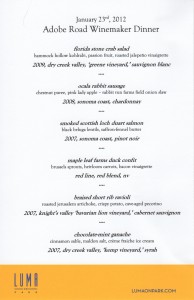 The event was hosted by the very personable Kevin Buckler, a race car driver (and now manager of a racing company with 23 drivers). I had assumed Kevin just owned the winery as a trophy, but he's actually very involved in all aspects of the operation, and determines the styles of the wines. He has some opinions about styles that are not in sync with the mainstream, but I completely agree with him. For example, he uses year old Chardonnay barrels on his Sauvignon Blanc, which produces a wine much more like an elegant white Bordeaux (think Laville Haut Brion) but with some new world fruit including citrus and pear.
We were stunned by how good the food was. It was like Luma had turned into a completely different restaurant. Apparently Chef Bernard devised the menu, but wasn't there to prepare it. Whoever did it was very talented. And I've never had better food and wine matches, especially the first two courses. Martin and I brought some old Adobe Road from our sellers, which Kevin and those seated near us enjoyed comparing to the new vintages.
Great winery, great restaurant, and a great event for $140 a head, that's for sure!
Stone Crab
2009 Adobe Road Dry Creek Sauvignon Blanc
Pear, citrus, 1 year old chardonnay barrels, vanilla, Ash, like a tropical Laville Haut Brion blanc, 92 pts
Rabbit Sausage
2008 Adobe Road Sonoma Chardonnay
Spice, vanilla, perfect balance, buttered toast, longest Chardonnay I've ever had, 95 pts
Smoked Salmon
2007 Adobe Road Sonoma Pinot Noir
Dust, dried cherries, black fruits 89 pts
Duck Confit
NV Adobe Road Red Line
Zin and Cab blend, bright berry fruit, hint of cinammon 85 pts
Braised Short-Rib Ravioli
2007 Adobe Road Knights Valley Babarian Lion Cabernet Sauvignon
Slight hint of geranium (sorbate), Great melted mint chocolate finish 91
2003 Adobe Road Cabernet Sauvignon (brought by Steve)
Meaty, mint, meat, terrific structure 95
2004 Adobe Road Cabernet Sauvignon (Martin)
Road tar, less tannic than 2003, Bordeaux like, gamy 93
Chocolate Mint Ganache
2007 Adobe Road Dry Creek Kemp Vineyard Syrah
Vanilla, game, berries, cinammon 90 pts
2008 Adobe Road Beckstoffer Cabernet Sauvignon
Balanced, peppery, vanilla, spices, surprisingly light and drinkable 90 pts