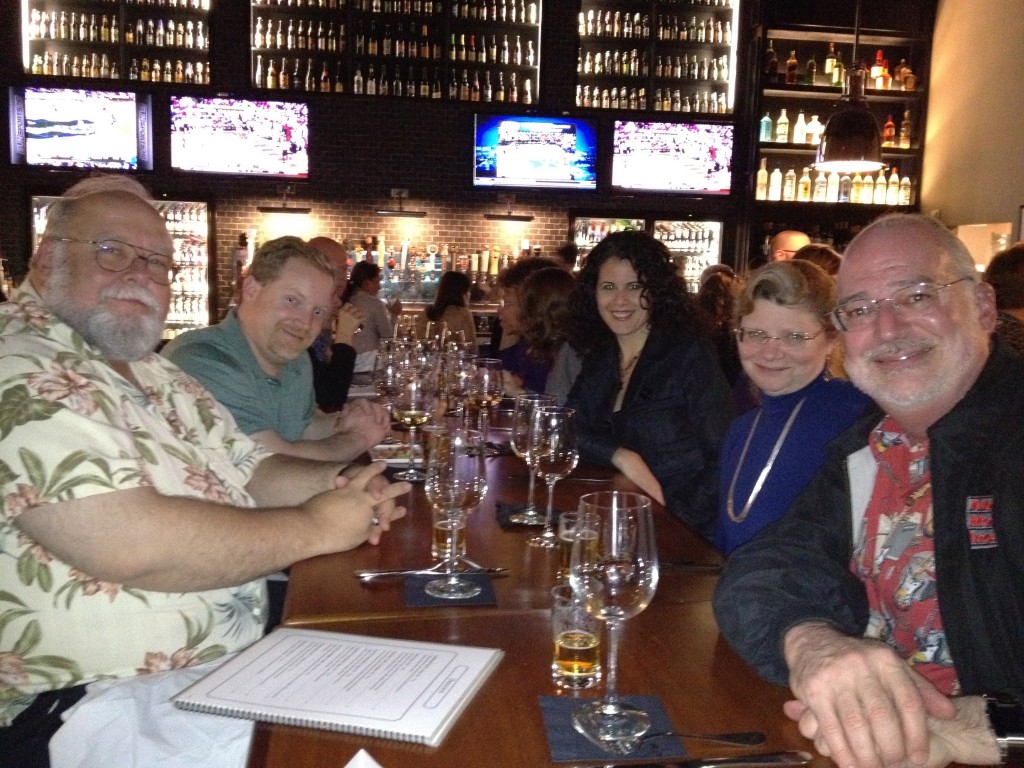 Scott Joseph's Supper Club is a group that meets at different restaurants around town. It's usually a fairly upscale wine and dine experience, so I was a bit surprised when this event was posted at a wine and beer bar. But the intriguing thing was the format: five courses, each paired with a wine and beer. I thought it would be interesting to see which matched each course best, and indeed it was.
Most wine events start out with everyone attentive, and then devolve into chaos, where the participants can't hear the moderators over the chatter in the room. This didn't happen at Taps, due to the fact that the room was already in chaos at the start of the event! Fortunately, the servers were able to clue us in to what we were eating and drinking, because otherwise we would have had no idea! Still, it was a fun and entertaining event, and we enjoyed Chet and Loren and Martin's company. I think this was the first event like this that Chet had been to, and he was a good sport about some new dining experiences.
The wines, beers and courses were:
Paco & Lola Albarino
Blue Point Toasted Lager
Bruschetta trio
Kendall Jackson Avant Chardonnay
Radeberger Pilsner
Tuna tartare
La Crema Pinot Noir
Xingu Black Beer
Cheese Quesadilla
Marques de Casa Concha Cabernet Sauvignon
Tommyknocker Maple Brown Beer
Italian sausage slider
Frontera Moscato
Magic Hat #9
Apricot Bread Pudding
The wines and beers were all good products, except for the Moscato, which was too low in acid to bother with. In each case I preferred the wine, but didn't think it was well-selected to match the food. So all five times I found myself drinking the beer with the food. The last course was a particularly challenging match, and although I didn't like the beer by itself, the match was masterful.
Several of us liked the black beer the best, although I would have liked something even closer to stout. Surprisingly, Linda–who isn't a beer drinker at all–liked the yellow beers, particularly the first lager.
All in all, an interesting and fun (if noisy) experience.