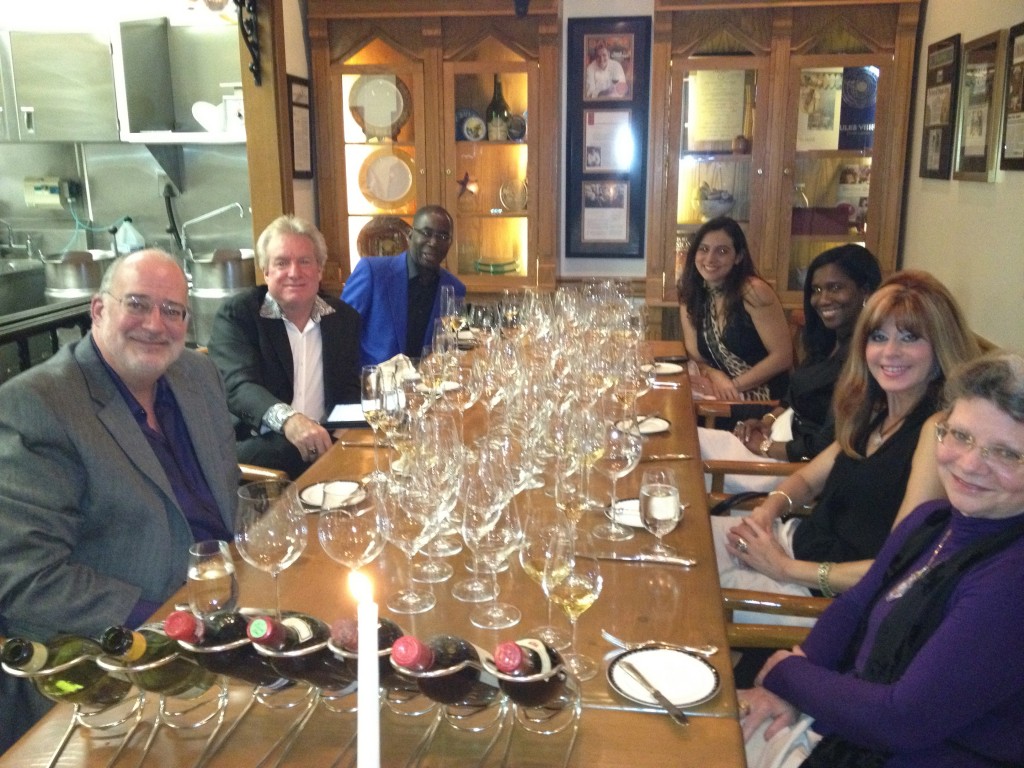 Our focus was on Bordeaux from the 1960s at the Victoria & Albert's Chef's Table on Saturday. Ron, Bev, Keith, Parlo, Linda and I assembled a collection of wines including some big names from 1961 and 1964. Perhaps it was just the incredible wines we had at V&A last week, but I was a little disappointed that these famous wines didn't show a little better. Still, it was a fun evening, and true to his word, Chef Scott came up with a completely different ten course menu from the one we had last week.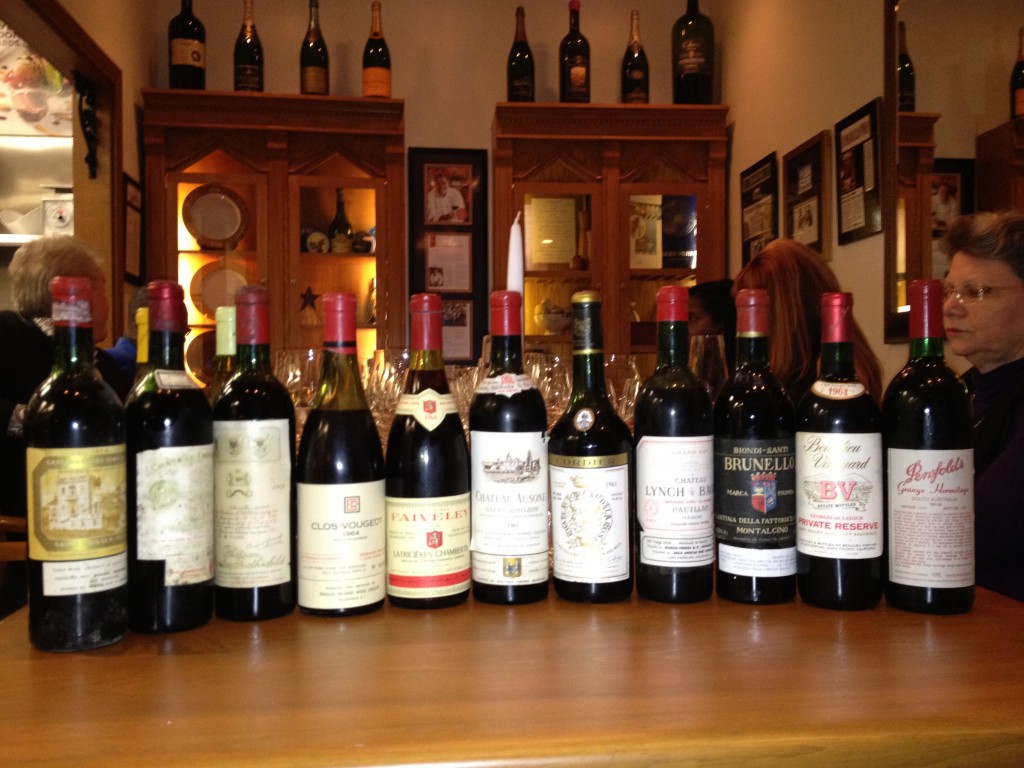 1998 Le Grand Dame Champagne (V&A wine list $380)
Lemon creamy, surprisingly simple; quite overpriced for what it was, I thought, 90 pts
2002 Perrier Jouet rose fleur bottle cuvée belle epoch (Paula)
Dried flowers, yeast, 91 pts
1994 Ramonet Batard Montrachet (Ron)
Baking spice, intense burnt lemon rind; a stunning wine from a great producer, 95 pts
2005 Louis Latour Corton-Charlemagne (Ron)
Waxy, soft, butter, great match with the lobster, 92 pts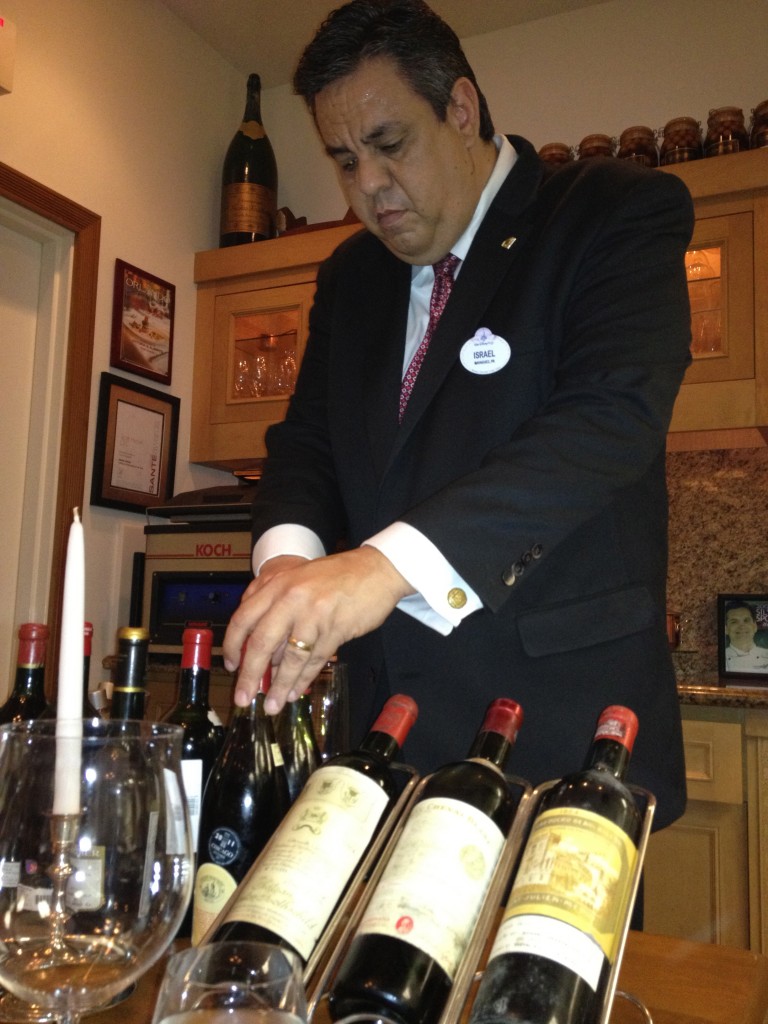 1964 Ch. Cheval Blanc (Ron)
Iron, herbs, cab franc, tar, rich, marine, iodine, spicy, vanilla; a great wine, but probably not a good example of just how great this particular wine can be,  93 pts
1964 Château Ducru-Beaucaillou  (Steve)
Classic Bordeaux nose, slightly woodsy, emerging floral character, soy; unremarkable, 89 pts
1964 Ch. Mouton (Keith)
not much fruit, coffee, over the hill; possibly not well stored prior to purchase in Italy, I suspect this wine can be better than this, 88 pts
1964 Domaine René Engel Clos Vougeot (Steve)
Bacon, smoke, mint, smoked meat, leather, paint, raisin, earthy; a good but not great Burgundy in the earthy style, 92 pts
1964 Faiveley Latricieres Chambertin (Ron)
Simple and thin as poured, developed a bit of iron, then with some air developed wood and caramel, black pepper, black cherry, game, young, acid, rhubarb; much more fruit emphasis than the Clos Vougeot, 92 pts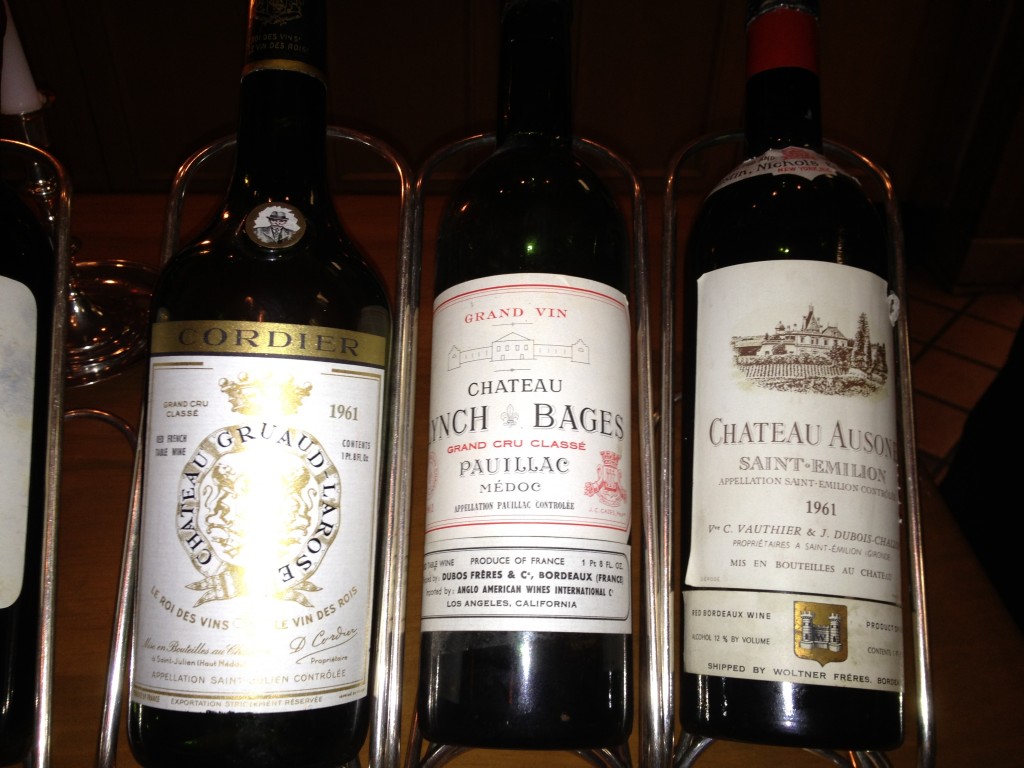 1961 Ch Ausone (Ron)*
Youthful, rare meat, graphite, gravel, iodine, chocolate; a great wine but considering the stellar vintage, maybe not as good as it could have been, 94 pts
1961 Château Lynch-Bages (Steve)*
Bug spray (blew off immediately), big dark fruits, mint, coffee, iron, elegant; I've had this wine many times, and this bottle was the least impressive in my experience, the wine might actually be in a dumb stage and need a bit more time, 94 pts
1961 Ch Gruaud Larose (Keith)*
Sweet, cherries, kirsch, sawdust, dust, Very integrated, very complex, mint, olive; a truly intriguing wine that was very atypical for Gruaurd Larose, 95 pts
*All three 61s will age many more years, but the Lynch Bages especially is age-worthy. I don't think it would be possible to duplicate the Gruaud Larose.
1964 Beaulieu Vineyard Cabernet Sauvignon Georges de Latour Private Reserve (Steve)
Cedar needles, redwood, pine, sweet, caramel, youthful, smoke, mint, fruit, raisins; probably the most redwoody BV I've had, it's nice to see this so youthful, as several I've tried recently were faded, 92 pts
1958 Biondi Santi Brunello (Keith)
Meat, a bit short on fruit, Acidic; not my style, 84 pts
1975 Ch Ducru Beaucaillou (Keith)
Classic 75 Bordeaux nose, a bit of wax, coffee, tight; will the fruit out last the tannin so this can achieve balance? 90 pts
1975 Ch Pichon Lalande (Keith)
Corked, seems tight, no score
2005 Malescot Exupery (Paula)
Earth, tannin, tar, brush, chewy, feminine, meat, vanilla, needs 10-20 years; a very nice wine, cut down in its youth! 94 pts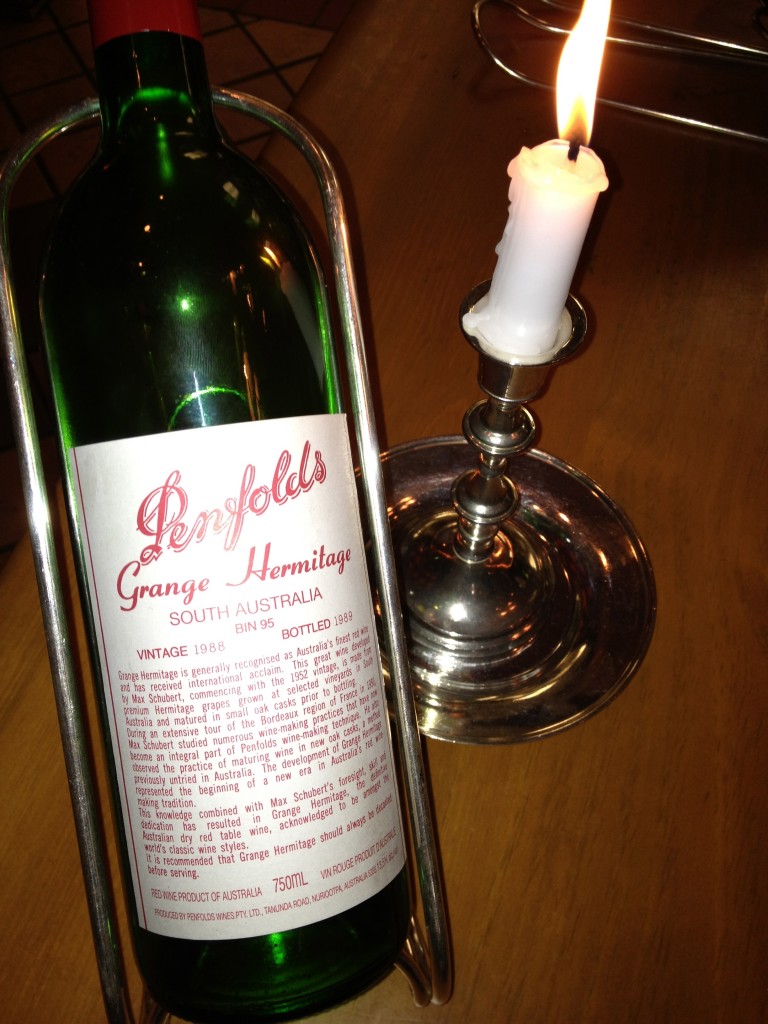 1988 Grange (Ron)
Tight, high alcohol, very tannic, not ready to drink yet, good fruit, high acid, a lot of wood; this wine was controversial as Ron like it a lot, but I found it unyielding; it's so hard to find a Grange that's ready to drink, no score
90 Ch Suidiraut (Ron)
Medium brown, slightly oxidized nose, Creme, caramel, spicy; a nice enough wine by itself, but it seemed very tired next t the Yquem, 90 pts
96 Ch d'Yquem (Ron)
Lucious vanilla, great acid, long, balanced; well, it's always superb, isn't it? 97 pts