We usually go to the chef's table or eat in the Victoria Room at V&A, but Ron invited us on the spur of the moment to bring some nice wines to Victoria and Albert's for dinner, and only the dining room was available. As it turned out, the venue was terrific. Israel provided the same wine service we'd get at the Chef's Table, and Anita was our server. Chef Scott came up with an eleven course menu that was mostly new to us, and every item was a home run. He also indicated that there won't be many repeats when we return next weekend for the chef's table, so that will be interesting.
One of the reasons for the event was so that Ron and Bev could use an overnight stay they bought at a charity auction. But the other reason was to get together and enjoy the "other" Burgundy. By "other," I'm referring to the remaining wine from a pair Ron bought from a store a number of years ago. The first, an 1899 Clos Vougeot, was the greatest wine I ever tasted. Its mate, an 1893 Corton, was a wine we'd long anticipated sharing. I did my best to match it, with a 1929 Bonnes Mares, but there was no stopping the Corton. It has been elevated to my new bench mark for best wine ever. You can tell from my notes that there was no stopping it. For three hours it evolved in the glass.
Of course, we still haven't learned our lesson to serve the Burgundies after everything else, and some otherwise great wines, like my 1959 Lynch Bages, paled in comparison. Oh well, a good problem to have.
It was a great evening, and I'm sure we'll repeat this approach, since the dining room worked out so well. What a terrific restaurant.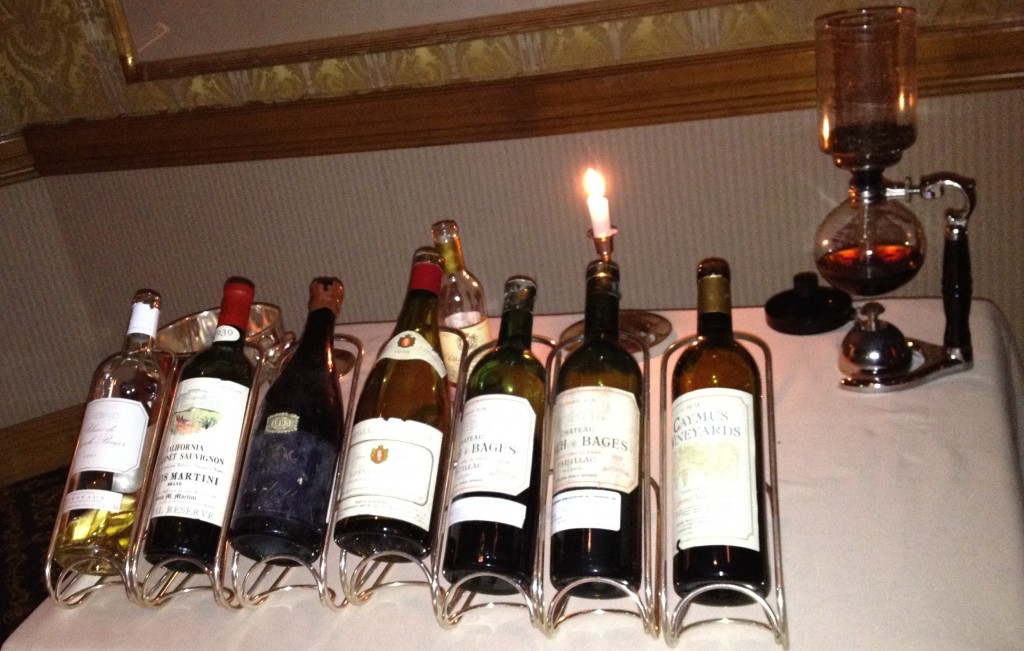 2006 Leroy Duval Champagne (purchased from the wine list)
Beautiful bottle, a bit of toast, green fruits, 93 pts
2007 Lynch Bages Blanc (purchased from the wine list)
Sauvignon blanc nose, soft on the palate, flinty, lemon, chalk, soapy floral finish, 92 pts
1939 Louis M. Martini Cabernet Sauvignon Special Reserve (Steve)
Medium garnet, delicate old fruit, varnish, medium bodied, sawdust, leather, gained in weight with some air, 90 pts
1893 Corton (Ron)
Lemon, vanilla, caramel, ash, Twix bar, fig newton, full of fruit on the palate, charred green wood, like drinking caramel sauce, soy sauce, floral, cherry, orange rind, very long, amazingly youthful, perfect balance, bacon, 100 pts
1929 Boisseaux-Estivant Bonnes Mares (Steve)
Iron, chocolate covered cherries, dust, huge fruit, blackberry, beef blood, drinking like a 1980, 98 pts
1955 Château Lynch-Bages (Ron)
Corked, excellent fruit very youthful, no score
1959 Château Lynch-Bages (Steve)
Very young, extremely balanced, meat, vanilla, coffee, meat, tobacco, cigar box, short, 92 pts
1978 Caymus Special Selection Cabernet Sauvignon (Ron)
Very pronounced Cabernet Sauvignon character, peppers, coffee, chocolate, mint, vanilla, red fruits, cherry, 95 pts
1990 Ch. Suidurat (Ron)
Balanced, honey, great match to the apple dessert, 93 pts