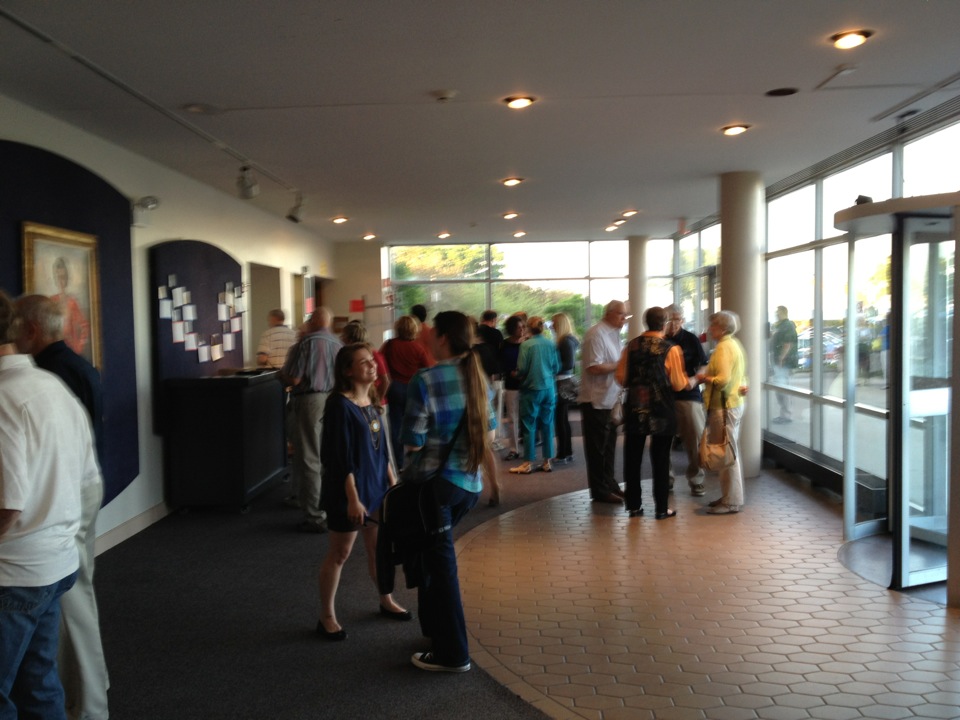 My favorite entertainment event of the year is the Johnny Mercer Songwriter's Showcase. It's held a Northwestern University's Theatre and Interpretation Center. Each year Master Teachers Craig Carnelia (Tony Award-nominated composer and lyricist), Andrew Lippa (Grammy Award-nominated composer and lyricist) and Lari White (Grammy Award-winning singer and songwriter) host sixteen student musicians.
On Friday night they each perform a song, often with the help of some of the other students. The neat thing is that these songs have been written during the last few days–often within the last few hours–before the performance. And yet they are almost without exception simply wonderful. The songs tend to be about one third musical theatre pieces and two thirds what I call singer/songwriter (because they're not shallow, like pop music tends to be).
Then on Saturday the students become part of the Johnny Mercer Celebration Concert, where they are joined by a well-known star. In past years we saw Stephen Schwartz (Wicked) and Charles Strouse (Applause), who both sat at the piano and told stories about writing their shows. This year it was Tony-nominated performer Ann Hampton Callaway, who is also a lyricist and pianist. In the best segment of the show, she sat at the piano, backed by a small orchestra, and she and the sixteen students improvised a (quite good and very entertaining) song on the spot.
The audience for these show is the typical geriatric musical theatre audience, so I'm always impressed by how enthusiastic they are for the new, often edgy, music created each year. Friday's event is held in the intimate Josephine Louis Theater, which has superb acoustics and crystal clear sounds reinforcement. Saturday's event is in the larger Pick-Staiger Concert Hall, which ironically has terrible acoustics and a sound system that renders even speech nearly unintelligible. Needless to say, Friday is the best event.
This year's group of students were better pedigreed than usual, with many of them making a living from music, and already self-published. So as you might expect, the songs were even better than usual. In fact, among the sixteen numbers, it was hard to pick a favorite.
The event is funded by the patrons who attend, and by the Johnny Mercer Foundation, which in turn is funded by the royalties from his songs. What a wonderful project!

Here are the bios of this year's students:
Matilde Bernabei will be graduating next year with a BFA in Musical Theatre from Texas State University.  She has been honing her craft as a vocal performer for eight years and is ready to hone her craft as a songwriter. She has been composing music and playing the guitar for five years, performing her songs for school functions and local groups.  Matilde is grateful for the opportunity to work with talented, professional artists and collaborate with other songwriters.
Jeff Bienstock was born in Santa Monica, California.  He began his musical career as a clarinetist, but became interested in composition at college.  In 2006, he moved east to earn a Masters in Composition at NYU; there, he began work on what would eventually become his first full-length musical, the award-winning The Morning After/The Night Before.  The show was produced in 2010 as part of the NYC Fringe Festival, and had a sold-out run at the Off-Broadway Lortel Theater.  Jeff has been participating in the BMI Lehman Engel Musical Theater Workshop since 2008.  He currently lives in Brooklyn.
Kayley Bishop is fresh out of the Boston Conservatory where she graduated with a Bachelors of Fine Arts in musical theatre.  She's from Fort Myers, Florida, although her childhood was spent in Tennessee and can surely account for her love of bluegrass music and cowboy boots.  She's new to songwriting, having only spent the last year working the craft, but she's been singing ever since she could talk.  She feels very blessed to be accepted into the Johnny Mercer program amongst so many talented musicians and looks forward to the music she'll get to make with them during this special week.
Cassie Boettcher (pronunciation: cass-ee betcher, like "betch your bottom dollar") is a Milwaukee pop singer-songwriter whose music showcases unique lyrics and catchy melodies.  Having been compared to Sara Bareilles, Colbie Caillat, and Ingrid Michaelson, she has received positive attention from industry professionals and fans around the world.  Cassie has opened for Rosi Golan, Kate York (writer of Jonny Diaz's "More Beautiful You"), Natalie Hemby (writer of Miranda Lambert's "White Liar," "Only Prettier," Carrie Underwood's "Play On").  She has been acknowledged nationally as one of 50 upcoming acts by the Aloft Hotel chain and currently is an artist ambassador for the Supercuts 'Rock the Cut' campaign.
Andrea Daly's soulful voice and clever lyrics make her a dynamic performer to hear.  Although she garners frequent comparisons to Sara Bareilles or Fiona Apple, Andrea is inspired by a melting pot of influences, from Broadway and classical composers to indie songwriters like Ben Folds and Regina Spektor.  With creativity and subtlety, she crafts refreshingly honest songs. Andrea lives in NYC and has performed solo at Lincoln Center's Bruno Walter Auditorium, The Bitter End, Googies Lounge, and National Underground, among other venues.  Her EP "Moving Through This" was released in 2010, and she is currently working on a full-length album.
With his laid-back vocal delivery and acoustic songwriting, John Gurney draws much of his inspiration from the music of 1970's Chicago folk scene, which his mother was at the center of as a singer-songwriter and performer.  It was during his time at the University of Missouri (2011) that songwriting and performance became his focal point. His first album City Of Strangers was released in February 2012.
You might recognize NYC-based artist Caleb Hawley from season 10 of American Idol, when he had the Aerosmith icon Steven Tyler singing along and jamming out, while recognizing him as "Something new and something different".  In addition to his stint in reality TV, this Harlem based blue-eyed soul singer has toured the country along with his "merch-dog" Fargo, playing nearly 1000 shows over the past four years.  Along the way Hawley has received top honors in the prestigious New York Songwriters Circle Contest (2008 and 2009), the John Lennon Songwriting Contest (2009), the Telluride Festival (2010), and most recently took first prize in the Rocky Mountain Folk Fest (2011) for his songwriting.
Patrick Lundquist is a Singer/Songwriter residing in Los Angeles, California.  He began his career working for the singer Al Jarreau.  Patrick's musicality intrigued Mr. Jarreau and soon they were writing songs together.  Eventually, Patrick was singing backup for Al in the studio and in concert.  In January 2011, Patrick branched away, co-writing an EP for his vocal group Embassy Tide.  The EP debuted at #9 on the iTunes vocal charts. Patrick's voice has been heard on numerous studio releases, including Adam Lambert's For Your Entertainment and the soundtrack of the movie Easy A.
Rebekah Greer Melocik is a proud graduate of NYU's Musical Theater Writing MFA program, and has been lucky enough to study with Rachel Sheinkin, Jason Robert Brown, Sybille Pearson and Michael John LaChiusa.  Rebekah was part of the inaugural season of the Rhinebeck Writer's Retreat in 2011, and has had her work performed in Los Angeles, New York and Sydney.  Current projects include two musicals with Jacob Yandura: Dogwood Days and The Disillusionist.  She is a co-founder of PVBLIC BATH, an artist collective that strives to provide points of access between members of the local and global community.
Gregory Nabours works as a musical director, composer and pianist in Los Angeles, California.  Classically competitive as a child, Gregory grew up with music.  In college, he branched out into choral, jazz, pop/rock, and film score, but never truly escaped his passion for theatre.  Gregory is the proud resident composer for the Courage Theatre Company, and his band, The Anix, has toured both nationally and internationally.  In 2011, he wrote and debuted The Trouble With Words, a full-length song cycle.  Public response was extraordinary, and Gregory received one of Los Angeles' most prestigious theatre awards, the "2011 Ovation Award for Original Music and Lyrics", as well as "Best Musical" at the Hollywood Fringe Festival.
A little bit gritty, a little bit country, and all heart, Sarah Nisch's debut EP, By Heart, was released on February 14th, 2012.  The album was fan-funded via Kickstarter and written entirely by Sarah and her talented friends in Brooklyn, NYC.  Listeners are taken on a roller-coaster ride from Sarah's modest, mid-western upbringing to the angst-filled passion of survival in the city, and back down again to the tender melancholy of many a broken heart.  (Jewel meets Taylor Swift for coffee at Avril Lavigne's Brooklyn loft.)  Sarah is eternally grateful for the Mercer experience.
Jennifer Sanchez is from Albuquerque, New Mexico, where the state question "red or green" has always made her happy to have taste buds.  She grew up all over the country as an Air Force kid and now lives in NYC where she can be seen in the Broadway musical Ghost.  She began writing songs as a girl to help with the constant moving and replacing of friends/pets/schools.  She is overwhelmed to join this group of creators and would like to thank her father for teaching her guitar, her mother for teaching her to harmonize, and her sisters for keeping her out of trouble.
Peter Seibert is a composer, conductor, and producer based in Los Angeles.  Additional music and/or arrangement film credits include One for the Money, Footloose, Alice in Wonderland, Justin Bieber: Never Say Never, Disney's Prom and Dear John.  Peter was one of 25 composers (alongside legendaries such as Marvin Hamlisch and Dave Grusin) to contribute music to Haiti: A Symphony of Hope.  The collaborative piece debuts in Los Angeles August 2012.  Peter is a recipient of ASCAP's Harold Arlen Award for Film and TV Music.  He currently writes additional music for the television series Drop Dead Diva.
Shaina Taub is a New York-based performer, songwriter and Ars Nova's 2012 Composer-in-Residence. Her band has been playing in the city for three years, with a regular residency at Rockwood Music Hall, and her EP, What Otters Do was released last summer.  Taub's original opera, The Daughters, was produced at CAP21 Theatre Company and the Yale Institute of Music Theater.  She's currently writing the score of a new musical with playwright Kim Rosenstock, commissioned by the Oregon Shakespeare Festival, is developing music for Walt Disney Imagineering, and recently received a 2011 MacDowell Fellowship.  Shaina recently performed with Karen O in her alt-rock opera, Stop the Virgens, at St. Ann's Warehouse and the Sydney Opera House.
Becky Warren is the Washington, DC-based songwriter and lead singer for the alt-country band The Great Unknowns. Their first record found its way to Indigo Girl Amy Ray, who declared it "Excellent songwriting in the Americana tradition-really one of the best things I have heard this year" and released it on her independent label, Daemon Records. The songwriting quickly attracted accolades.  All Music Guide wrote: "Warren's voice and lyrics perfectly flow together, conveying longing and hope with a sense of tough pride…It's the highlight of a terrific debut that shows tremendous potential from Becky Warren."  The band's new record, Homefront, proves that Warren can pick up right where she left off -the album has earned several songwriting awards, including the grand prize in the Mid-Atlantic Song Contest.
Jacob Yandura holds a B.A. in Music Composition from Kenyon College and an M.F.A from New York University's Graduate Musical Theatre Writing Program.  In 2009, his musical, Morning's Song, was premiered at Kenyon College.  His current projects include Dogwood Days and The Disillusionist (book and lyrics by Rebekah Melocik).  Most recently, Jacob was a part of the inaugural season of the Rhinebeck Writers Retreat and the Broadway's Future @ Lincoln Center concerts.  His work has been performed in various cabarets around New York, Nashville and Florence, Italy.  Jacob is a founding member of PVBLIC BATH, an artist collective, with Rebekah Melocik and Lexa Freshwater Burton.