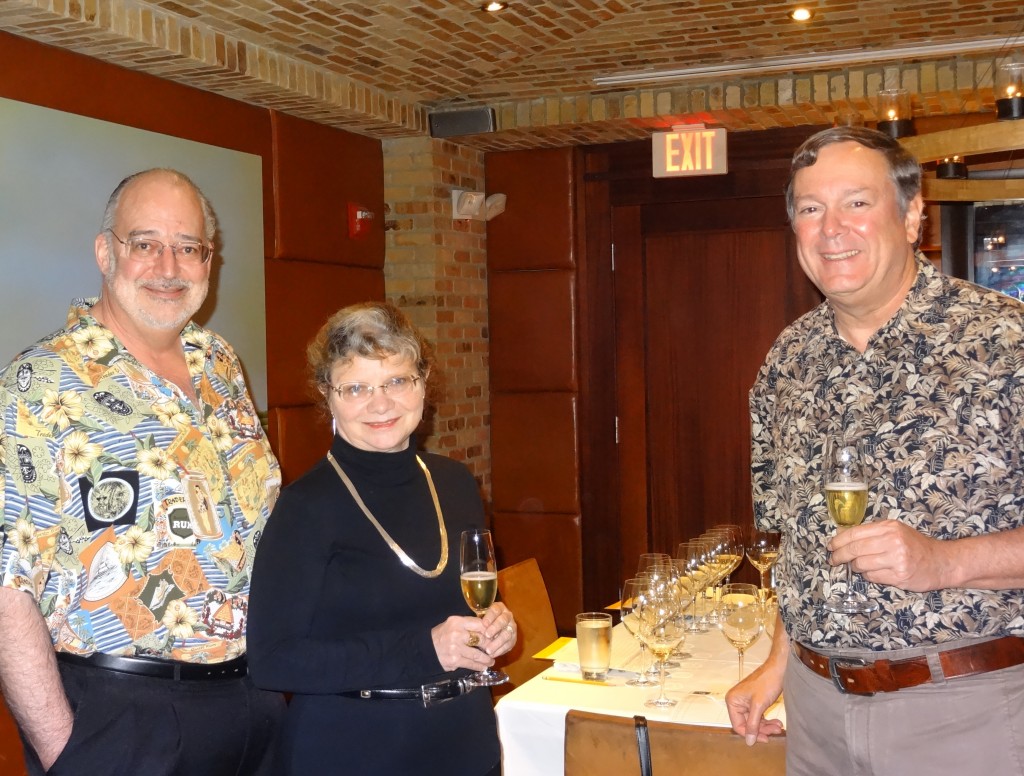 Our wine group met in the private room downstairs at Luma for our first ever white wine tasting. The wines were divided into flights of Burgundy, Bordeaux, and–after dinner–Sauternes. It was fun tho have some great white wines for a change, as these are wines that are ridiculously expensive unless you're sharing them with a group. It was quite instructional, especially the Haut Brion and Yquem verticals. As it turned out, it also encouraged the group to bring some excellent reds for dinner, and we assembled these into many impromptu flights of related wines.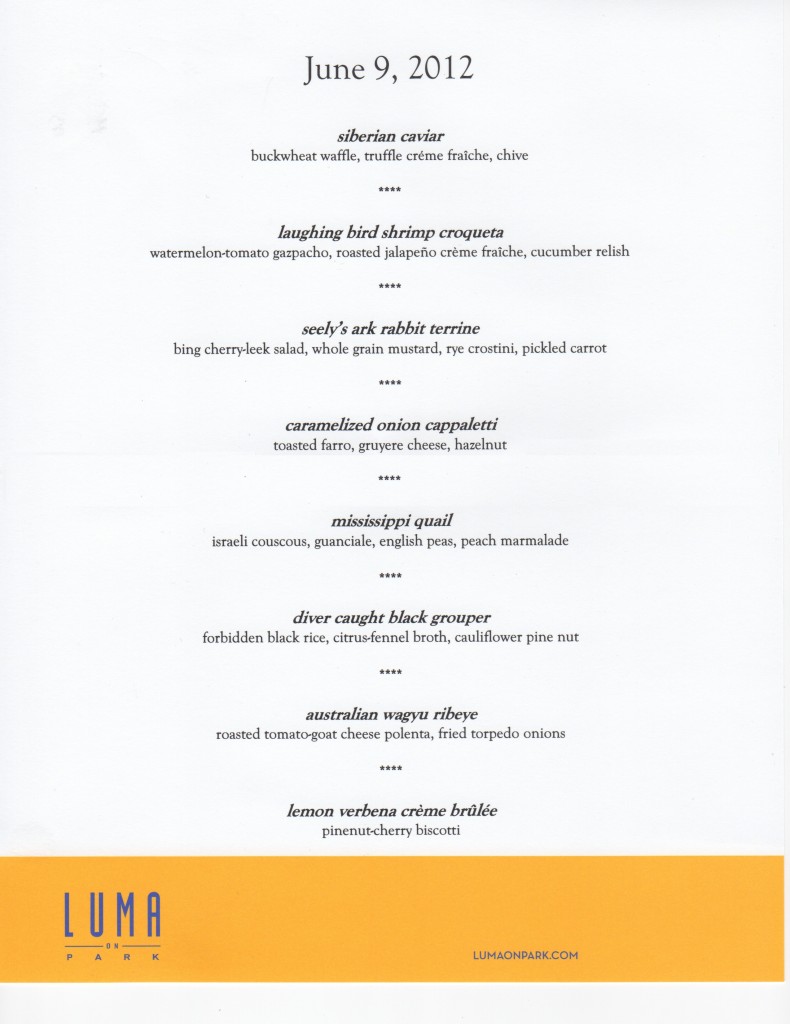 Luma's food was top notch, with nearly all of the courses being home runs except a rather limp sous vide quail (I wish that cooking style, which is basically poaching in a boiling bag, would go out of style), and so-so ribeye. The lemon verbena creme brulee was the best creme brulee I've ever tasted.
My wine notes:
Starters
2002 Freemark Abbey Gravel Bench Chardonnay, from Andy.
We all loved this very Burgundian California chard. Minerals, oak, gravel, butter with fruit and ash in the finish. 94 pts.
NV Leroy Duval Champagne, from John.
Toasty, nice fruit, 89pts.
NV Ruinart Champagne, from Ron.
Toast, greeen peel, crisp finish, 90 pts.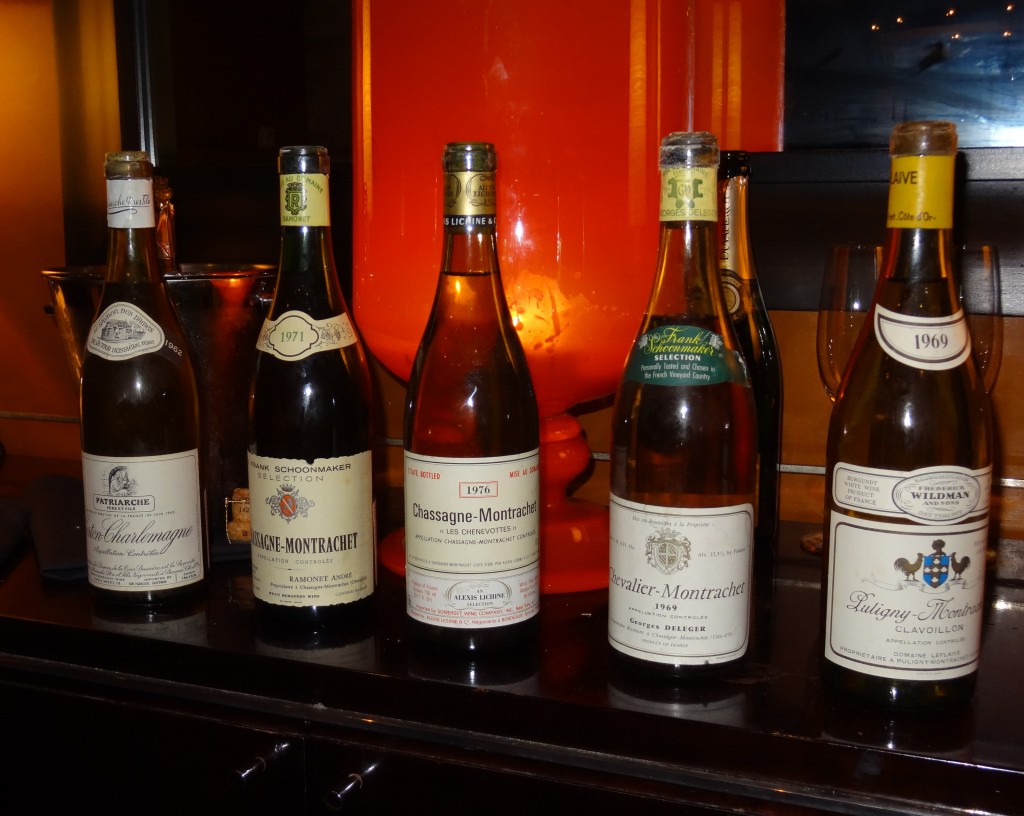 White Burgundy
1962 Corton Charlemagne, Patriarche, $180.
Although the oldest wine in the flight, this beauty was light straw color and incredibly youthful. 50 years? More like 5! Lemon, ash, a woodsy nose unfortunately developed, probably from a bad cork, tart mineral and lemon finish, very fresh, 91pts.
1971 Chassagne-Montrachet, A. Ramonet, $180.
Amber color, bizarre tomato, bacon and apricot nose, acidic, creamy finish, and awkward wine, 88pts.
1976 Chassagne Montrachet, Les Chenevottes, A. Lichine, $180.
Lovely light straw color, clean vanilla nose, ash on the tongue, tasting very young, the group's favorite, 92pts.
1969 Chevalier-Montrachet, G. Deleger, $180.
Quite amber, floral, alcohol, geranium, heavy and a bit clumsy, 86 pts.
1969 Puligny Montrachet, Clavoillon, Domaine Leflaive, $180
Astonishingly youthful, bright straw color, ash, minerals a hint of bug spray, clean on the palate with a good balance between acid and fruit, flinty finish, the group's second favorite and my favorite, 94pts.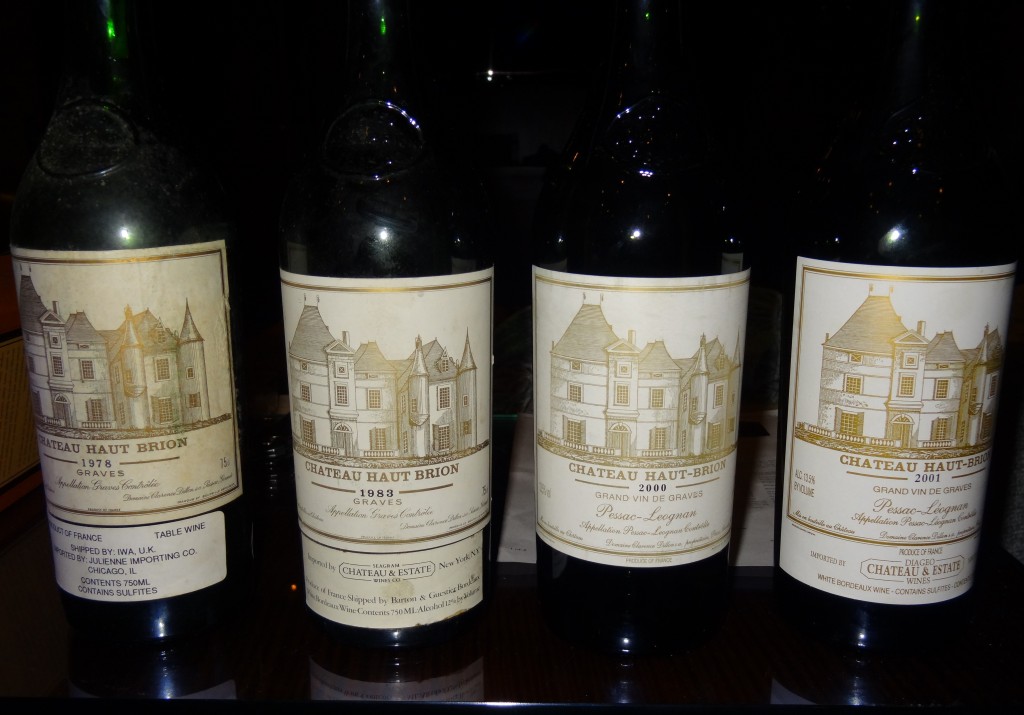 White Bordeaux
1978 Ch Haut Brion Blanc, $295.
Amber, closed, honey, weeds, bug spray, dust, intense lemon on the palate, rich caramel finish, improved with 30 minutes of air, 92+pts.
1983 Ch Haut Brion Blanc, $295.
Spicy, candy, oily, very balanced, good acid, vanilla finish, 95pts.
2000 Ch Haut Brion Blanc, $485.
Green, flinty, young, licorice, soft, creamy, lemon finish, 96 pts.
2001 Ch Haut Brion Blanc, $375.
Balanced, creamy, vanilla, apricot, vanilla ice cream, honey, the group's favorite, 98pts.
Lighter Reds
1981 Drouhin Grands-Echezeaux, Ron
Black olives, cherry beer, peat, balanced, smokey, 95 pts.
2003 Pegau Chateauneuf du Pape, Ron
Meat, berries, dust, spice box, cherries, jam, vanilla, a great CDP, 98pts.
2000 Barbaresco, Marc de Grazia, Dick
Cherries, dried fruit, tar, tannic, 95pts.
1983 Hermitage La Chapelle, Jaboulet, Steve
Saddle leather, smoke, dried flowers, 95pts.
1993 Fess Parker Pinot Noir, commemorative Davie Crocket magnum, Andy
Smoke, sweet finish, a really nice pinot, 92pts.
Red Bordeaux
 1983 Ch Gruaud Larose, Ron
Classic Bordeaux nose, nice fruit balance, 92pts.
1986 Ch Gruaud Larose, Steve
Similar to the 1983, but with slightly more structure, 93pts.
1981 Ch. Palmer, John
Flawed bottle.
California Reds
 1981 BV Georges de la Tour Private Reserve Cabernet Sauvignon, John
Waxy, fading a bit, but with traditional GDLT notes. You can tell this was just on the cusp of the winery's decline, 90pts.
1995 Heitz Bella Oaks Cabernet Sauvignon, Andy
A remarkable Bella Oaks, lots of coffee in the nose, and a sweet balanced finish, 93pts.
2004 Robert Young Cabernet Sauvignon, Andy
A pleasant wine with a simple sawdust finish, 88pts.
1997 Grace Vineyard 29, Ron
Extremely Bordeaux like, especially the nose, 94pts.
1991 Dominus, Ron
Still the greatest wine ever made in California! 99pts.
Sauternes
1999 Ch d'Yquem, tenth, $85.
The best match for the lemon verbena creme brulee, but the most out of balance of the three, 97pts.
2000 Ch d'Yquem, tenth, $213.
Smooth and balanced, softer than the 1999, 98pts.
2001 Ch d'Yquem, tenth, $300.
Definitely the best of the three, the most complex and intense botrytis aromas, but is one or two points worth the premium? 99pts.
Cognac
(1929) Tesseron XO Selection Lot 29, $320.
Complex floral, figs, fennel, candy, vanilla, mint, balanced with a long caramel finish. The only Cognac ever rated 100pts by Robert Parker. 98pts.