I've been without Internet for one day, and I sure have a lot of updates to do! This trip is definitely keeping us busy, in a fun way.
Wednesday morning we checked out of Lake Powell and drove to Page, Arizona for our first activity of the day, Colorado River rafting. We transferred to a bus to enter the secured government area at the base of Glen Canyon Dam.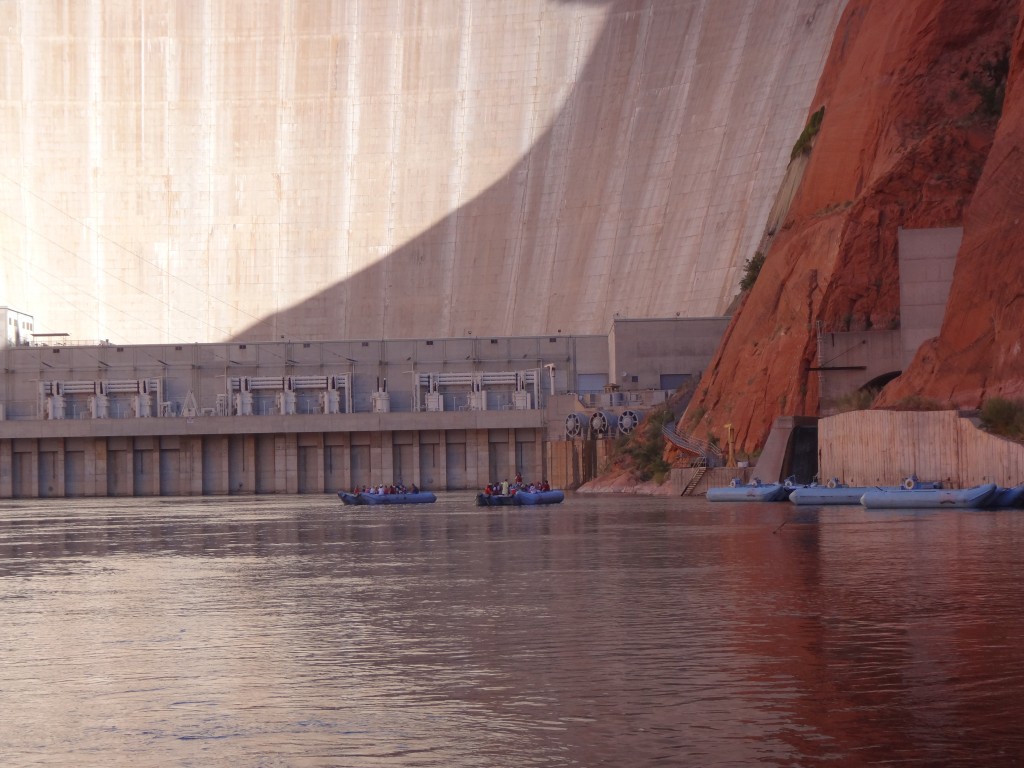 To get there you pass though a two mile tunnel bored into the rock at the start of dam construction. Then you wear a hard hat for the walk to the rafts.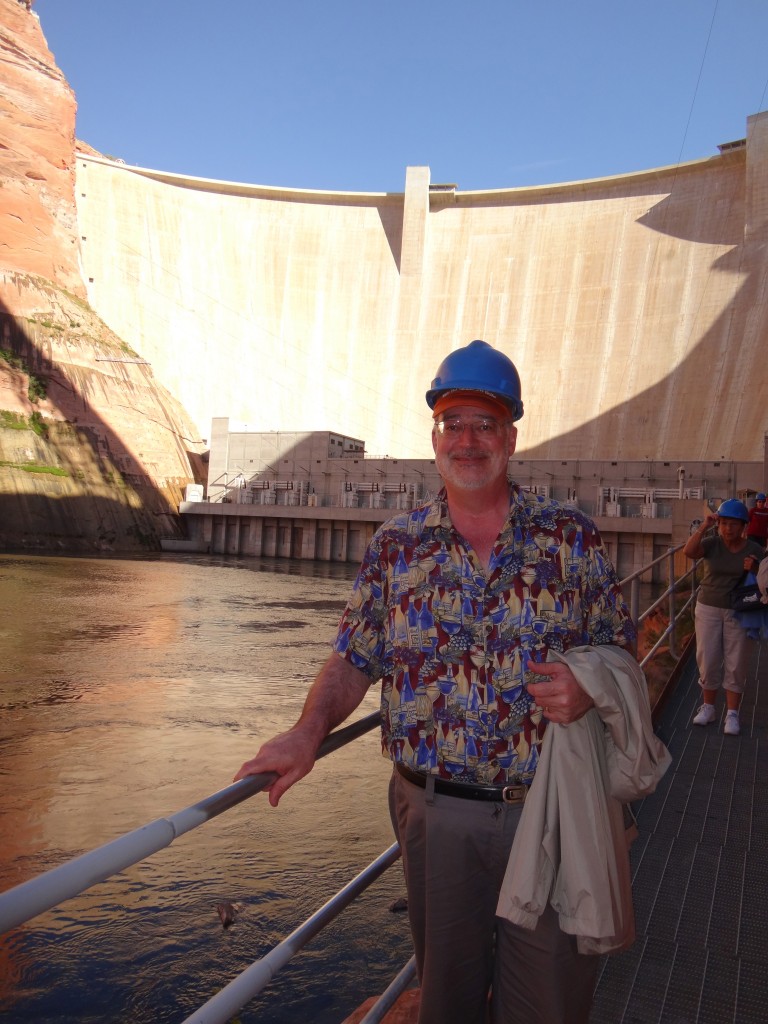 The water comes out of the dam cold and fast, but there are no rapids on this trip, as you float between high canyons. It's very clear, because it's had 186 miles for the dirt to settle out in Lake Powell.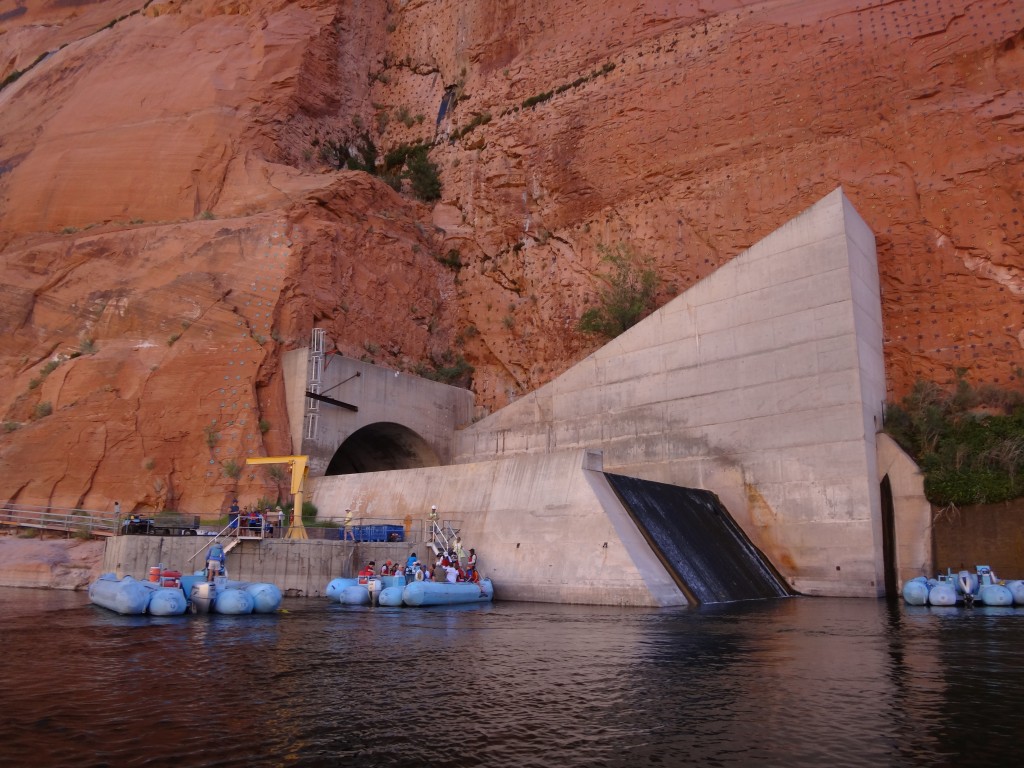 Our raft pilot, Cory, was extremely knowledgeable and personable, and turned out to be the owner of the company.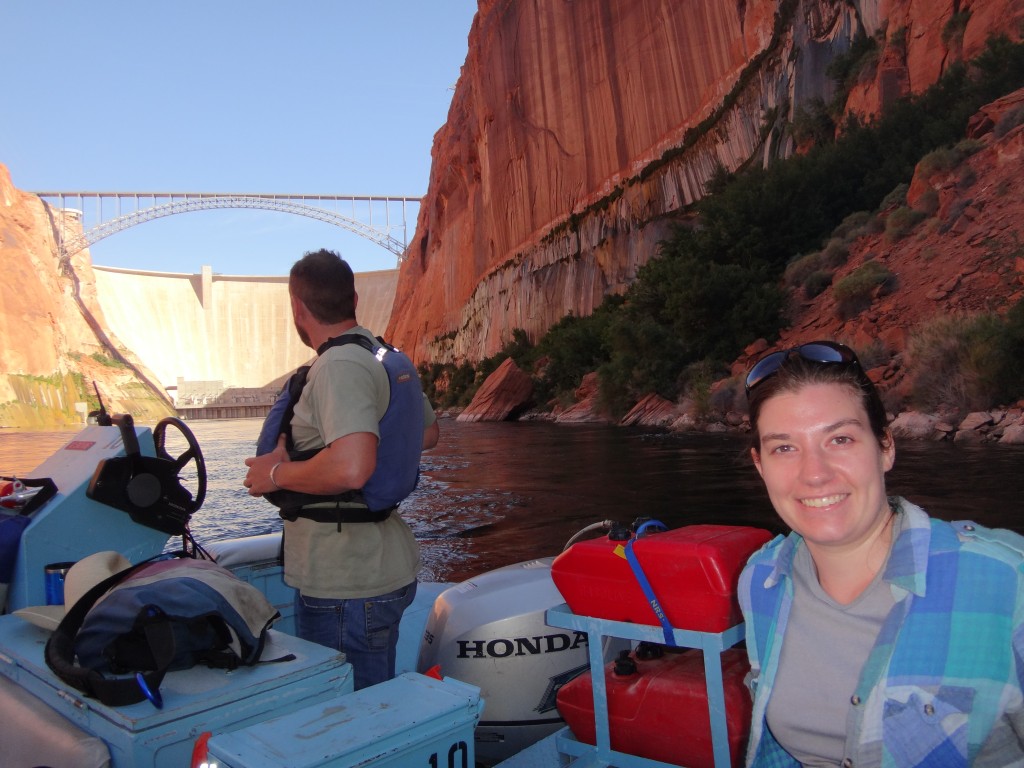 At the halfway point the boats stop at a beach.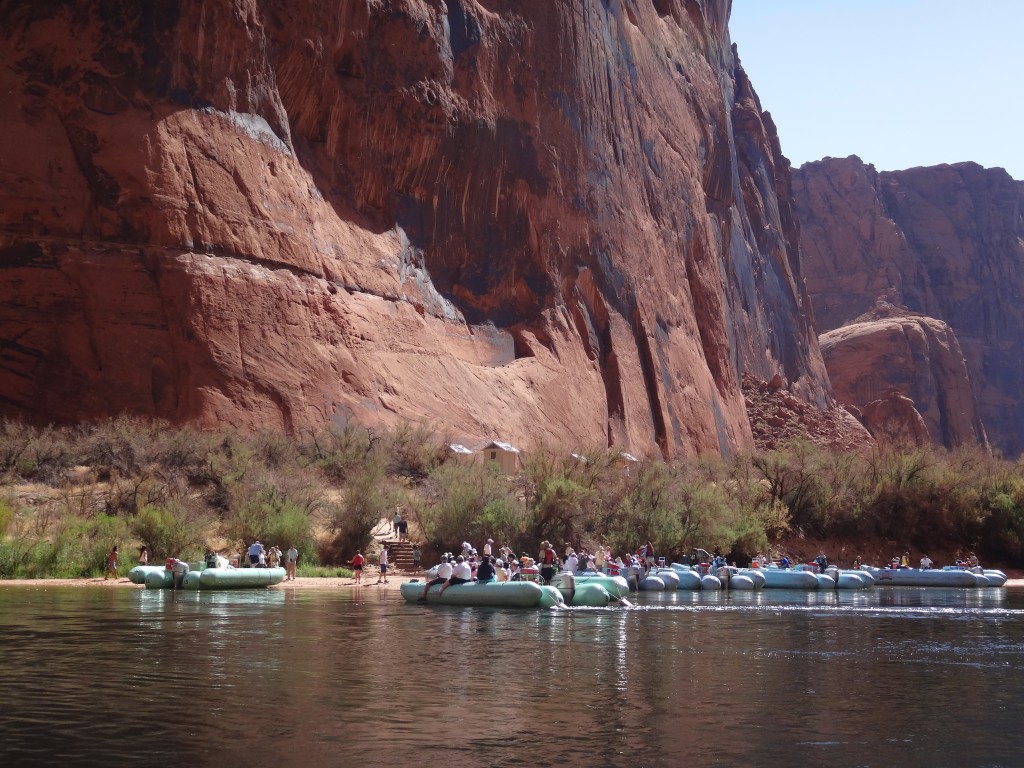 You can climb up to some petroglyphs.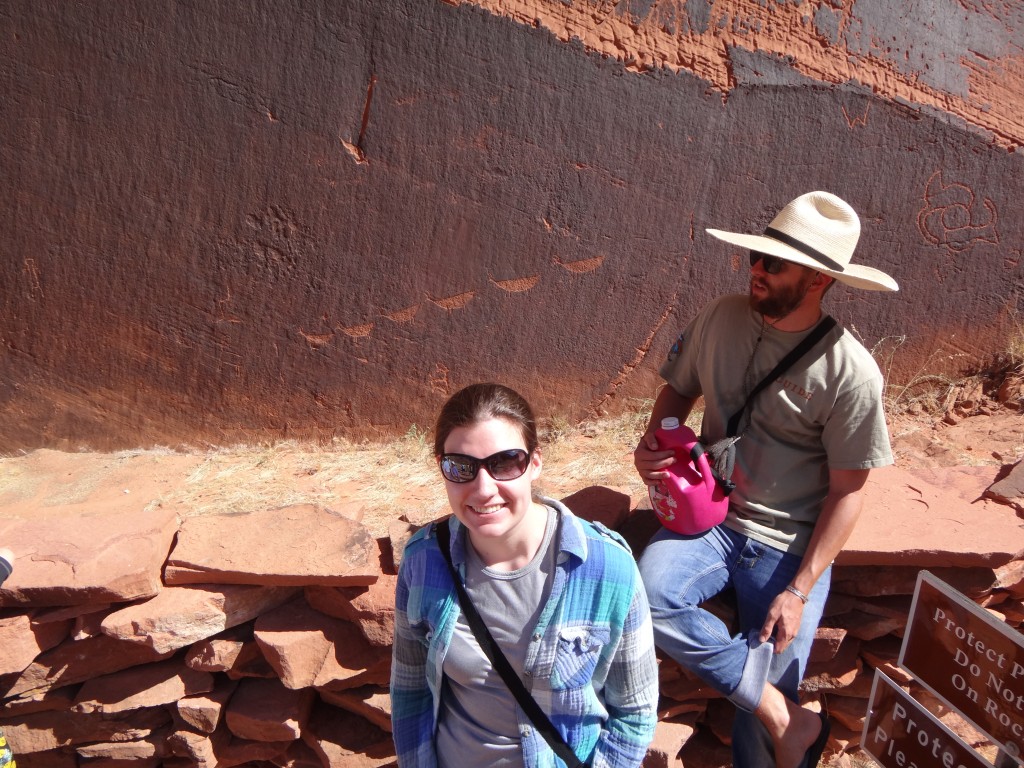 Then our tour director dared us to take the plunge. Because the lake is 500 feet deep, and the water from the dam comes from the bottom, it is COLD. As in 47 degrees. I had always heard about water so cold that it hurt, but I never really had experienced it until I stood thigh deep in this stuff for a minute. That was far enough.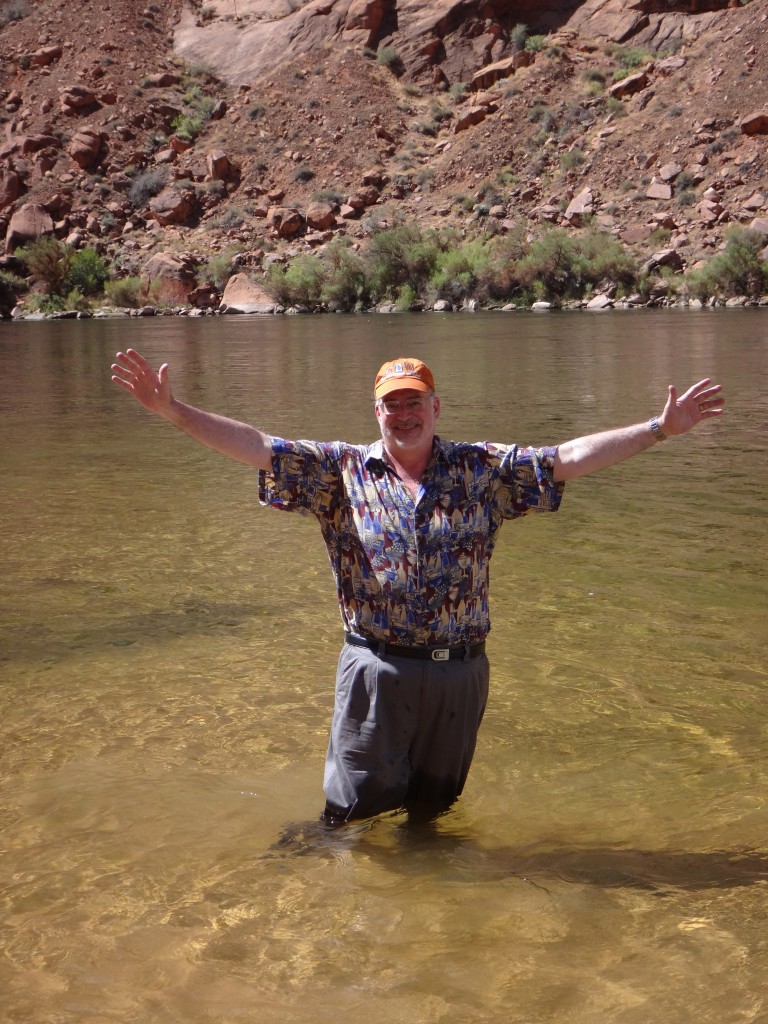 Dani didn't get that far.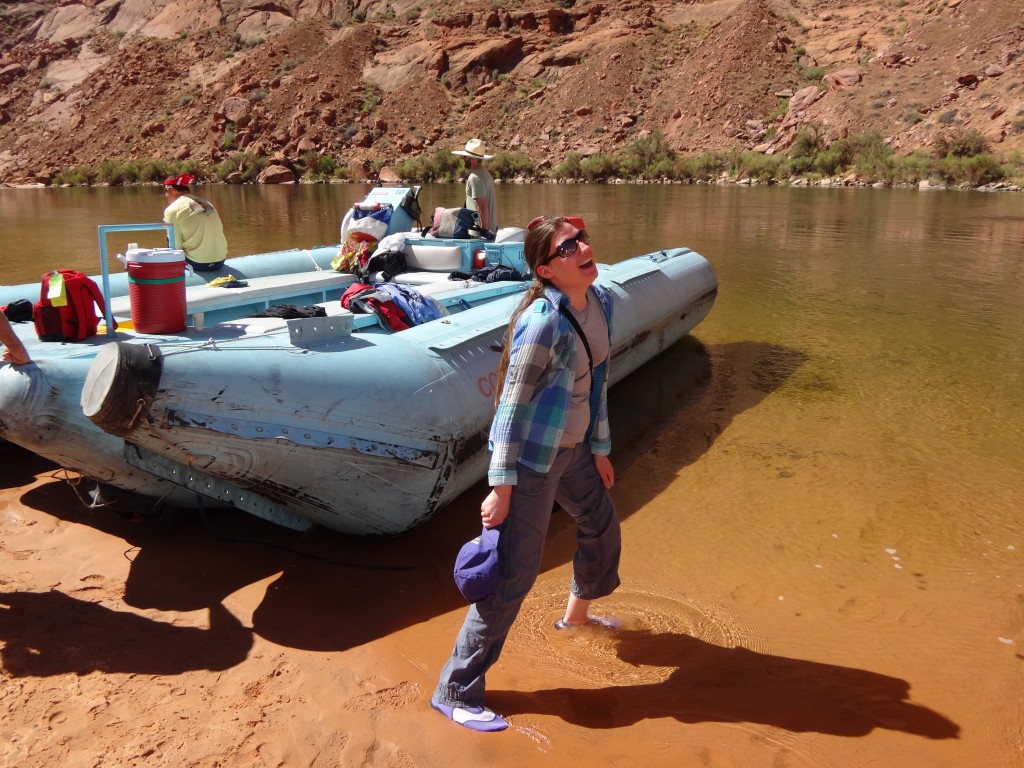 But lots of others managed to meet the challenge and put their heads under. But as you can see, they didn't want to linger.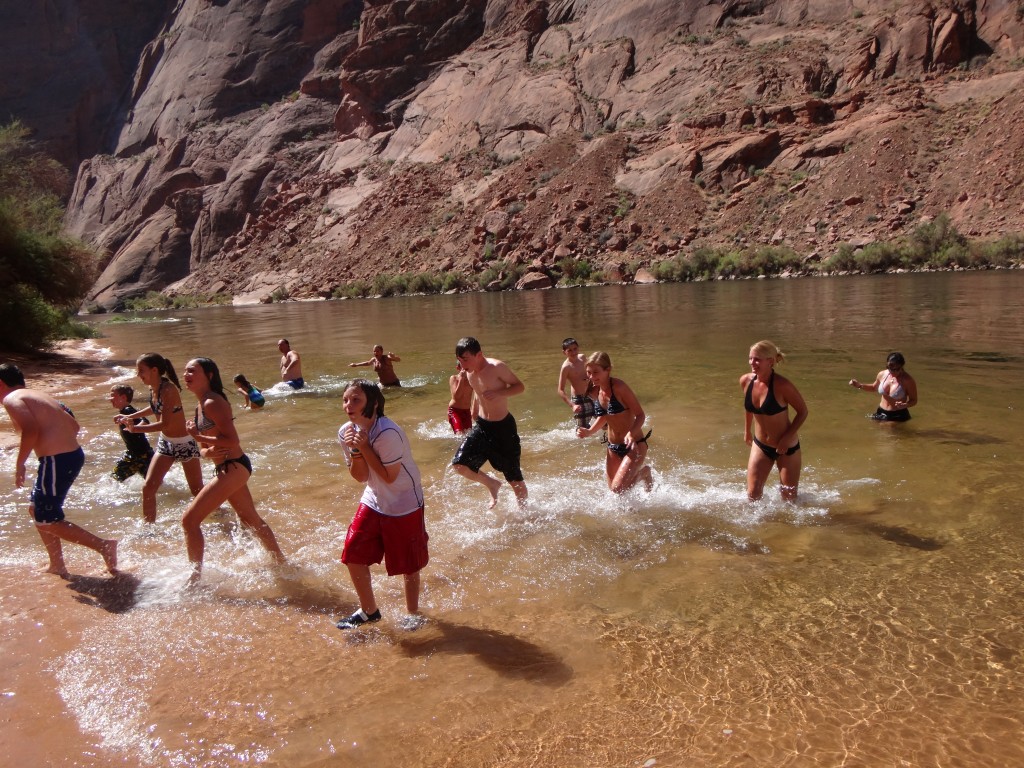 The second half of the trip was sunny so we floated less and motored more, until we reached Lee's Ferry. This is where the white water rafting trips begin, and our trip ended.

We crossed Navaho bridge, and the high desert above the north rim of the Grand Canyon, and then passed into Utah.

In Kanab we stopped for a western movie themed lunch. Kanab is where lots of western movies and television shows have been filmed, and this restaurant had a collection of movie sets out back. We were assigned roles, given costumes, and then spend about five minutes playing our parts. It sounds corny but was actually a hoot. Dani was an Indian.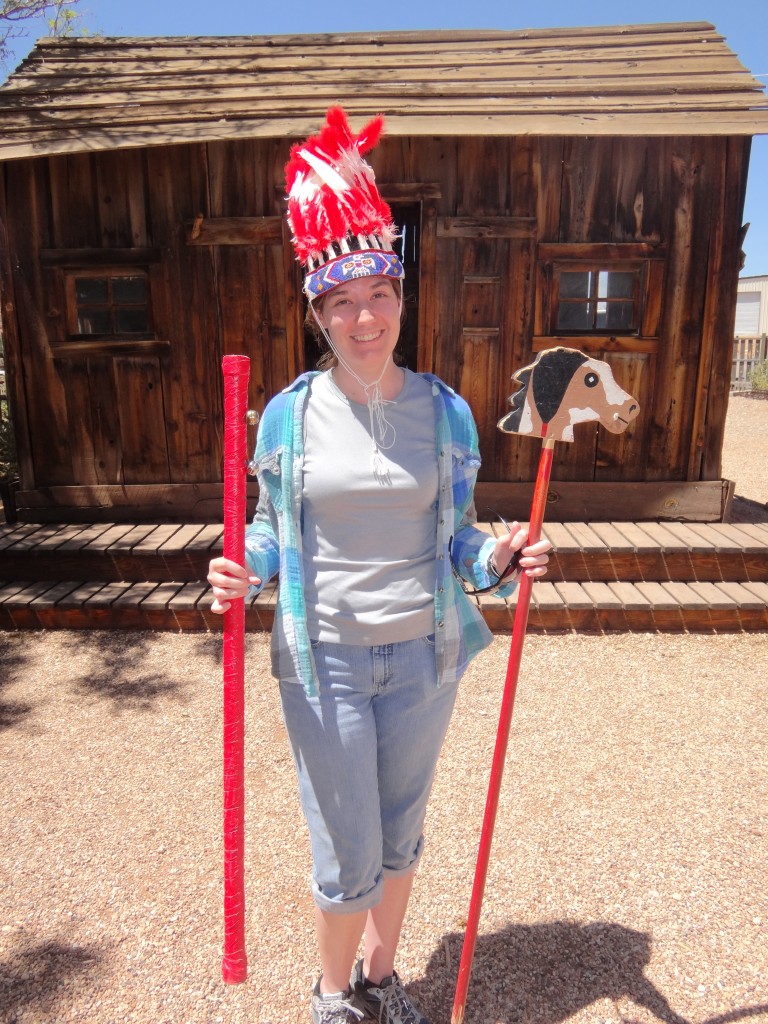 I was a playboy (with a violin, for some reason).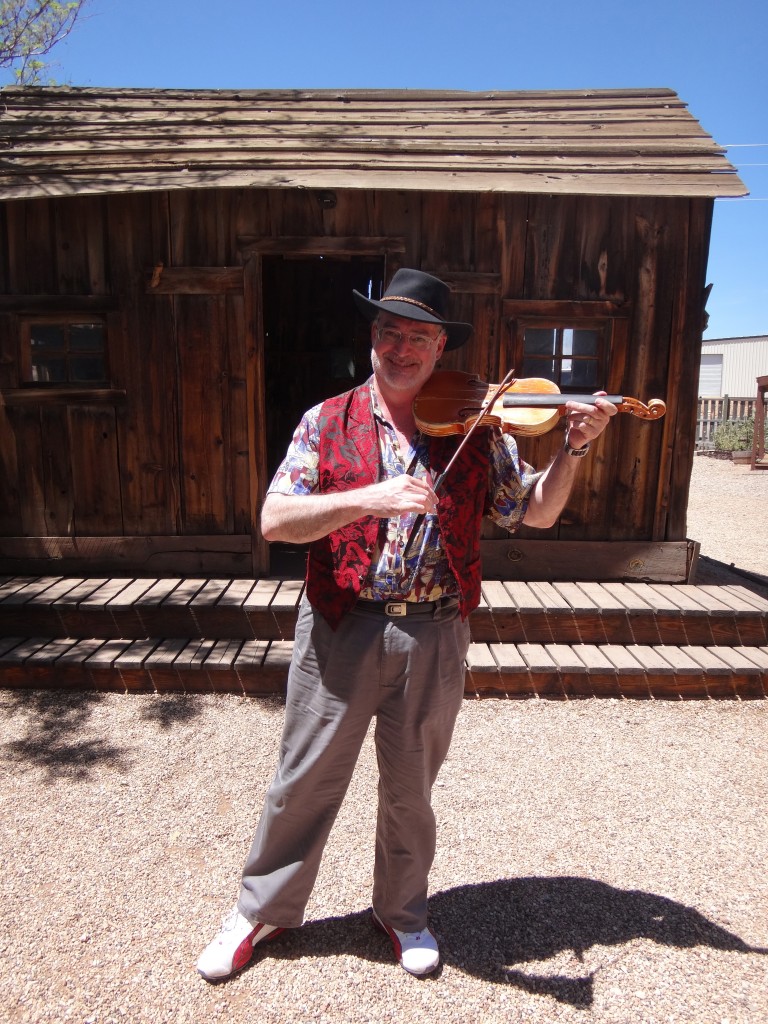 Then we had an excellent lunch of salad and roast beef with home made dressings and barbecue sauce. After seeing how well it worked for our boat driver, Dani bought a cowboy hat for tomorrow's trail ride.
Then we headed for Bryce Canyon.
From Dani's Blog
This morning we packed up our stuff and headed out to the bottom of the Glen Canyon Dam for our rafting adventure (another "ride or our lives" according to Julie).
The bottom of the Dam is not an easy place to get to. The last two miles are a one-way tunnel bored into the rock. Security is at the same time both tight and lax. Theoretically you're not allowed to bring any guns/knives/explosives/weapons of mass destruction beyond the security checkpoint, but the river rafting company gets to do its own security checks, which basically involves someone glancing in the general direction of your bag and saying, "yep, that looks fine."
At any rate we made it to the bottom of the Dam which, amazingly, looks even larger from the bottom. There is about 150 feet of hard hat area when you get off the bus (you're standing right under the bridge and anything falling from that has 500 feet to pick up speed before hitting you. We walked down to the water on a long causeway that ate the soles of Dad's water shoes for breakfast. The boats were large twenty-seater pontoons but they were filled less than half full for us. Our river guide, Cory, was very knowledgable about the river, geology, and the history of the region. He told us a couple of yarns though, including a herd of big horn sheep that had been trained to cross the river in a cart suspended by a cable about twenty feet up (reality: geologists use it to get from one side to the other).
The water is a balmy 47 degrees when it comes out of the Dam. Early in the morning when the river is still in shadow it's a bit cool down there. We saw a couple of brave souls in wadders fishing for trout. Cory recited a bit of Powell's journal (the passage about beginning their journey "how many ________ lie before us, we know not…") and we started our own journey.
There was a bag full of cans of lemonade hanging off the side of the boat, keeping them at a crisp 47 degrees for us. We mostly floated for the first part of the journey. The walls are about 700 feet above the river at the mouth of the Dam but by the end of our journey they had soared to more than 1000 feet around Horseshoe bend. It's very difficult to get any sense of scale when you're down there though. They're simply enormous!
At about the halfway point we pulled up onto one of the few sandy beaches (most have been eroded away and aren't being replenished because the sediment is trapped behind the Dam). We walked a short way up but it was amazing how much hotter it got even a few feet from the River. Cory and I chatted on the way up. He went to the University of Colorado to study Environmental Science. He worked for an oil company for a couple of years and was miserable, so he moved back to Arizona and started running tours on the Colorado River during the summer and is a ski patroller in the winter.
Our destination was a rock wall, covered in black manganese that had petroglyphs carved into it by the Anisazi. There were a few rare depictions of humans, as well as the four steps (one of the only land accessible trails) and long horn sheep.
We retreated back to the relative coolness of the river and the kids on the trip did the polar plunge by rushing into the water and submerging themselves up to their heads. Dad waded in up to his knees, but I stuck one foot in Lake Michigan one time and that was enough (and it's about ten degrees warmer than the Colorado!).
We hopped back on the boat and continued on to Lee's Ferry, which is mile 0 of the Grand Canyon. White water rafting trips put in at Lee's Ferry, but we got out.
Those of us who were soggy changed and got back on the bus to head for Bryce. We crossed into Utah and lost an hour so our late lunch was very late. It was at a Western Movie Museum. It was a little kitschy but all in good fun. We were seated at long tables but before the dinner bell was rung we were all drafted into the filming of our very own Western. I was an Indian, but Dad got to be the playboy (meaning the fiddler, of course).  We were costumed, choreographed, and then played out our movie. After than we had our Tauk group photo taken. I have to say it will be the most unique group photo ever taken on a Tauk tour…
We went back inside and had a really tasty barbecue lunch. There was salad, corn-meal dusted biscuits, roasted potatoes, macaroni and cheese, and beef with homemade barbecue sauce. Everybody chowed down.
After lunch, there was (predictably) one enormous gift shop to go through. I ended up purchasing a straw cowboy hat. Out here you can really use the extra sun protection. I can see why they invented them! Also it will look dashing on tomorrow's trail ride…