I've always wanted to visit Monument Valley, but it's not the easiest place in the world to get to. Even though as a kid I vacationed all over the Southwest, I don't recall ever passing through. So today we did it by plane. We took off from the airport in Page, Arizona. There were four of us and two pilots in the eight passenger Cessna Caravan.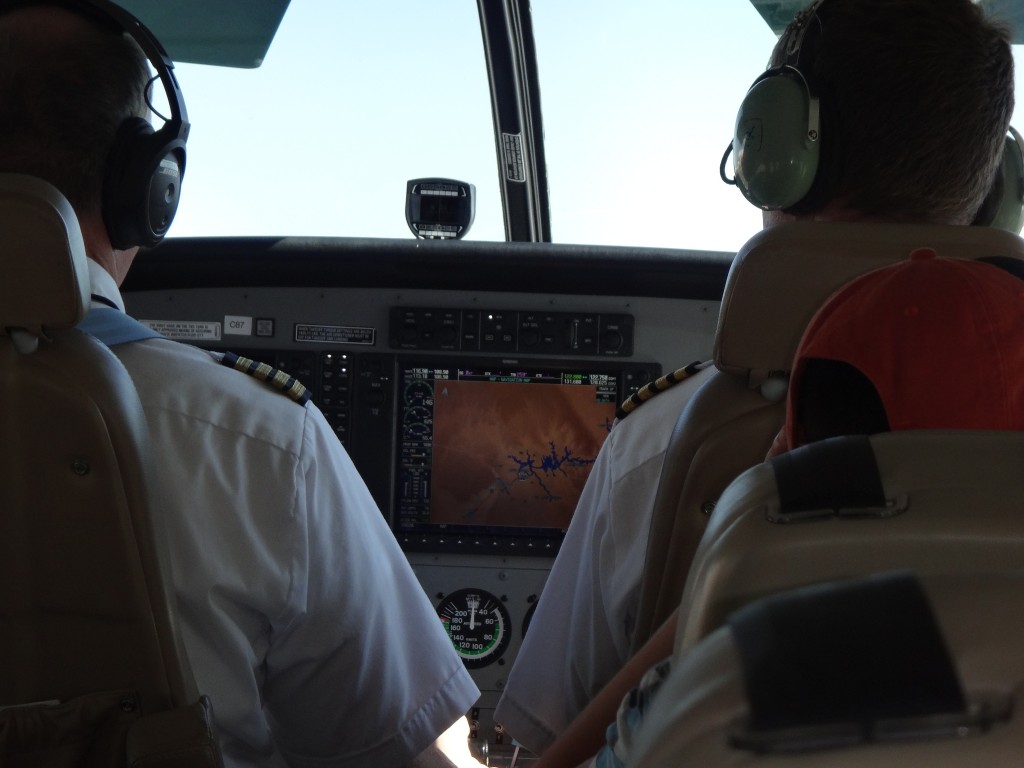 We passed over Glen Canyon Dam, the Lake Powell Resort and then flew up the lake about 30 miles to Rainbow Bridge. Then we headed east to Monument Valley, arriving about 45 minutes after takeoff.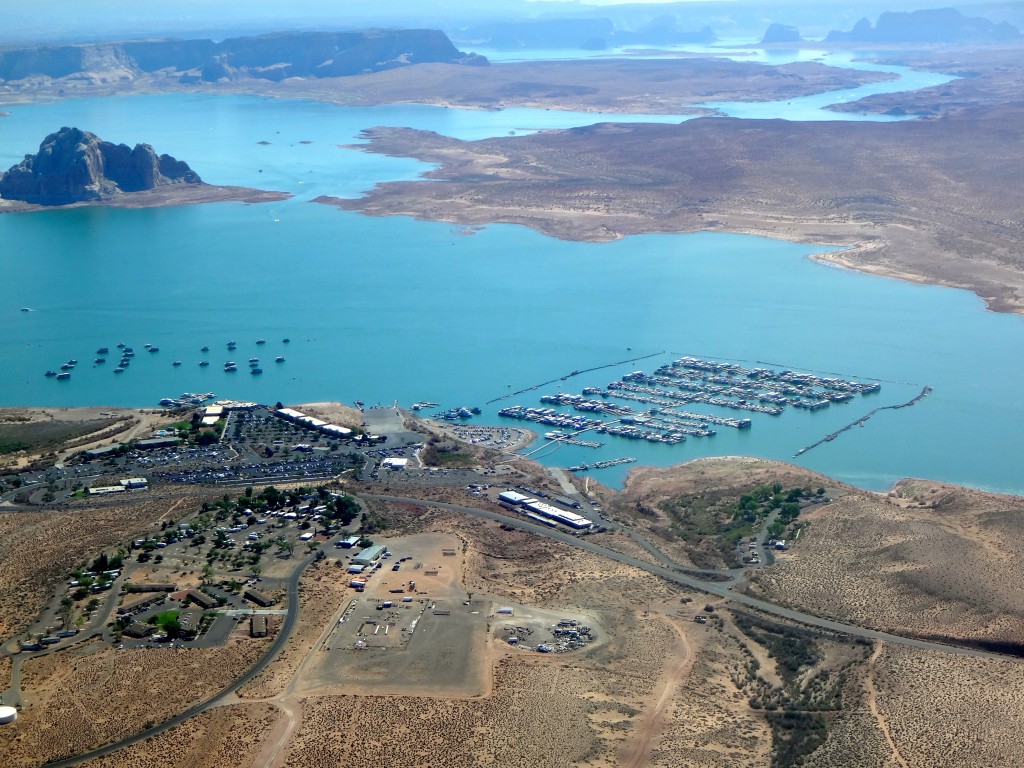 We connected with nine others from our group who arrived in a separate plane, and headed out by air-conditioned van, stopping for Navaho craft demonstrations, scenic viewpoints, and native jewelry stalls. The scenery was beyond spectacular. And the dirt road provided a thrill ride.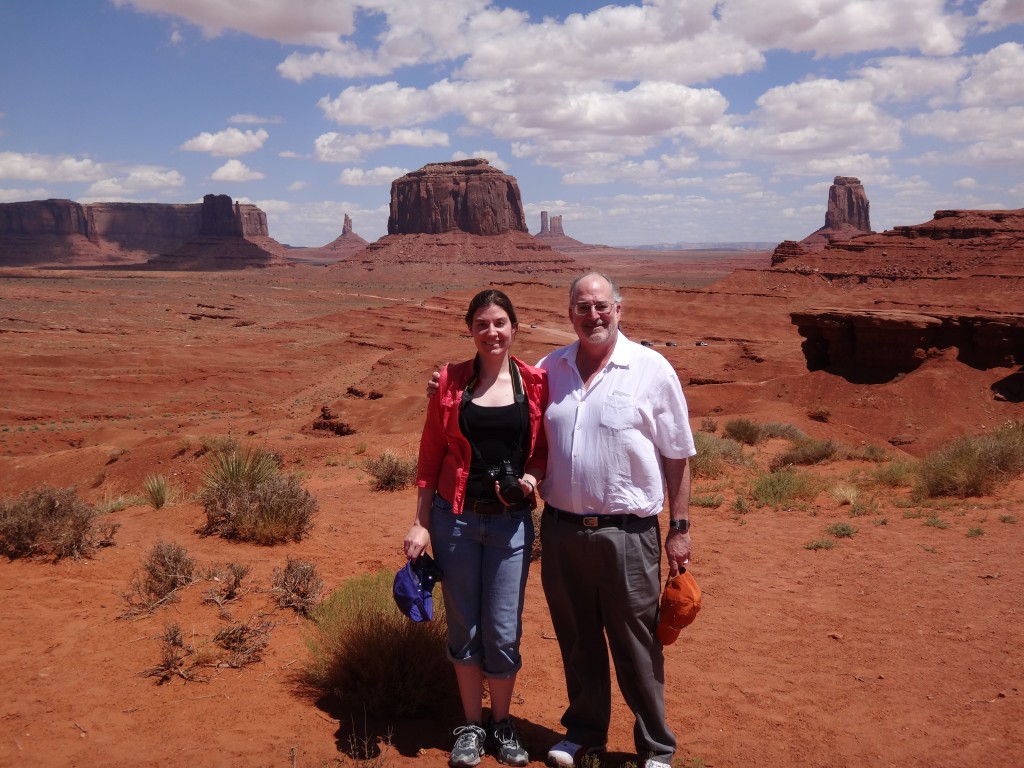 Monument Valley is within the Navaho Reservation, and it was interesting to learn about modern Navaho life. Because the roads are impassible in winter, many of the schools are boarding schools. The Navaho people are rich in energy resources, with a coal fired power plant that provides more power than Hoover and Glen Canyon Dams combined. Ironically, most Navaho homes don't have electricity. Little of this wealth seems to trickle down to the people, so I wonder where it goes. The jewelry and crafts sold at the vendors' stalls seemed, frankly, very inexpensive, with necklaces starting at $3. Of course the solid silver and turquoise is more, but anything that was labor intensive seemed very low priced.
After about two hours we re-boarded our plane, and were back at the resort by 1pm.

In the afternoon we took a boat ride to Antelope Canyon, a "slot" canyon whose sinuous course the lake has filled nearly to the brim.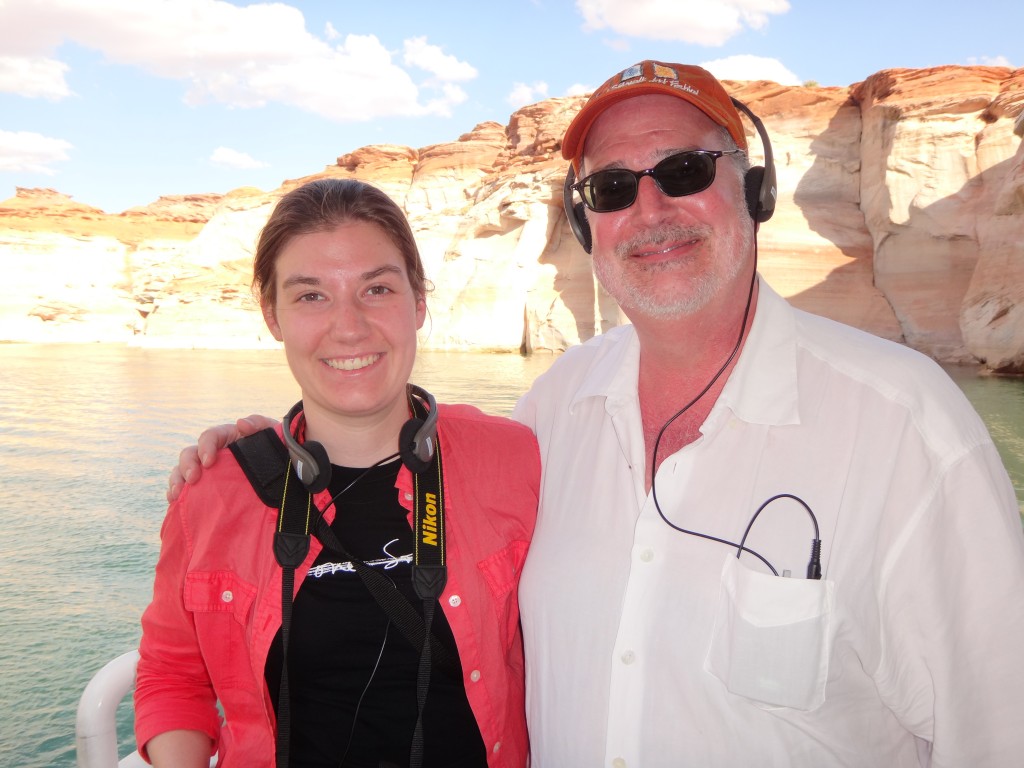 From Dani's Blog
This morning we took a scenic flight out over Lake Powell in a little Cessna Caravan, an eight-seater prop plane. We took off at about 8:30am and looped over the lake, circling around the impressive Rainbow Bridge. The water is so low in the reservoir right now that the only way to get to Rainbow Bridge is to hike or to fly. After that we turned towards the Navajo reservation and headed out over monument valley. We landed at an even smaller air strip on the reservation and were picked up by a Navajo guide.
Our first stop on the tour was only about 150 feet from the landing strip and it was a hogan, a traditional Navajo dwelling constructed of cedar logs, a layer of insulating bark, and then lots of mud. There was an older Navajo woman in the hut demonstrating traditional arts, crafts, and Navajo homemaking. She spun wool into yarn, had beautiful weavings she was working on, and ground corn into meal.
After that demonstration we headed out for the valley proper…
Our flight over the lake was perfectly smooth. Things got a little bumpier once we were over the warmer plains air, but those bumps were nothing compared to the bumps we felt on the unpaved "road" through the monuments! It was a roller coaster out there!
We had several stops along the road to get out and take pictures of monuments. Amazingly there were Navajo "strip malls" tables or plywood shacks at every stop! Imagine that. I bought a $10 necklace and Dad browsed through the interesting stones they had for sale.
The best thing I bought however was a $2 picture sitting on top of a mustang! It was the most patient horse I have ever met. We were right next to the Three Sisters formation, a location that has been scouted by Hollywood for decades, and everyday this Navajo man brings his horse, decked out in traditional western gear, to stand and have inexperienced people of all shapes and sizes sit on him and get photographed. He was so well behaved for all of that though! The guy helped you mount up, then basically just backed away and the horse didn't move or do anything at all, except stand there, presenting his best angle. Oh, and he was really fuzzy too.
Dad and I both took lots of pictures of the monuments. It was amazing and beautiful country. Looking out at the sweeping desert definitely made you want to saddle up and ride into the sunset. The temperature discouraged such activities though. It could have been much worse, I'll admit. It probably was only in the mid 90s today because the rain cooled things off a bit, but it was still too hot to be out for long. Despite our early start and layers of sunscreen Dad and I both got a little bit of color.
We headed back to the air strip and took off for our return flight to Lake Powell where we were met by Julie and Ron, who spent all day playing musical passengers. Today there were several activities and combinations of activities you could choose from, and most involved Tauk transportation which must have been a scheduling ordeal for poor Julie.
We opted for the Monument Valley tour and a boat excursion onto Lake Powell to see Antelope Canyon.
We had a little down-time between our return from the airport and our boat tour. We had lunch with a man and his son, who had also been out to Monument Valley with us. It turned out he was a radiologist and he gave me some comforting news about medical school: it's easier than undergrad! Thank goodness! He also suggested some other medical schools I might consider applying too including Duke and the University of Vermont.
After lunch we headed back to the room and chilled for a little bit, examining our pictures from today. The boat tour left from our hotel's backyard (literally) so it was a short walk over. Dad and I opted to not sit on the top deck in full blazing sun. The canyon was cool, and it was neat to be so up-close to the canyon walls. The color is quite dramatic because there is a shift between the white calcium carbonate that coats the walls up to the high-water mark and the red oxidized iron in the sandstone above.
We discovered a shady spot aft for part of the return trip and took some good photos of the rock formations. I played around with my camera settings and polarizer, experimenting a little.
After the 90 minute cruise it was back to the room for a bit before we headed over to the Rainbow Room for dinner. We were seated alone at a table for six so I guess we can't complain about the elbow room! Our server, Glade, was an interesting character! He suggested two delicious appetizers, corn fritters and a spinach queso that was lighter and fluffier (due to a ricotta-like cheese) than most spinach dips. I had 16 spiced chicken that had a sweet prickly pear sauce drizzled on top. I was impressed considering how many times we'd been warned about the service here! Glade was very fascinated to learn that French restaurant edict does not involve the waiter pouring the wine or water, but rather leaving it on the table for the guest to pour.
Tomorrow will be an early morning and we're going to float down the Colorado river starting at the mouth of the dam and then head on to Bryce.