What a great day! We set out with our Tauck group from The Four Seasons Scottsdale and headed north through the saguaro-littered desert. Soon we had ascended far enough for the cactus to disappear, to be replaced by scrub and the occasional pine.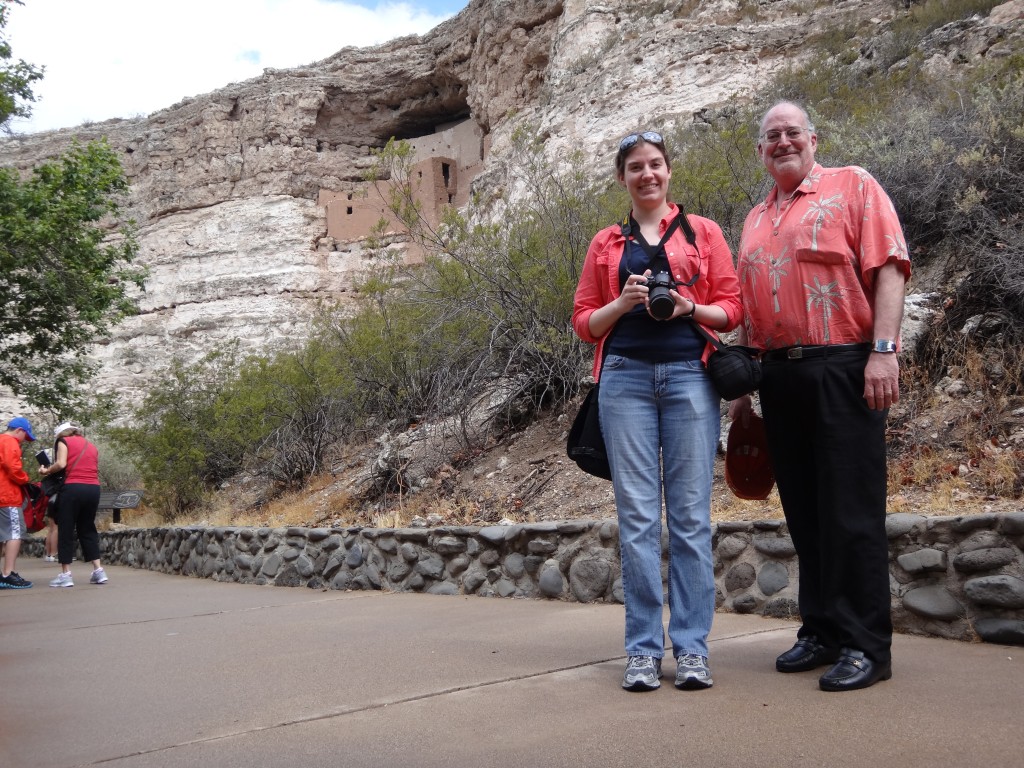 We stopped for a short visit to Montezuma's Castle, a cliff dwelling. Then it was on to Sedona for lunch. Throughout the day intermittent rains kept things cool without interfering with our plans.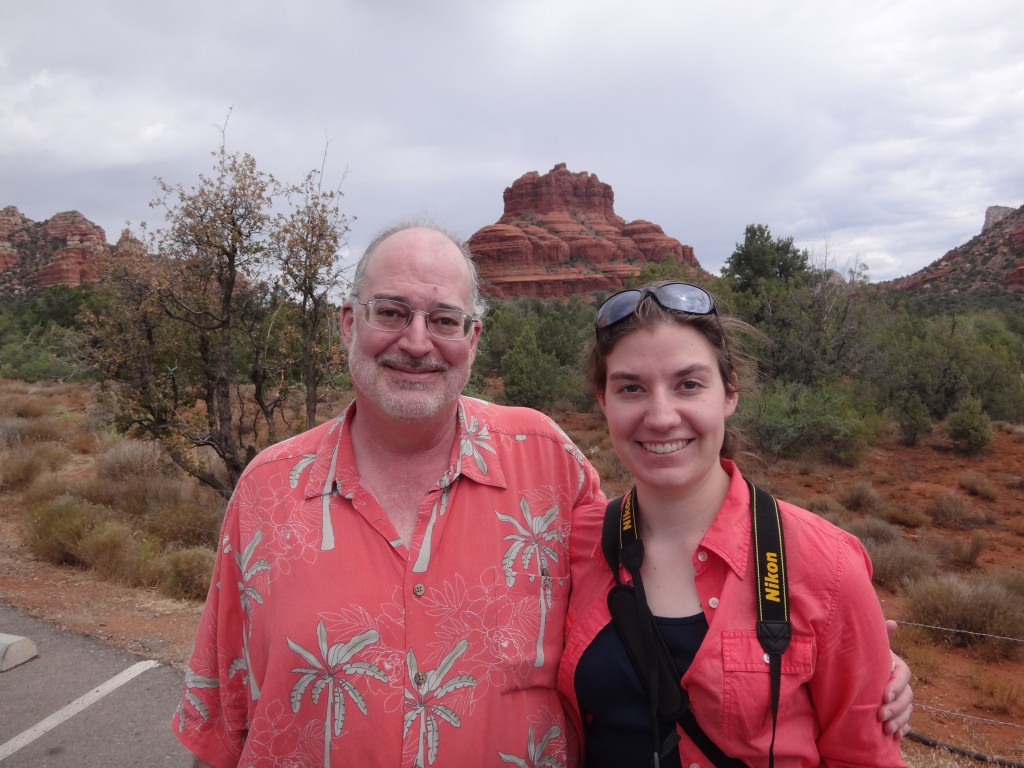 Sedona is surrounded by dramatic red rock formations, and we stopped to pose in front of some of them before continuing on to the touristy center of town for lunch. To my surprise, Dani selected a Mexican restaurant for lunch, and we thoroughly enjoyed the sea bass tacos and shrimp fajitas.
North of Sedona the road quickly climbs several thousand feet and we were in a beautiful canyon with a rocky creek and tall pines. Then across the high desert to the Grand Canyon.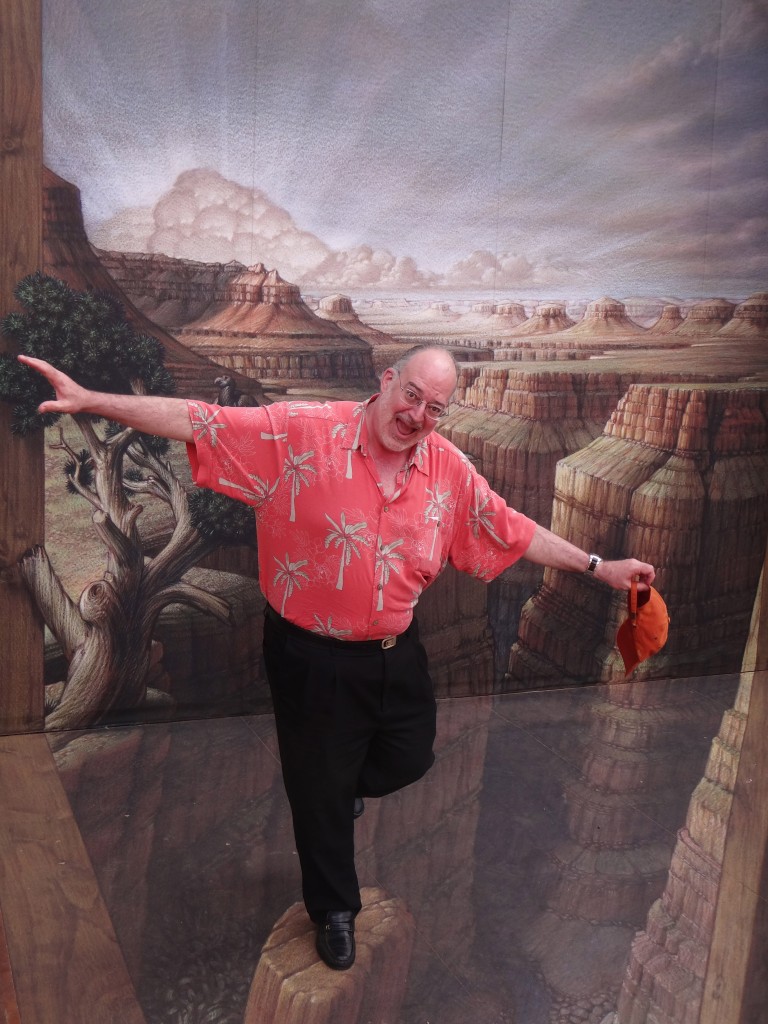 We stopped to watch the excellent IMAX Grand Canyon film while our luggage was delivered to our rooms, and then we we dropped off at the Kachina Lodge.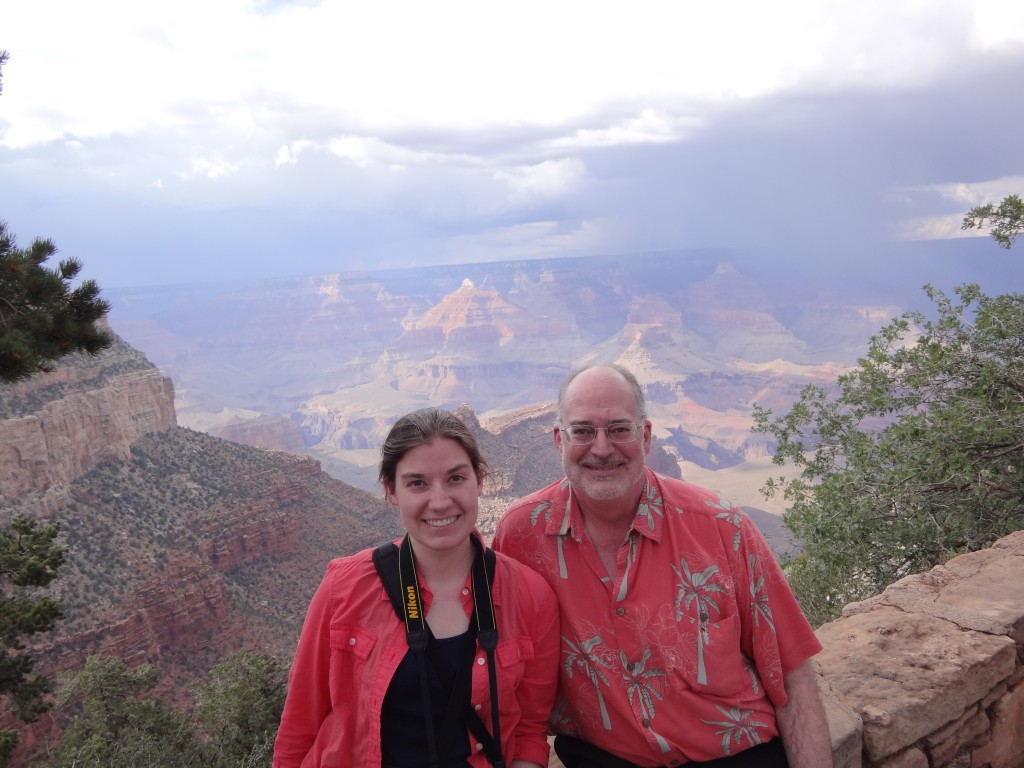 Our room is newly refurbished, and is one of only a handful with a view of the canyon. We're right next door to the El Tovar, so we can dine there, yet have a nicer room than at that 107 year-old-hotel.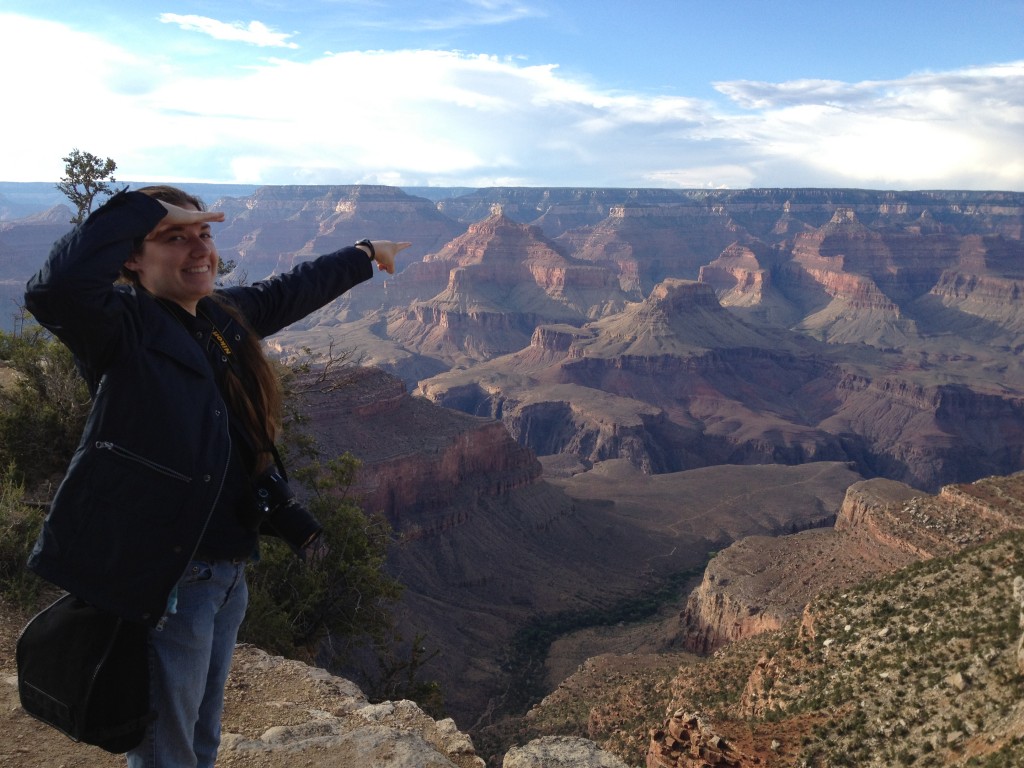 We spent the afternoon taking photos as we walked two mile along the rim up to Yavapai Point. Some thunderstorms moving through kept things cool, and provided interesting light.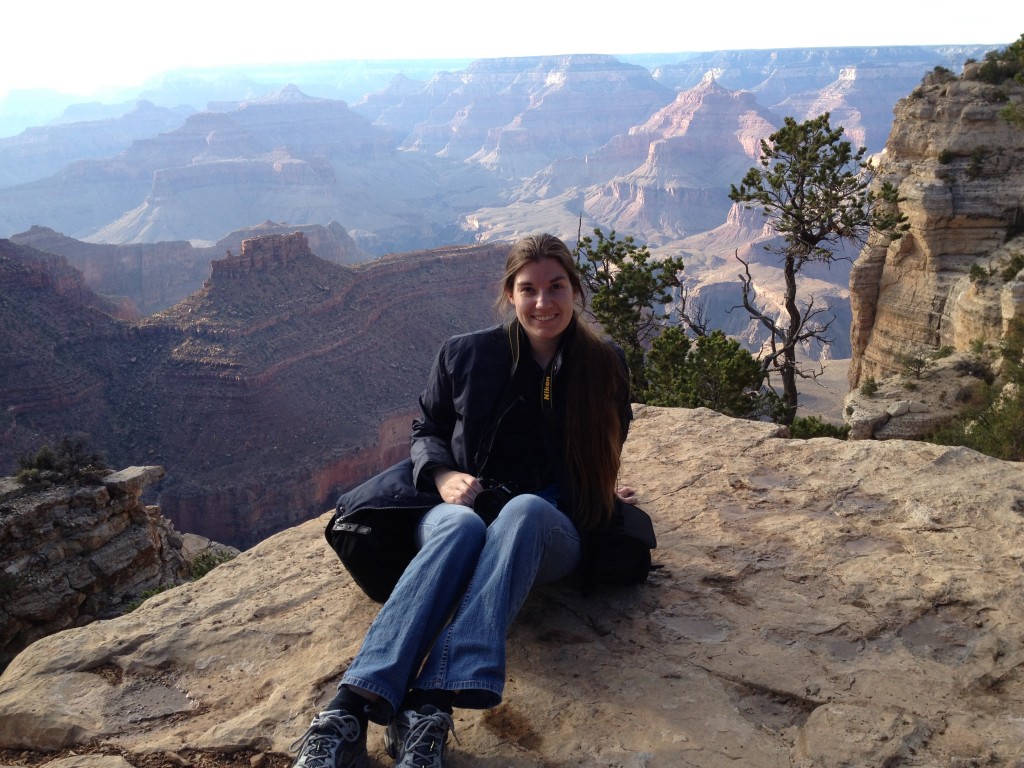 Then we took the shuttle back in time for a terrific dinner at the El Tovar. I must say the food, service and wine list at the El Tovar are far better than I remembered. Our expert server, Rick, was a middle-aged guy who studied physics and had a passion for Nils Bohr– not your average server!
After dinner we strolled back to our hotel, passing within a few feet of a herd of elk grazing on the lawn.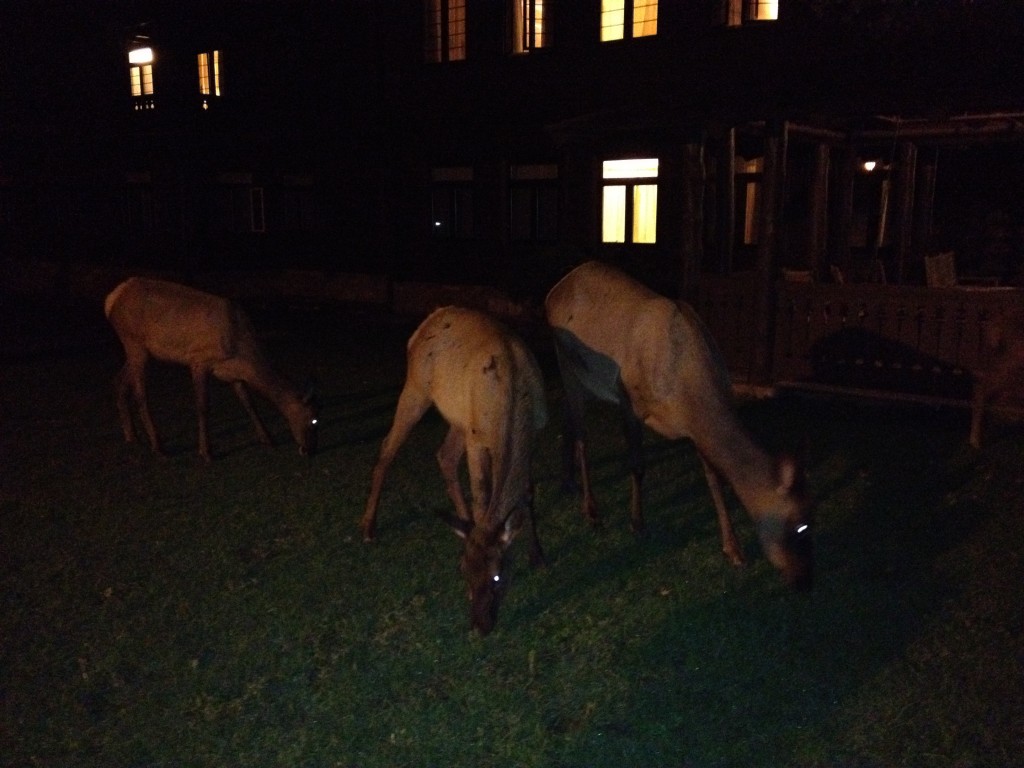 From Dani's Blog
This morning began with a 6am wake up call, bags out at 7am, wheels rolling at 8am.
On our drive out of Phoenix our guide, Julie, talked about a variety of things including: Arizona sports teams, Saguaro cacti, local flora, history, and geography.
We made a quick stop at Montezuma's Castle, misnamed by previous explorers (Montezuma never built anything in this part of Arizona). There was a walking path that made a circle around the cliff wall so you could see the impressive (somewhat impractical) structure. Julie gave everyone on the bus a "Passport to the National Parks" with blank pages for stamping each time you visit a national park or monument. We got four stamps at Montezuma's Castle alone! One with the date, one for the park, one to commemorate the 50th anniversary of the visitor center's "new" building, and one with Teddy Roosevelt's face on it.
After that we headed into Sedona for lunch. We were dropped off on a touristy yet charming main street area. I actually suggested a Mexican restaurant for lunch, Taos, which turned out to be quite tasty. I had fish tacos with mango salsa that were really delicious! I didn't touch my refried black beans though…
The weather has been quite changeable on our trip so far, but I don't mind at all. The intermittent rain is keeping the temperature down, and my Chicago skin from instantly crisping in the sun. It rained heavily for about three minutes during the first part of our lunch but by the time we had paid the sky was completely clear again. I bought a couple of postcards and we admired the red rock formations while waiting for the bus to pick us up.
After lunch we continued the drive toward the Grand Canyon. The scenery changes quite rapidly with the changing altitude. It is amazing how there seems to be an invisible line above or below which certain plants simply do not grow.
We stopped at a National Geographic center to watch an Imax presentation about the Grand Canyon. They had popcorn that smelled sooo good, but I managed to refrain. Their popcorn condiments included a lot more flavors than I have ever seen on display before. In addition to salt, butter, and day-glow cheese they also had chocolate marshmallow as a flavor spread. The Imax movie was quite well done, although I would not have wanted to be one of the stunt men in that teeny boat going through those rapids…
We arrived at the Grand Canyon at about 4:40. Dad and I planned to hike along the eastern trail before dinner and take photographs with my schnazzy SLR. We threw our stuff down, rushed outside in time for 10 minutes of beautiful weather, and then the sky opened up, soaking us (though thankfully not my camera) with cold rain that felt like it had recently been hail. We took refuge in the Hopi House and did a little shopping. Having only made if about 50 yards we returned to the room and exchanged our wet clothing for dryer stuff and started our hike again.
It was very pleasant. The sun was going down, turning all the rocks and formations bright interesting colors with lots of contrast. The rain cooled things down a bit so it wasn't too much of a strain to hike in the thin atmosphere. We went about two miles and then caught the shuttle back, just in time for dinner at the El Tovar.
We had a lovely table next to a widow. Through it I could see the forecast thunderstorm approaching. We shared salmon and trout croscanti that were really excellent. I felt like our roles were reversed however when I had salmon and Dad had a Filet Mignon. Our waiter was an interesting fellow. He was an excellent and professional waiter but he had studied Physics in college and knew all about Niels Bohr and the Heisenberg Uncertainty Principle, and had even visited Copenhagen to see Bohr's Institute. We exchanged reading recommendations. I recommended the play "Copenhagen" to him and he recommended "Copenhagen and Faust" to me. I will have to check it out when we get home!
When we left the El Tovar to go back to our room we discovered a large herd of Elk grazing on the El Tovar's nice irrigated lawn. They seemed incredibly unconcerned by the tourists and the flashbulbs going off…