Our Tauck Tour is wrapping up, and we reached our final destination: The Four Seasons Hotel in Las Vegas. It's my fourth Tauck Tour, and they just seem to get better. I wouldn't change a thing about this one. Each activity was well thought out and fun for adult and kids, and having the kids on the trip imparted an energy to the tour that I think I'd miss if I went on a non-Bridges Tauck Tour. Julie has been a marvelous Tour Director, the most involved of all the excellent one who preceded her. She also does Wine Tours in Napa, and regular Tauck Tours in Scotland, so maybe we'll see her again.
Technology Musings
I like to keep a journal when I travel. I used to post it upon my return. But the ubiquity of the Internet and WordPress now let me post as I go. It's fun to keep friends up to date on our adventures as they happen. Except for one day, I've been able to do that on this trip, and far more economically than on a cruise. But it is interesting how we assume there is cell service of some sort almost everywhere. Not so in the middle of nowhere, and that came as a shock to some of the kids on this trip.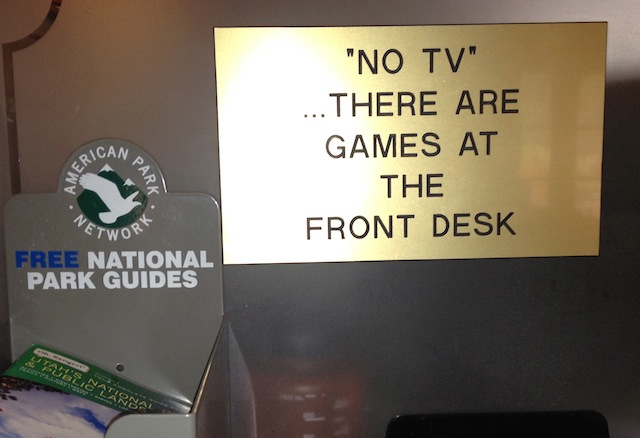 Bryce is almost a no-technology zone, with limited cell phone service and nothing else (even TV, although Dani and I actually didn't notice, since we don't use TVs). Otherwise, WIFI has been only slightly limited. Tauck picked up the tab for it at the Four Seasons Scottsdale, and it was free at Lake Powell and Zion.
The data on the ATT cell phones has been almost non-existent. We rarely see 3G, and can have 5-bars and not have Edge. Even when we do have Edge, it's close to worthless because it's too slow for even the simplest tasks. However the Verizon iPad has worked almost everywhere, and lets us use it as a hot spot to which the MacBooks and iPhones can connect. Even at Grand Canyon it was fast enough to upload a couple hundred photos. I plan to change to Verizon when I get my next iPhone.
This was one of my favorite Tauck tours, because the Bridges aspect made it so fun. I'll definitely look for that in the future. Here's the shot of our group in Kanab, Utah: