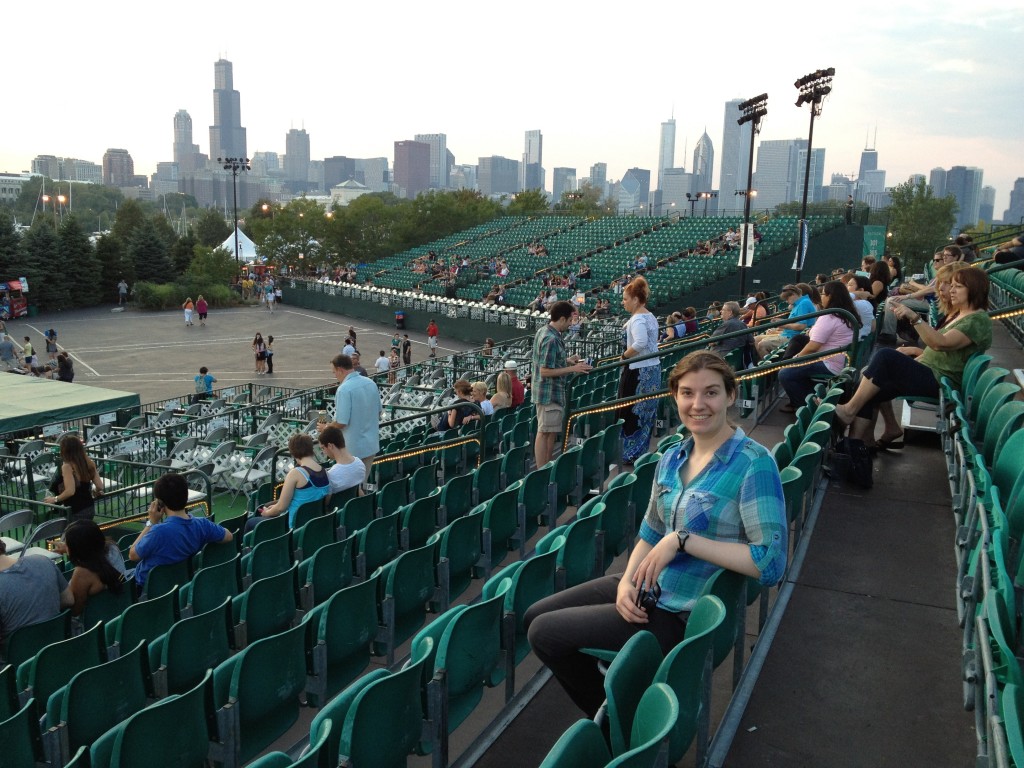 Last night we went to Chicago's other outstanding outdoor performance space, The Charter One Pavilion near the Field Museum, to see Missy Higgins and Gotye. Charter One Pavilion offers a great view of the city, and you can walk along the lake past the planetarium while you're waiting for the show.
We've long been Missy Higgins fans, and she is a top star in Australia, but has had trouble generating traction in the US. So it's a bit ironic that she's now playing bigger arenas as a warm-up act for a guy with one Internet hit video.
For this all-aussie show, the first act was a solo performer named Jonti who fiddled with various electronic boxes, played a bit of guitar and tried to sing. Since it was his first concert, I'm going to give him the benefit of the doubt and assume the sound guy wasn't providing him with a monitor mix.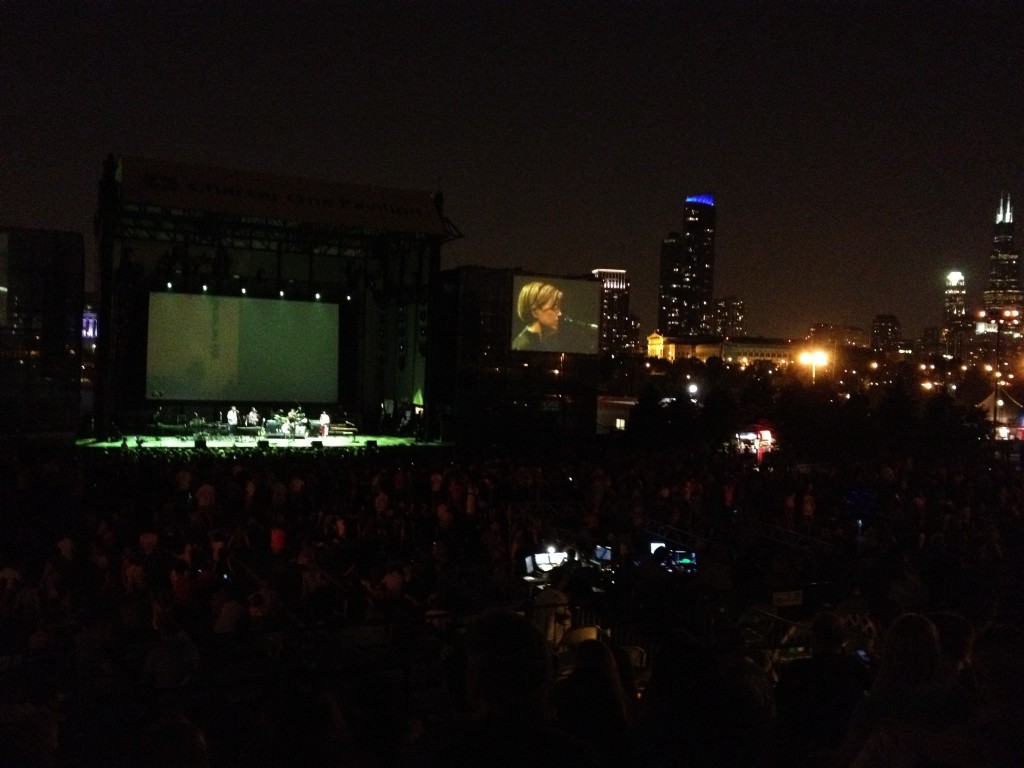 The sound guy and lighting guy also weren't giving Missy Higgins any help. In fact she played the first half of her set in the dark, before he managed to finally turn some low level background lights on. Missy played mostly songs from her latest album, which is a strong release, but she also played a few older tunes, and at the request of an audience member played Scar, one of our favorites. I think this replaced River, a much more downbeat song she played the night before in Colorado. I like the song, but Scar was a better choice. About a fourth of the crowd seemed to know who she was, and she held everyone else's attention much better than when I saw her at House of Blues as the headliner, and everyone was drunk. I think this was her set list: Secret, Everyone's Waiting, Scar, Hello Hello, Unashamed Desire, Watering Hole, Where I Stood, Warm Whispers.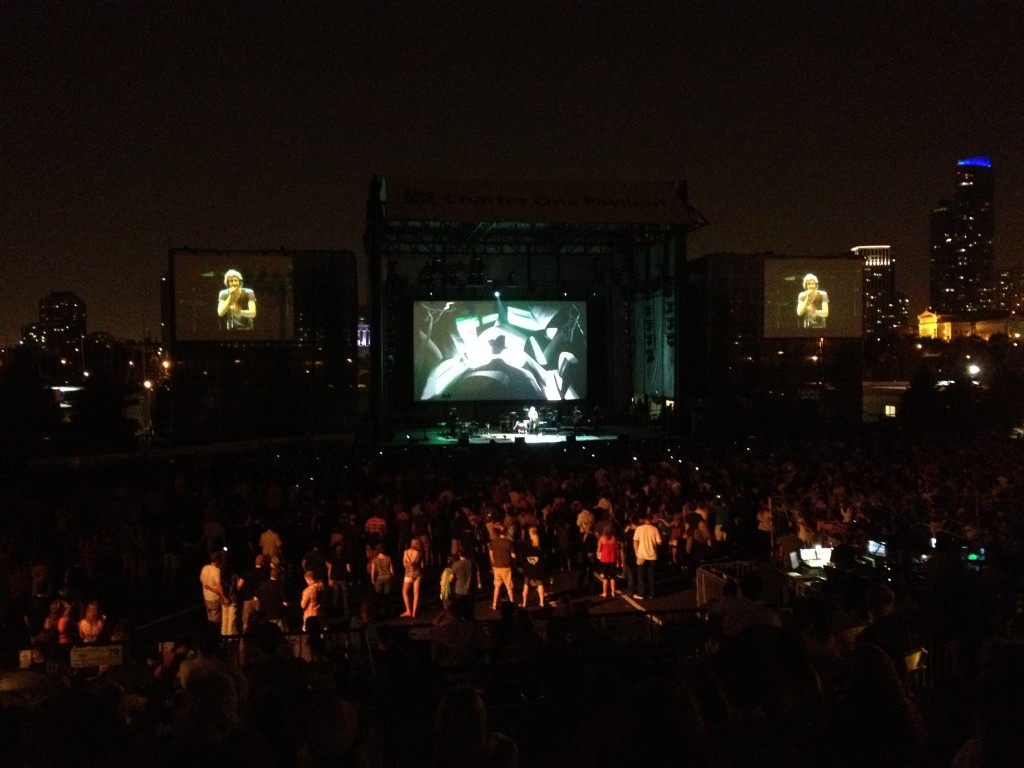 After a very long set change out, and when it was truly dark, Gotye came on about 9:30pm. The reason for the darkness became apparent when the rear stage video projection came on, and ran through virtually every song, playing somewhat abstract and usually abstruse videos. I actually like Gotye's music much better live than on his CD. It's complex and varied, and his singing voice is much stronger than you'd guess if you've only heard his big hit. During the show he moved between various percussion, keyboard and effects stations, some of which were expertly reset by a swarm of roadies. He used a tremendous amount of technology. The downside was that, since everything was choreographed to the videos, it was impossible to tell that it was being played live. When something was obviously live, it was usually impressive. And his backup musicians (drums, bass, guitar, keyboards) were excellent. When it came time for his big hit, Somebody That I Used to Know, the women in the audience did a credible job of singing the female part. I believe Gotye's set list was: The Only Way, What Do You Want, Easy Way Out, Smoke and Mirrors, Thanks for your Time, State of the Art, Backseat Driver, Don't Worry We'll Be Watching You, Dig Your Own Hole, Eyes Wide Open, Save Me, Somebody That I Used to Know, Heart's A Mess, Giving Me a Chance, Bronte, Night Drive, The Only Thing I Know,  I Feel Better.
All of these performers suffer from a misconception about why people go to concerts. They seem to think the audience is there to hear them reproduce their CD. But in fact the audience is there to get to know them. A little more talking between songs–stories about how the songs were written, or anecdotes about their careers–would build a much stronger following. This is a lesson that was admirably demonstrated by Train, who have weaker material than these acts, but a much stronger fan base and a well-deserved reputation for putting on a great concert.