This trip we fit in four shows: three new ones and one favorite.
Newsies
This Disney show is based upon a movie from the 90s that flopped but became a fan favorite. The Alan Menken score was resurrected and Harvey Fierstein added story, including a love interest, in what was to be a touring company show that could later be offered to school productions. But its out of town opening was so well received they decided to take it to Broadway. On broadway it received two Tonys, and has been playing more than a year.
With that build up, I was expecting more. The plot was extremely trite, shallow and formulaic, there was no character development, and the songs are only passable. The dancing and energetic (and large cast) was great, though. But it's definitely not a show I'd sit through again.
Lucky Guy
Norah Ephron's last project was this dramatic play about Mike McAlary, the New York reporter and columnist. I don't usually go for contemporary dramas, but this one featured Tom Hank's Broadway debut, so we gave it a try. It's a great production, with a wonderful cast, and surprisingly interesting material. The New Yorkers who comprised the audience obviously good even more out of it than we did. Hanks is an amazing actor, especially in person. It was also neat to see a Broadway show where the performers had to actually projects, as they weren't miked.
The Book of Mormon
This is the most disgusting, irreverent, profane abomination I've ever seen. We loved it. I'd already listened to the soundtrack album and envisioned how it would be staged, and it was pretty much as I'd imagined it. Basically, it's South Park about Mormons with music. If you think a show about female circumcision would make a good musical… well, you need help. But it does.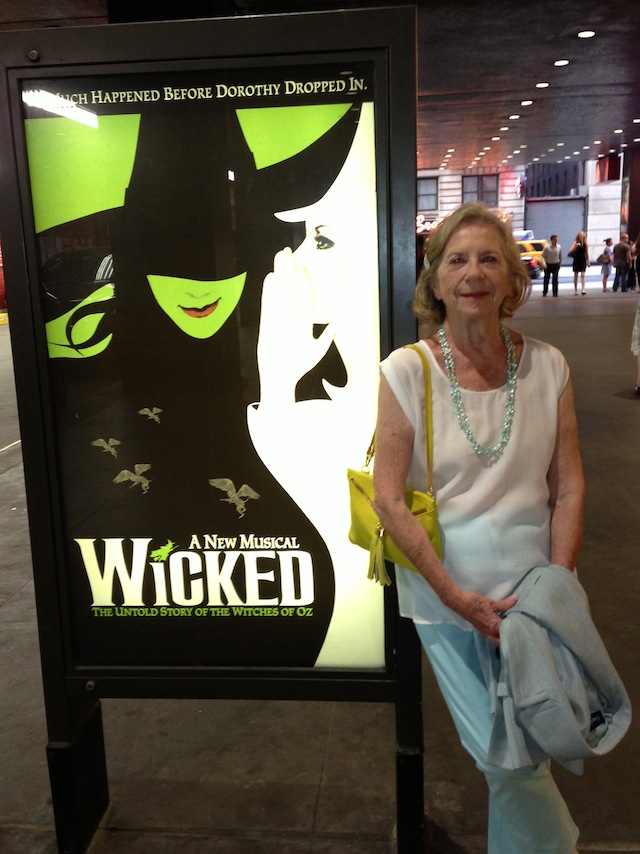 Wicked
I think this was my 15th time seeing this show, so I've seen strong and weak performances in every role. The Broadway version is usually best, since the sets are bigger and better, and it often attracts the best talent. Not tonight, though. It was like watching a high school production. Glinda was being played by the standby, and she threw away every one of her funny lines. But she wasn't the only problem. Fiero also seemed like a high school student, with no depth of character, and extremely awkward dance movements. Elphaba had a beautiful singing voice, but no chemistry with the other performers. I wouldn't have said it was possible for this show to contain so little humor and so little emotional impact. The audience still loved it, but it left us bemused. Thank goodness it's not always like this!