We tried quite a few new restaurants during our week in New York, and returned to many old favorites. Here they are, in order.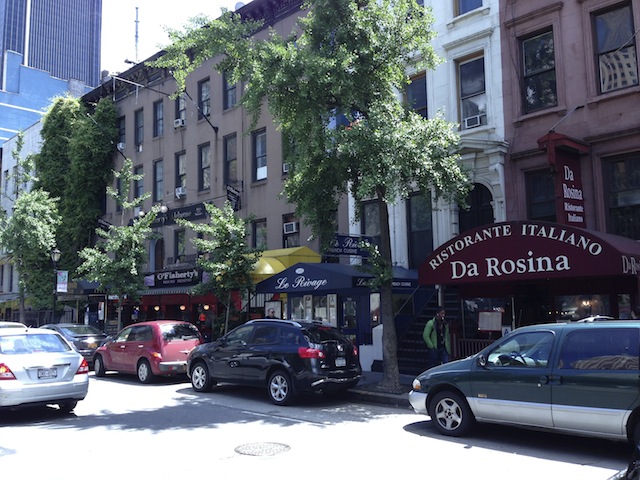 This really authentic French Bistro is very popular with locals, but just a block off Broadway. It's located in a virtual "restaurant row" on 46th Street between 7th and 8th Avenues. It offers all the classic French dishes, well prepared and served in a cozy environment overseen by the owner, who made sure we were enjoying everything. Reasonably priced.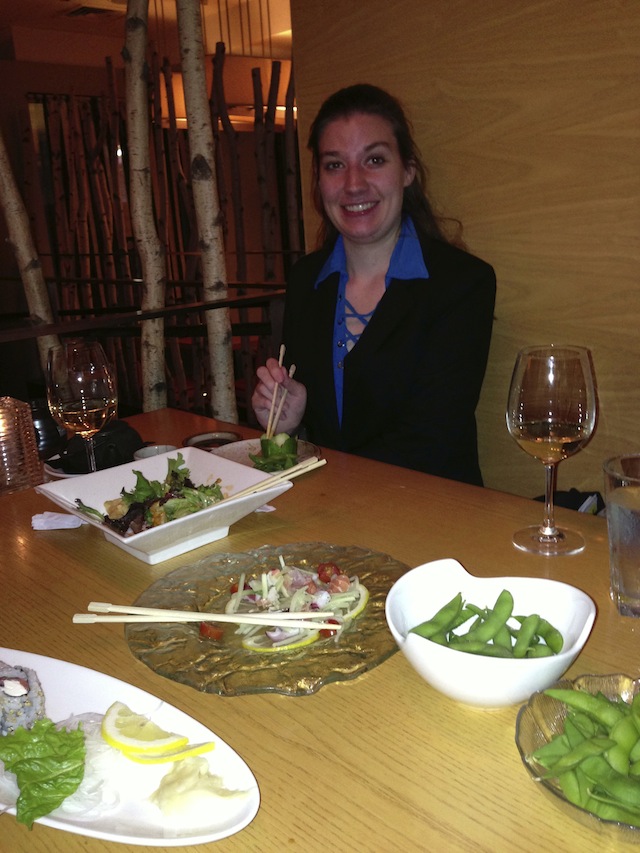 We found this little sushi place just off Broadway after a show, and were quite pleased with it. Although it is a mini chain, it didn't seem so, and it was worlds better than the tourist restaurants on Times Square. The decor is soothing, the fish is fresh, and the service was super-attentive. I would definitely return.
Lunch here was pretty much perfection. The bread service is much appreciated, and something not offered by many restaurants any more, even the three-star variety. There are a few bargain pre-fixe deals in town at top rated restaurants, but I'd have to say that Bouley's is perhaps the best. The quality of food and service really can't be topped, and the room is unbelievably comfortable and welcoming.
You go to Sardi's for the history, not the food. It's probably the same as it's always been, but standards have changed. However its location right in the theatre district, and the drawings of ancient theatre stars that paper the walls are what it's all about. Linda loves the spinach cannelloni, but warns that the appetizer portion is plenty.
This upper east side vegetarian restaurant is a charming place, with excellent service, and is walking distance to the Metropolitan Museum, which was our next stop. It was packed, so Pamela and I took a table upstairs while Linda and Dani ate at the bar. I loved the house made ginger ale. I was a bit disappointed in the food, because it seemed under-seasoned and under-flavored, despite having quite a few ingredients. The hummus appetizer was fine, but the falafel seemed like almost the same dish, just seared hummus in a pita without much sign of tahini or other ingredients.
I'm an old fuddy duddy, but this place was close to the theatre, the hotel, and was open late. Lounge seating is–let's face it–uncomfortable, and the soundtrack makes it almost impossible to converse, so going in I knew it would have two strikes against it from my point of view. But the drink list and wines were interesting, and the food was okay. Pork sliders were the best, followed by the kobe hot dogs. Tater tots, spinach artichoke dip and hummus were okay but nothing special. If you like lounge ambiance and are in the area, it's worth a shot (pun intended).
Many people think this is the best sushi in New York. I don't get it. Most restaurants I've been to serve better sushi.
"Omakase" is where you put yourself in the chef's hands and multiple specialties are served. I've had it in some highly regarded restaurants in Los Angeles. At one, special delicacies were flown in daily from Tokyo (they later were put out of business for selling endangered species). At another, plate after plate of tiny tastes were served, with each thoughtful ingredient contributing to an almost life-changing wonderment.
Not at Sushi Yasuda. Here, the omakase showed up as a platter of sashimi looking like it was cut up by an axe murderer. Nearly every fish had the soft, mealy texture of near-pudding, and it was all uniformly flavorless. Then a platter of sushi showed up. Same fish, now on crumbly rice. The final plate was a piece of eel sushi, also mealy. How do you even make eel mealy? At $357 for three, the biggest dining disappointment ever.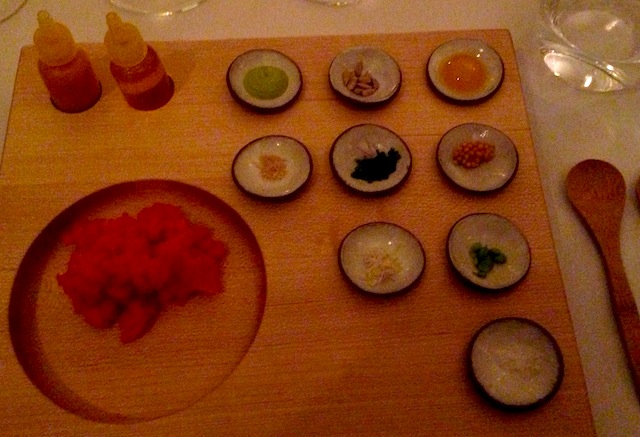 I had the greatest meal of my life at Eleven Madison Park. I also had the second greatest here. Unfortunately, I can't recommend their new format. There are still 16 complex courses, and the service is still masterful yet friendly. But the emphasis on theatre rather than flavor has taken it down a notch. Some courses seemed repetitive, and there were very few "wow" moments. I'd trade the table-side magic act (lame) and the carrot grinding for a few of those one-bite orgasmic wonders of the past.
The carrot course was actually one of the best. It offered a dozen ingredients to add to the freshly ground carrot. I selected mustard and mustard seed. If that sounds like haut cuisine, you need to get out more. And it would have been just as good if the carrot was ground in the kitchen rather than on a hand grinder clamped to the table.
Another theatrical course that was a bit more successful was the "picnic basket." This was a fun idea, where you took ingredients out of the basket and set up your own picnic. The second best food came out of this. It was a freshly made soft pretzel with house-made mustard. There's a theme here. Madison Park makes good mustard.
The various shellfish courses that started the meal were simply repetitive. And why did we have to all have the same meat course, when they were individually plated? Surely there are enough two ounce portions of lamb and duck in the kitchen to be able to mix it up?
Sadly, the great bottle of cognac that used to end the meal is also gone, replaced by a local apple brandy.
In short, Eleven Madison Park is still a good restaurant, but it is no longer THE restaurant. I'll certainly go back… but not until the concept changes again.
Benoit is a traditional French Brasserie in every way: ambiance, food and service. Our favorites here include the charcuterie plate and the whole roasted chicken for two. Ironically, we've had the whole roasted chicken at Alan Ducasse's thee star Michelin Louis XIV in Monte Carlo, and this one is much better! We avoid Sunday brunch, because they don't have the same menu, therefore no roast chicken.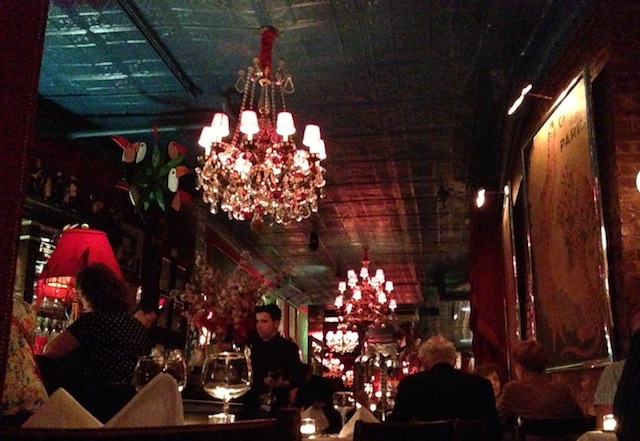 This is my favorite after-theatre restaurant. Its dark and cozy ambiance is perfect for winding down after a show, and the period jazz piano player summons up the perfect soundtrack. The place oozes Paris in the 1920s, plus the food is top notch. On my latest visit I really enjoyed the pan seared Alaskan halibut in lemon sauce. The cozy table in the window offers the perfect intimate atmosphere, with music at just the right level for intimate conversation. And how wonderful to enjoy this caliber of food until 1am, so there's plenty of time to relax.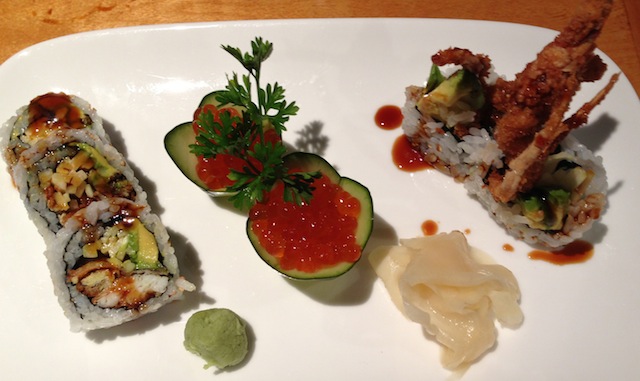 This cozy little place is on 46th Street's restaurant row between 8th and 9th. The fish is fresh and menu offerings are extensive. The sashimi sampler was generous, and the salmon tartare had a great sauce. Compared to top rated Sushi Yasuda (where we ate two days earlier) Ocha was much better at a fraction of the price. Service can be a bit inattentive, but if you're in no hurry it's a great choice.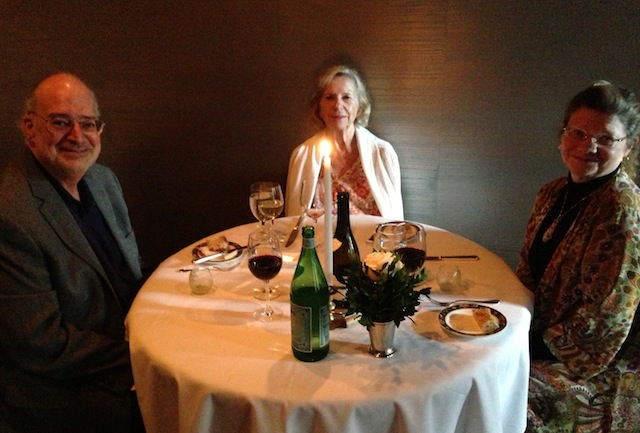 This place, billed as New York's most romantic restaurant, was recommended to us by Joy, who went there for her anniversary. We really enjoyed the ambiance of the place, which used to be Aaron Burr's carriage house. The food was delicious, service very professional, and the piano player among the best I've heard. It's divided into a number of intimate rooms. Most of the lighting is provided by table-top tapers, so it is, indeed very romantic. My barramundi had a wonderfully crispy crust, and the espresso souffle was light and airy. A glass of rainwater madeira was the perfect way to complete a perfect meal.