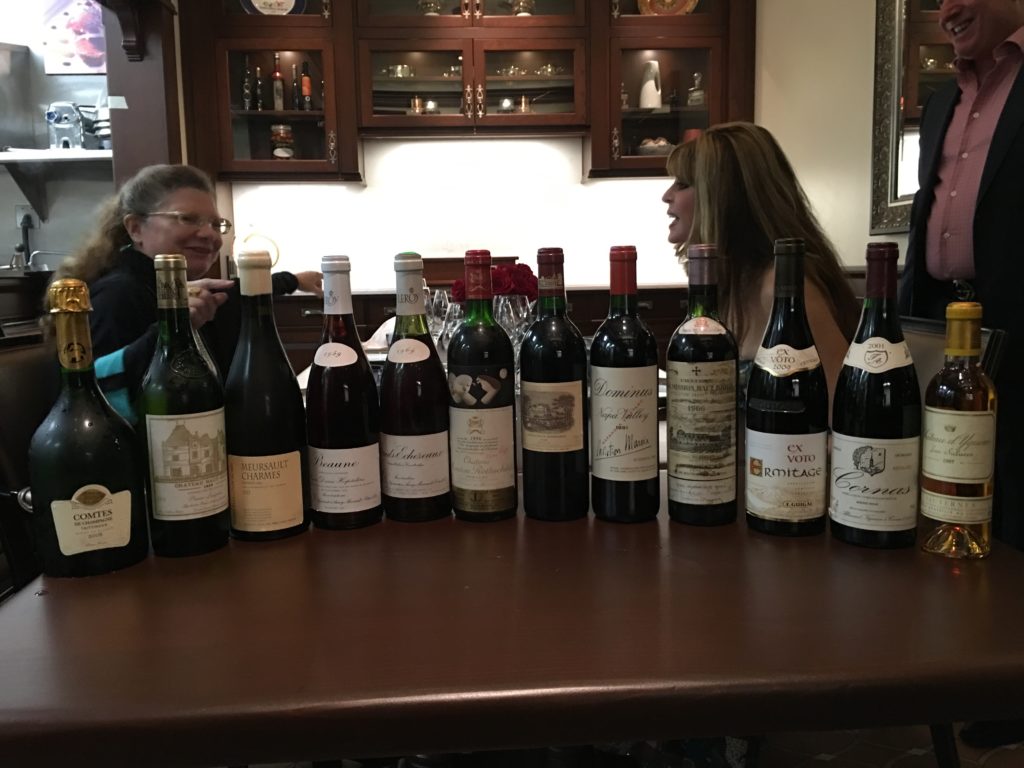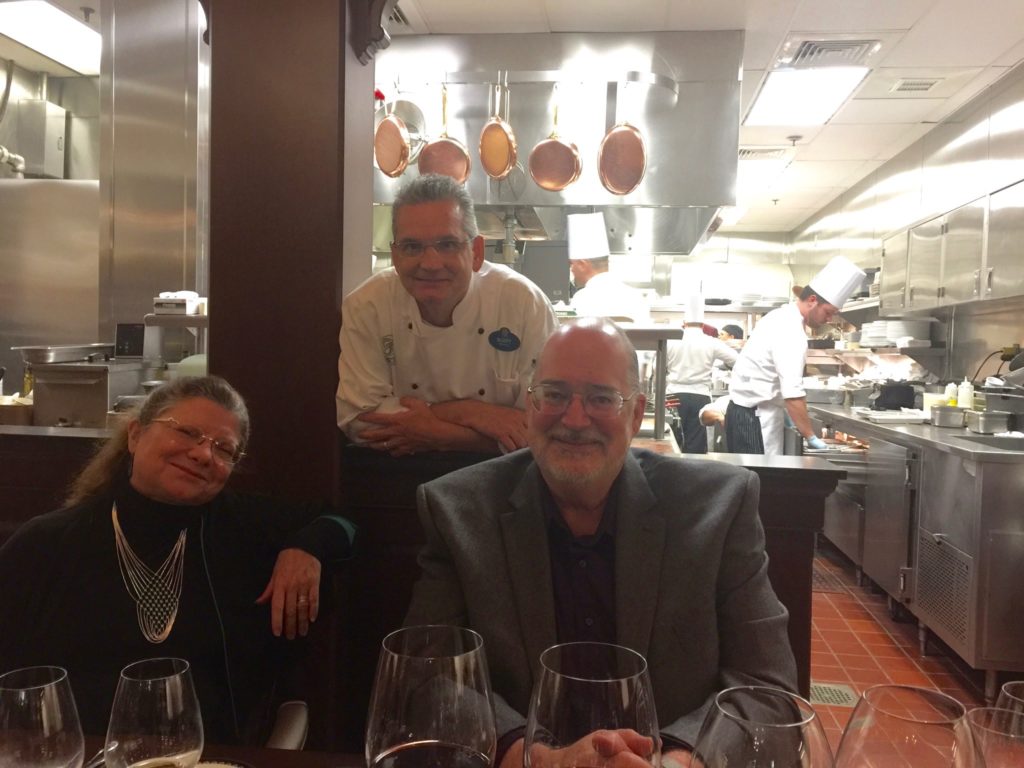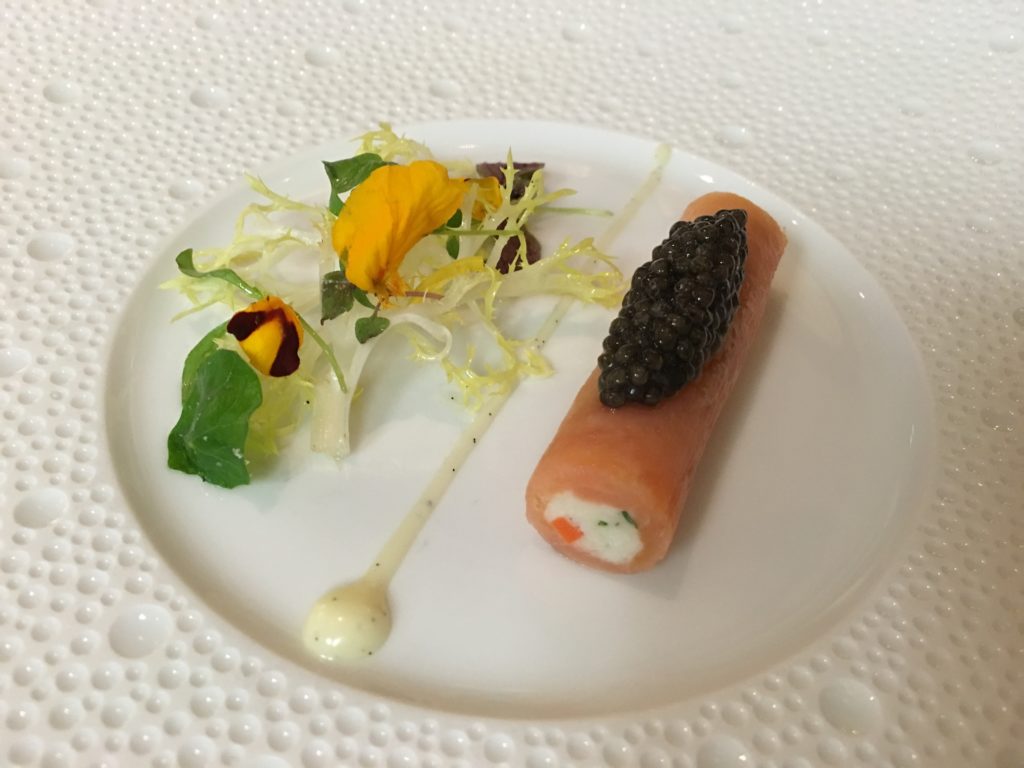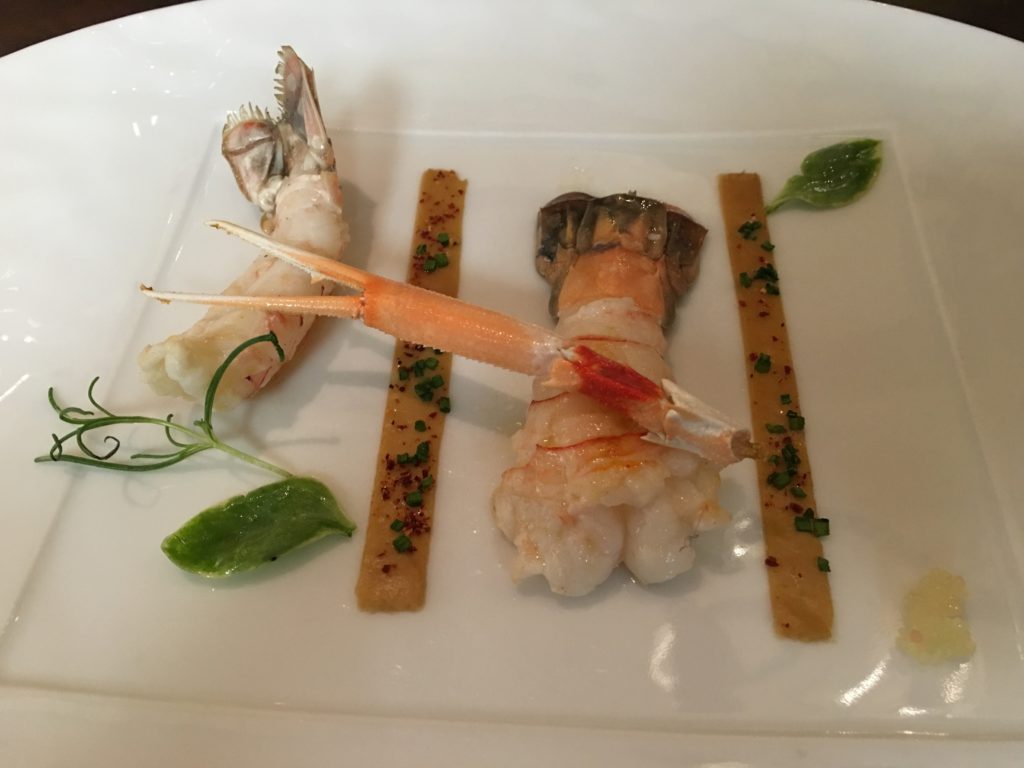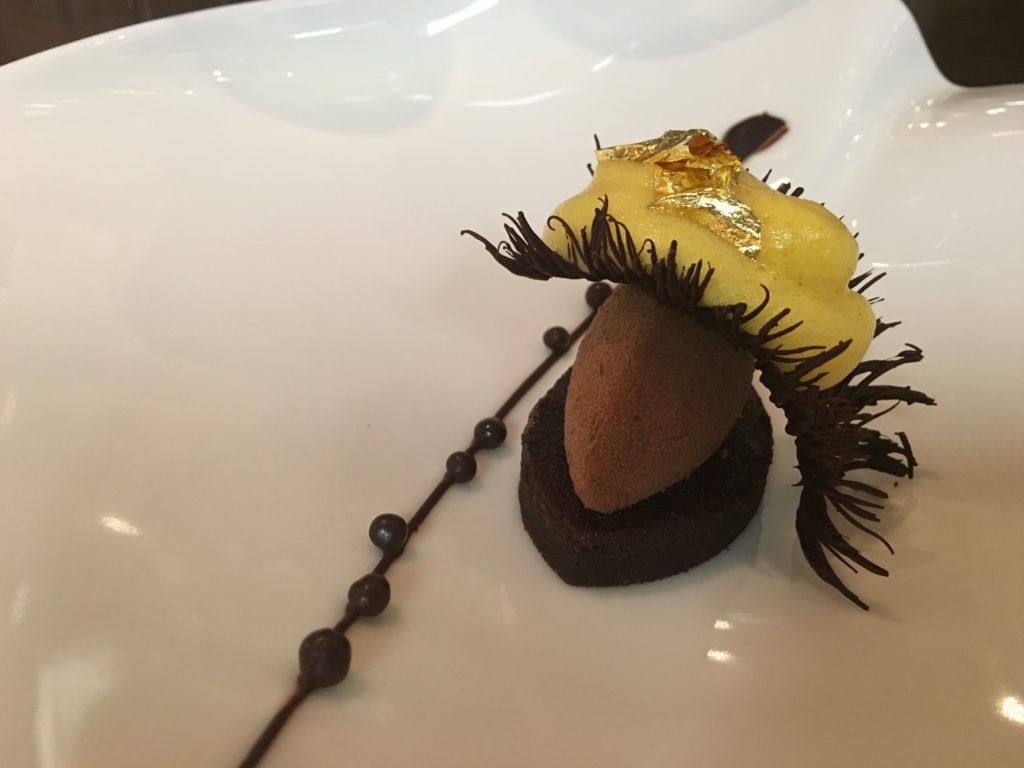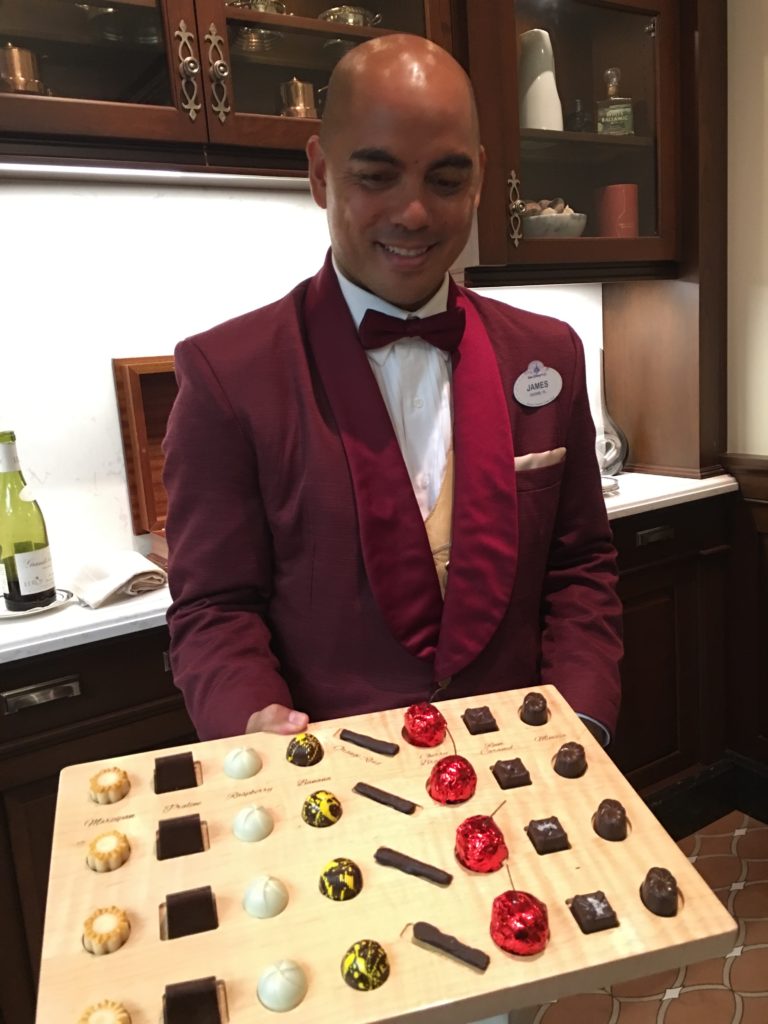 It had been quite a while since we'd been to the Chef's Table at Victoria and Albert's, because Disney changed the reservation process to favor hotel guests, so it was fun join Ron and Bev there for dinner and wines last night. The room has been remodeled since our last visit, with nicer cabinetry and lighting. Most of the food was the same as our last visit to the Victoria Room, but there was a new veal dish served under a smoke-filled glass that was our favorite.
Chef Aimee is now running the kitchen, and several other chefs have also been promoted, and stopped by the table to introduce their dishes. Scott Hunnel dropped in to say hello. He's now in charge of all 14 of the resort's food outlets. Israel Perez provided the wine service.
The wines were poured in flights of two. The biggest surprise was how shut down the 1986 first growth Bordeaux were. This was the most expensive flight on the table, and the least interesting. I don't know if they are just going through a "dumb" stage, or if this vinatge is over. There was still plenty of tannin, that's for sure. But neither wine offered even a hint of fruit or other depth.
Perhaps less surprising was that the 1991 Dominus was the Wine of the Night. My last two bottles were corked, so it was a relief to revisit an old friend.
Menu
Cauliflower Panna Cotta with American Caviar
Roulade of Smoked Salmon and Alaskan King Crab
Alaskan Sablefish with Baby Bok Choy
New Zealand Langoustine with Nage Crema
Smoked Rohan Duck with Peaches and Celery Root
Marcho Farms Veal "En Croute"
Australian Kobe-Style Beef* with Roasted Garlic Potatoes
Selection of Cheese from the Market
Vanilla Bean Panna Cotta with Wild Strawberries
Peruvian Chocolate Crunch
Friandises
The Wines
2005 Compte (off the V&A wine list)
Green, creamy
92 pts
2000 Château Haut-Brion Blanc (Steve)
Wax, butter, evergreen, peppermint candy, honey
94 pts
2013 Pierre Yves Colin Morey Meursault Charmes (Ron)
Granite, lime, shell
92 pts
1959 Hospices de Beaune Beaune 1er Cru Cuvée Dames Hospitalieres Maison Leroy (Steve)
Exotic Asian spice nose, light bodied, long finish
94 pts
1969 Leroy Grand Echezeaux (Ron)
Somewhat soapy nose
92 pts
1986 Château Mouton Rothschild (Steve)
Closed, tight
92 pts
1986 Chateau Lafite (Ron)
Lead pencil, mint
94 pts
1966 La Mission Haut Brion (Ron)
Really elegant, wood, soy, tobacco, dusty, menthol
96 pts
1991 Dominus Estate Napanook Vineyard (Steve)
Licorice, coffee, great structure, coffee finish, open for business but with years to go
98 pts
1997 Chateau d'Yquem (Ron)
apricot, honey, not quite enough acid or secondary aromas
92 pts