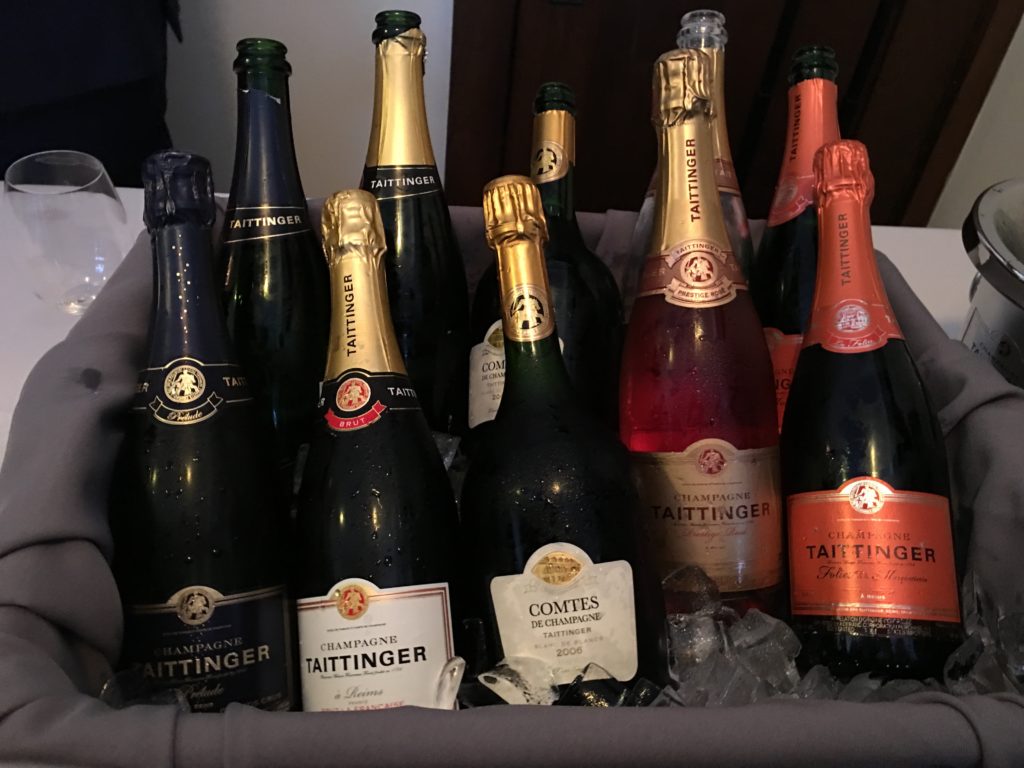 This trip to Chicago was organized around two events, the first of which was the Hart David Hart Annual Summer Champagne Tasting. It was held at The Ivy, a popular wedding venue in River North.
I guess the original intent was to have the tasting in the courtyard, which would have been quite pleasant. Unfortunately, Chicago weather didn't cooperate, and the temperature was in the mid-nineties. As a result, the ill-advised decision was made to hold the event inside, in a rabbit warren of small spaces. The air conditioning–what little there was–simply couldn't handle the task, and the rooms were soon over a hundred degrees. Even on ice, the Champagne couldn't be kept cold. And the spaces were so small that it became impossible to even squeeze from one room to the next. A thoroughly unpleasant event.
Dani and I resolved to quickly try only the most noteworthy offerings and beat a swift retreat. My notes are limited to only numerical ratings, because any comments about blends or production were lost to the din of too many people in too small a space. We were in and out in about 30 minutes.
The event did reinforce my preference for yeasty vintage Champagnes with moderate acid levels and some pinot noir in the blend. Surprisingly, the Taittinger wines ended up being our favorite group.
The wines we tasted:
(this first batch was particularly warm)
NV Krug, Rosé ($240) 96 pts
2008 Moet & Chandon, Grand Vintage Rose ($85) 90 pts
2004 Dom Pérignon Rose ($320) 92 pts
1998 Dom Pérignon Brut, P2 ($275) 98 pts
2004 Dom Ruinart, Brut Blanc de Blancs ($155) 87 pts
2006 Veuve Clicquot, La Grande Dame Brut ($160) 91 pts
NV Billecart-Salmon, Brut Reserve (magnum $100) 89 pts
NV Billecart-Salmon, Brut Sous Bois ($70) 91 pts
NV Billecart-Salmon, Brut Rosé (magnum $160) 90 pts
NV Billecart-Salmon, Blanc de Blancs Brut ($165) 94 pts
NV Billecart-Salmon, Extra Brut ($70) 88 pts
NV Taittinger, La Francaise Brut ($55) 92 pts
NV Taittinger, Brut Cuvee Prestige Rose ($75) 97 pts
NV Taittinger, Prélude Grands Crus ($80) 95 pts
NV Taittinger, Les Folies de la Marquetterie (pinot noir) ($80) 96 pts
2006 Taittinger, Comtes de Champagne Blanc de Blancs (4165) 99 pts
Wines we couldn't get to:
1995 Charles Heidsieck, Blanc des Millénaires
2000 Charles Heidsieck, Brut
2000 Maurice Vessell, Brut Grand Cru, Millésime
2002 Piper-Heidsieck, Brut Cuvée Rare
2004 Delamotte Blanc de Blancs
2005 Philipponnat, Clos des Goisses
2006 Piper-Heidsieck, Brut
2009 Thierry Fluteau, Cuvée Prestige, Côte des Bar
NV André Clouet, Grand Réserve Brut Grand Cru
NV Armand de Brignac, Brut Gold
NV Bollinger, Rosé
NV Canard-Duchêne Charles VIII, Blanc de Noirs
NV Charles Heidsieck, Brut Réserve
NV Michel Arnould Brut Réserve, Grand Cru
NV Paul Bara, Brut Réserve Grand Cru
NV Paul Déthune, Bru Rosé Grand Cru
NV Pierre Gimonet & Fils, Blanc de Blancs Brut, 1er Cru
NV Piper-Heidsieck, Brut
NV R. Pouillon & Fils, Blanc de Blancs Brut
NV Ruinart, Brut Blanc de Blancs
NV Thiénot, Rosé