I packed up three boxes of mostly books and took them down to the UPS Store to ship back to Orlando.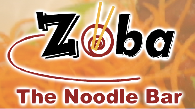 On my way back I stopped at Zoba Noodle Bar to get some take-out food to bring home for lunch with Dani. It's weird, the place is called a noodle bar, but has no bar, and the noodles are the worst thing they serve. Overall the Chinese food was just edible. Strange that they have a really good rating on Yelp.
Dinner was burgers (using up the last of the charcoal for the season) and macaroni and cheese, comfort food for Dani before her last midterm.