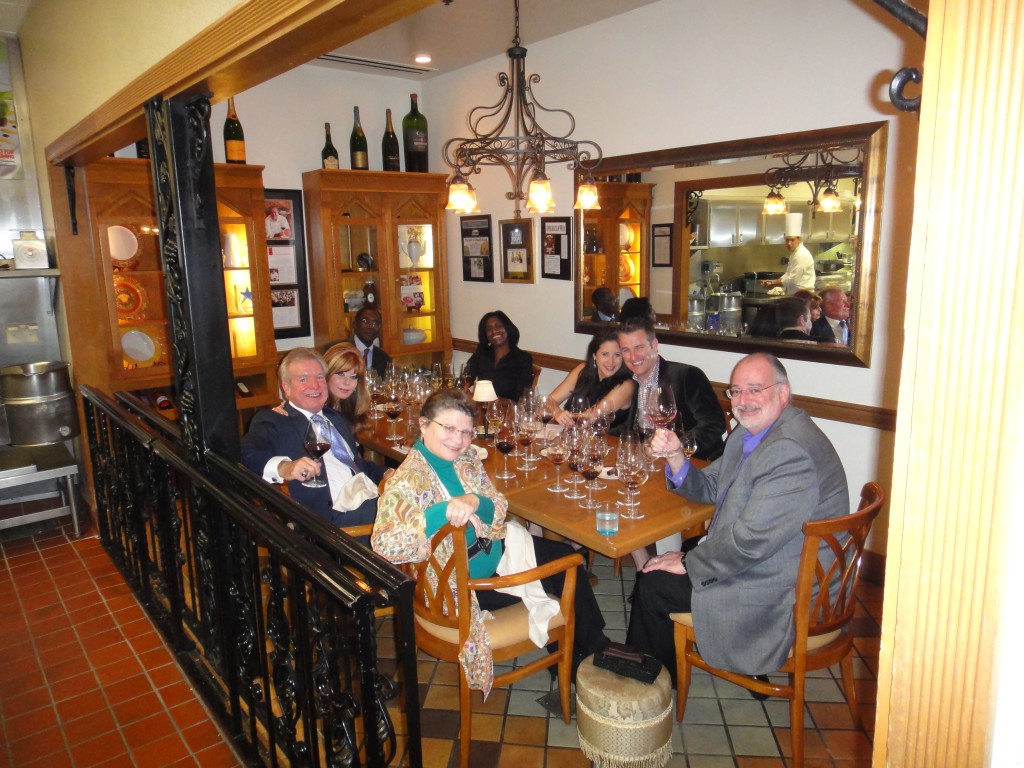 Last night we enjoyed a wonderful evening at Victoria and Albert's Chef's Table with Ron and Bev and some new friends, Keith and Parlo Edwards and Adam and Gigi Chilvers.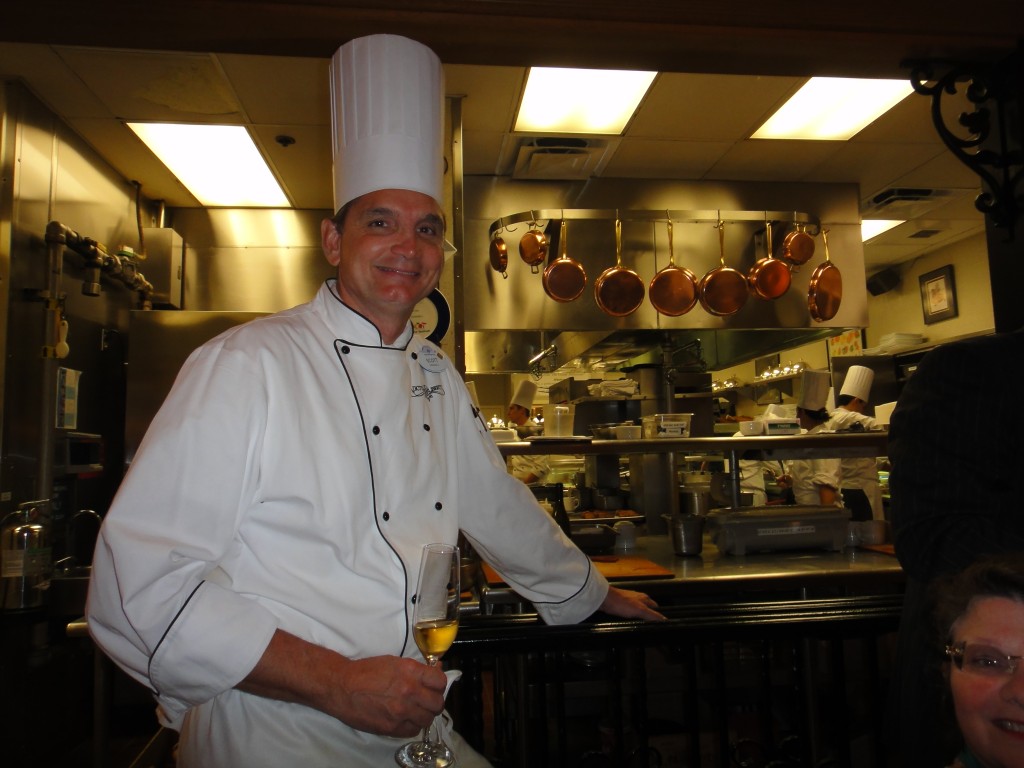 Chef Scott Hunnel outdid himself with the ten course tasting menu, incorporating our favorite salmon from the Victoria Room menu, and even coming up with some foie gras, which is no longer available at Disney.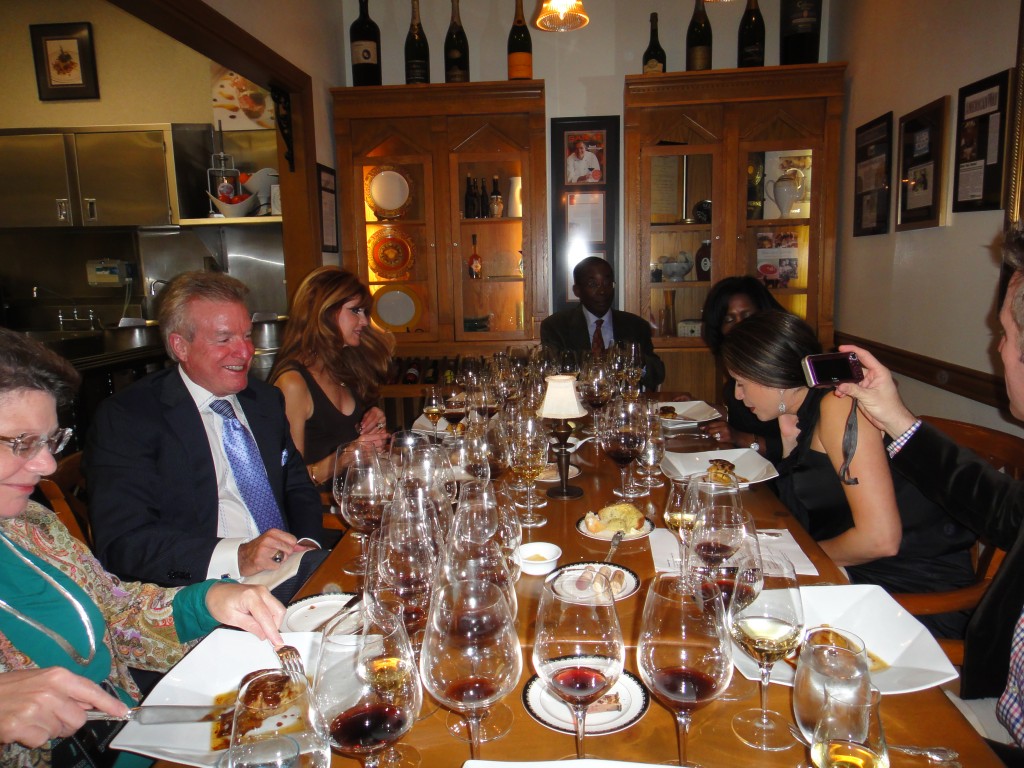 The most spectacular presentation is also my favorite course, the chilled curried lamb, which is served over dry ice that engulfs the table in fog.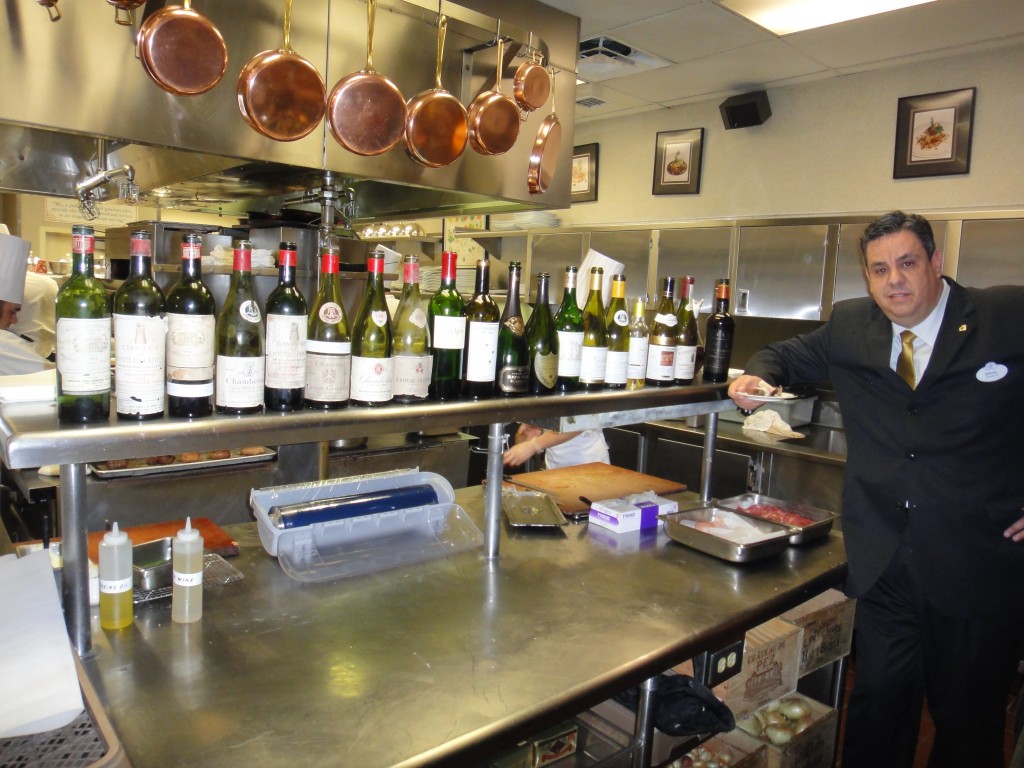 Israel Perez was his usual charming self as our host, and Brian Koziol, a master sommelier, volunteered to open and pour our wines.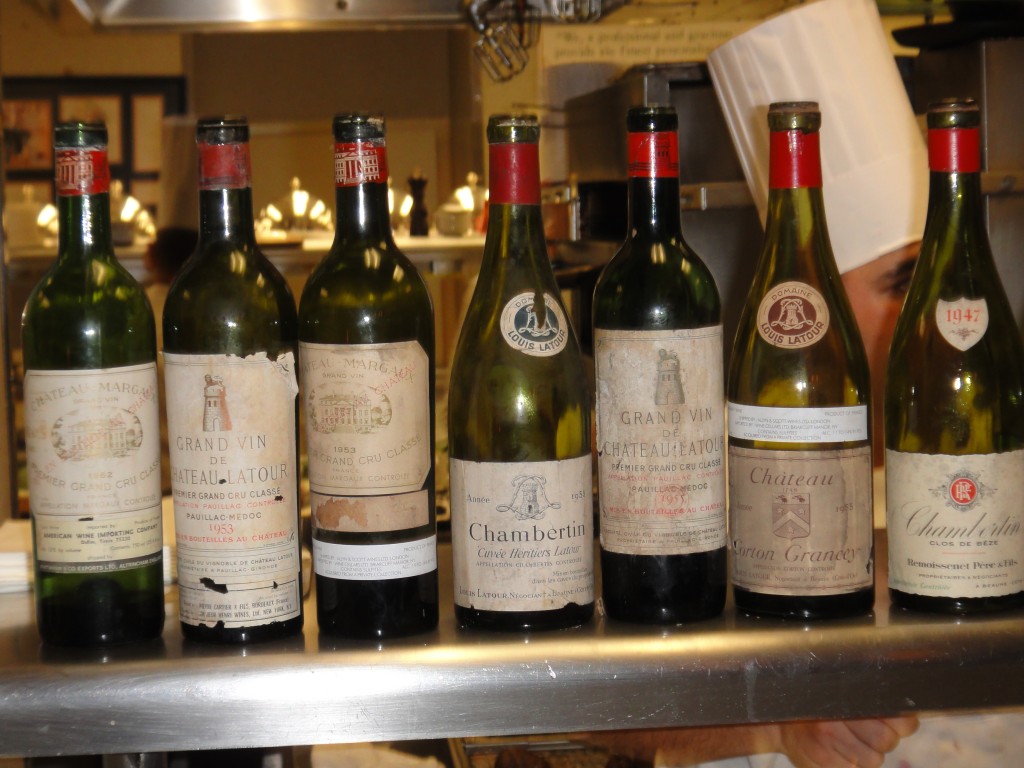 Ron asked me to bring two old Bordeaux and two old Burgundies, and combined with his and the other guest's wines, we ended up with twenty rather amazing selections, served—more or less—in pairs to accompany the courses.
The Wines
Champagne Flight
75 Dom Perignon late released Ron 96 points
Vanilla Creme brûlée, caramelized peach compote, limestone, excellent match with the entire amuse bouche
88 Krug 90 points
Green apple, candy, vanilla, seemed very awkward after the Dom
White flight
96 Haut Brion Blanc  Ron 98 points
Chalk, lemon, burnt sugar, candle wax, amazing white, as always; I nursed this for four hours
07 Kistler Vine Hill     Adam 95 points
Toast, smoke, Creme brûlée, considering it was poured next to Haut Brion Blanc, this really showed amazingly well; excellent wine
04 Louis Latour Corton Chalemagne  Keith 90 points
Very pronounced nose like that white powder on "Double Bubble" bubble gum(!),  seyval-like aromas
Burgundy Flight 1
1947 Thorin Chapelle-Chambertin Grand Cru   Steve 96 points
Big fruit, iron, pine, perfect with curried lamb; one of those magic bottles
1947 Remoissenet Chambertin Clos de Beze Grand Cru    Ron 98 points
Youthful, smoke, milk, drawn butter, minerals, salt, mustard, sweet mint, mushrooms, bacon; initially not as interesting as the Thorin, but incredibly youthful, it evolved for four hours, becoming the red wine of the night
Burgundy Flight 2
1955 Louis Latour Chambertin Grand Cru    Steve 96 points
Very chewy classic chambertin, cherries, menthol, vanilla; a contender for red wine of the night. I got the last pour of every wine, so mine was a bit muddy, since we don't decant these old wines.
1955 Louis Latour Corton Grancey Grand Cru   Ron 83 points
Bubble gum, wax, bowl of melted butter; this was a really weird wine
Bordeaux Flight 1
1953 Chateau Latour    Ron 93 points
Classic latour, dust, green beans, graphite, walnuts, meat; a great wine, but Burgundy is a tough act to follow
1955 Chateau Latour   Steve no score (defective)
Sweet, fruity, big, cat box, occasionally quite stinky; something wrong with this bottle, for sure
Bordeaux Flight 2
1953 Chateau Margaux RP 98   Ron 92 points
Floral, feminine, fatty, hazlenut; classic Margaux
1962 Chateau Margaux    Steve   no score (corked)
Corky, Minty, feminine, this bottle had a low fill, perhaps the result of the bad cork. I was a bit disgusted that I had two out of four bottles defective, but at least we had lots of other wine, and fortunately the defective ones weren't the Burgundies!
California Flight
2007 Hundred Acre Ark Vyd    Adam 95 points
Vanilla, mint chocolate, soft, balanced, port like, peppery, syrupy in a good way; may not age but a really pleasant drink right now
2007 Colgin IX Propretary Estate  RP 100 Adam 97 points
Bell pepper, cab franc, merlot, earthy, structured better than the Hundred Acre, so it may age, although I liked the Hundred Acre better
Rhone Flight
1992 Guigal La Landonne   Keith 90 points
Earthy, chalky, tight
1995  Beaucastel Hommage du Jacques Perrin    Keith 94 points
Opulent, chalk, meaty, good acid, classic Rhone
Dessert Flight
2001 Chateau Climens RP 100   Ron 100 points
Vanilla, balanced, Long, peppery, peppermint, clean, refreshing; this wine outshone the 2001 Yquem and Suduiraut we've had before, with a bit less botrytis but much more balance. We actually had this with the foie gras, and it was the perfect match.
2001 Rieussec Ron 90 points
Yquem like nose, low acid; Considering how great the other 2001 sauternes have been, this was a disappointment, a bit flabby and uninteresting other than the pronounced botrytis nose
1860 Justino Henriques Madeira Fanal,  Ron  100 points
Wow! There's nothing better than an ancientMadeira in perfect shape. Alive, great acid balance, citrus, smoke, cherry, bark, vanilla, sea salt, Wine Of The Night. We should have tried this with all the other courses, but it would have blown the other wines (and our palates) away!