La Reserve
The finest meal served during the cruise is a one-time event called the Connoisseur Menu. It's served in the Wine Spectator branded La Reserve, a 22 seat restaurant that is only open three days out of 20, and serves food and wine not available elsewhere on the ship. Unfortunately our dinner was marred by the most boorish man we have ever encountered, but the other couple at our table were very nice newlyweds from Denver, Colorado.
Each of the seven courses were superb, and several of the wines were memorable as well. The standout was Kobe beef with a veal au jus tinged with a bit of Valrhona chocolate; it was served with a superb 2005 Marchesi Fumanelli Octavius Amarone Riserva. I ordered two bottles online the next day!
St. Lucia
St. Lucia is a pretty island, but there's not a lot for cruise passengers who aren't interested in the beach. We docked at Castries, but our butler said there wasn't much in the town at the end of the 15 minute walk around the harbor, so we just browsed in the shops at the Pointe Seraphine pier for an hour or so, then returned to the ship for lunch.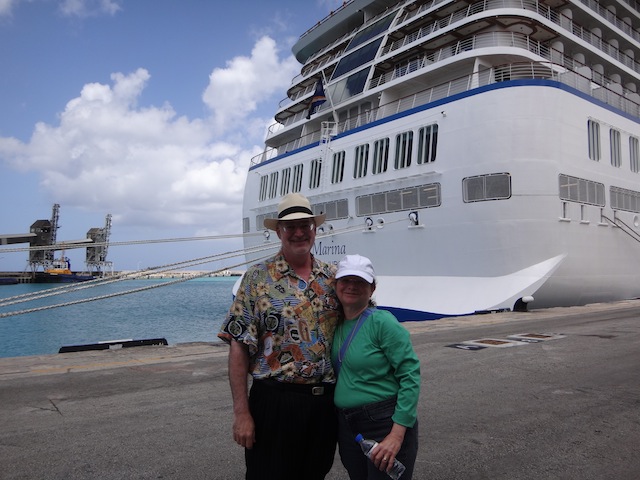 Barbados
Barbados has a reputation for welcoming tourists, but I found it to suffer from the same annoying badgering that killed tourism in Jamaica. From the moment we stepped out of the cruise terminal we were accosted by taxi drivers trying to sell island tours. We finally waded through a sea of them and managed to get a cab for the short drive to the center of Bridgetown. The capital city isn't particularly scenic, and on Sunday it was closed up tight, so after a brief, hot walk around, and fending off another dozen tour offers we returned to the ship.
In the afternoon we had our second cooking lesson, this time focusing on the Asian cuisine of Red Ginger, the ship's best restaurant. We made four things, including a tasty Lobster Pad Thai.