For the Fourth of July Dani and I took the Metra up to Ravinia Park for dinner and a concert, rather than watch the Evanston fireworks from her balcony. The timing on the train worked out pretty well, because we got out of town before the crowds, and returned after everything was cleaned up. That's not to say the train wasn't busy, especially on the way back. But we found a seat both ways. In the past we've always taken the first train back, but this time we missed it by about 100 people. There are a lot more drunks on the second train!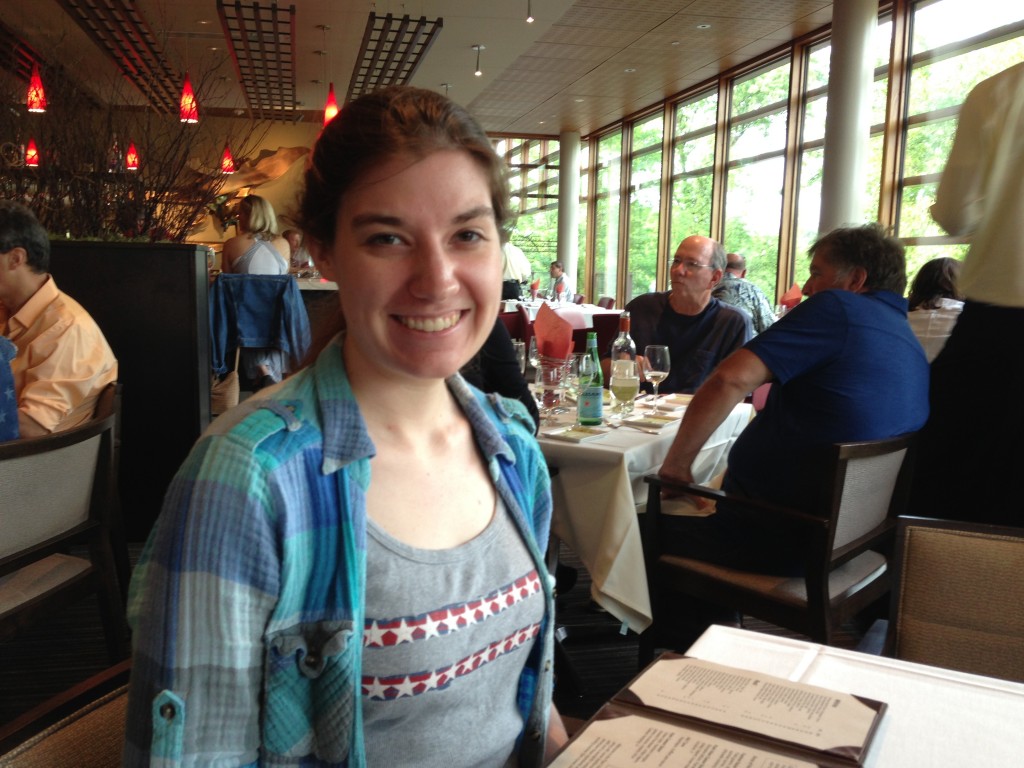 We had dinner at Park View, the upstairs restaurant. It had been a couple of years since we'd been there, and it was a bit better than we remembered. The restaurant is run by Levy Restaurants, and they borrow chefs from Spiaggia and other places within their organization. It must be weird to run a restaurant that is only open a few months a year, and the slightly amateurish service is a telling detail. But for the most part things run efficiently, and the food is good if not great. It's certainly a stunning setting, with lovely paneling, and a glass wall that overlooks the dazzling green of Ravinia Park. Best of all is being high above the sea of colorful people blanketing the lawn.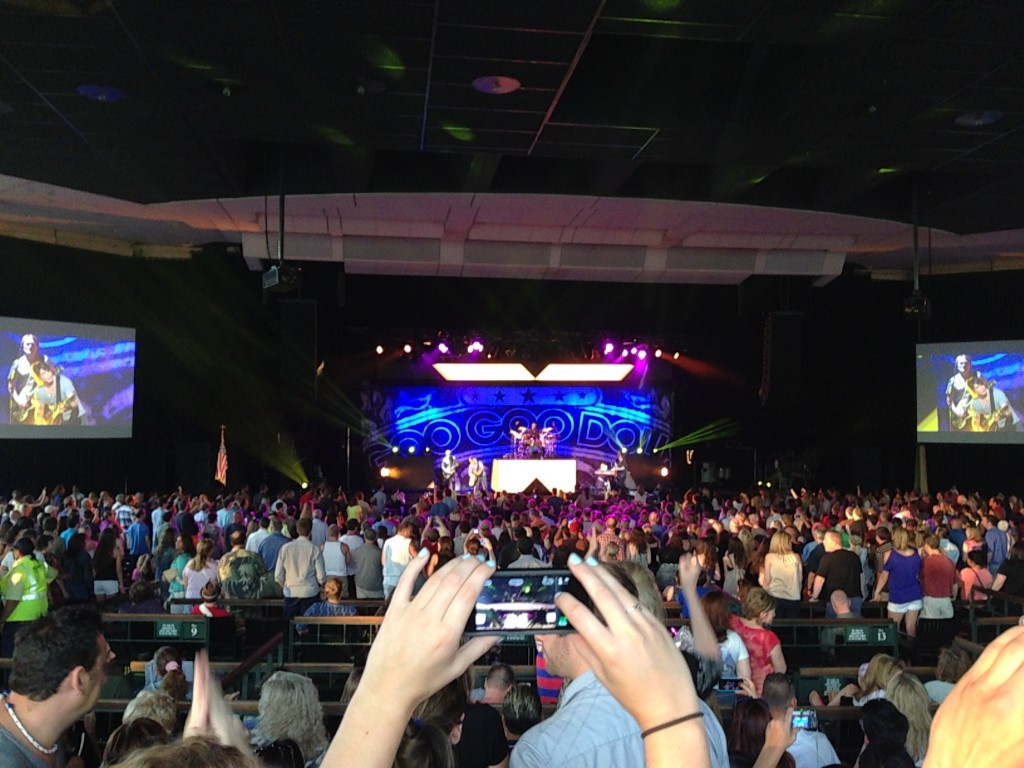 We dined through the opening act, Kate Earl, who everyone seemed to be ignoring, and arrived just in time for Goo Goo Dolls. There are three guys in this band: a drummer, singer/guitarist, and singer/bass player. I had been warned by Jeremy that you wanted to go get drinks when the bassplayer took the lead, and that is accurate. Dani described him as a baritone on helium, and his songs are not the hits. Actually Goo Goo Dolls doesn't have a lot of hits, but the ones they did were competently delivered, and they didn't outlast their welcome. It's one of those bands where if you look really carefully you realize that almost all the music is being created by the two session players standing in the back: a lead guitarist, and someone on keyboards/guitar/sax.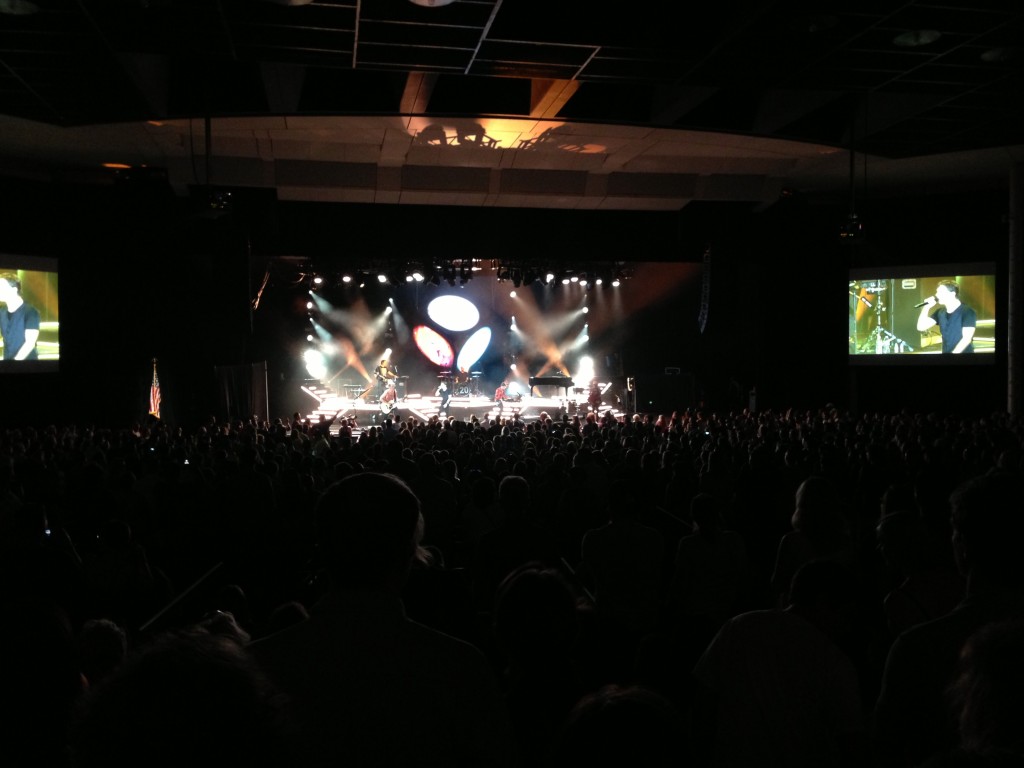 After a long intermission for setup, Matchbox Twenty took the stage. They are a six piece band, with a lead singer, Rob, who does all the heavy lifting. They're really good live. Their stage was an interesting, multi-tiered staircase with cool lights in the risers. I was amazed how many great songs they have. The set list was:
Parade
Bent
Disease
She's So Mean
How Far We've Come
3 A.M.
Real World
Girl Like That
If You're Gone
Long Day
I Will
Unwell
Radio
So Sad So Lonely
English Town
Bright Lights
Encore:
Back 2 Good
Push
Some of my favorites are off their new album, North, including I Will and English Town. The band did a great job of playing through technical difficulties including a complete fail of their video cube for most of the show. There were also instruments missing from the mix in some songs. This was surprising since this was their third show in a row played at this venue. I think it's time for a new tech crew (more on this later).
Like Goog Goo Dolls, Matchbox Twenty didn't spend any time talking with the audience, which to me is the reason to see an act live. But perhaps they felt that with three acts on the bill and a hard cutoff of 11:00pm mandated by the nearby housing, they needed to fit in as many songs as possible.
Both acts suffered from the worst lighting design I have ever encountered. Fully a third of each show was unwatchable because of blinding lights–both automated spots and fixed LED panels–aimed directly at the audience. WTF? I've seen this used at the ends of songs to get people to respond, but it is incredibly annoying when they are flashing in your face every few seconds. If I could find out the name of the moron who designed this I would be happy to start a petition to find him another line of work.
In all it was a fun evening, but I wish we could have gone the previous night, because I missed seeing the Evanston fireworks from the balcony, our Fourth of July tradition.